Mixing White and Wood Tone Cabinets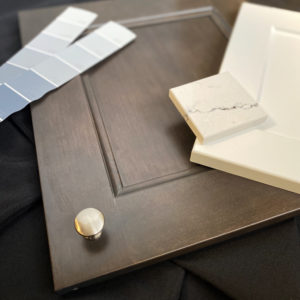 What's going on here? If you're a mood board maven, you know you're seeing a white Shaker cabinet door peeking into the frame, yet it's paired with a different door in dark wood.
Does it strike you as odd, seeing popular, modern and simple white Shaker alongside this more traditional, recessed panel door? This mood board aims to spark a rethink. The simplicity of these cabinets means they can pair with other styles easily. Don't be afraid to mix things up. Our online Design Tool can help you picture how different combinations might look, before you ever commit to a single door, paint color or flooring tile!
The mood board adds a countertop in man-made quartz, the go-to material for scratch- and stain-resistant counters. Paint samples in shades from lightest gray to robin's-egg blue show how you can add a third color, beyond the cabinets' white and chocolate brown. Not into blue? Almost any color would work with these cabinets.
Here are some ideas for this combination of two timeless door styles:
Got a kitchen island, or want one?
Dress it to impress. Islands are both style statements and highly functional additions to kitchens. Some islands are home to the range or the sink, making them primary players in the kitchen's day to day use. An island is an opportunity for creating visual interest. Going with white Shaker cabinets? Make the island pop with dark wood doors—or reverse that, and let your gleaming white island stand out against the dark background of your recessed cabinet doors.
Unify the pieces by using the same countertop material on both island and cabinet counters, or get bold and pick different countertops for each.
Pick one piece of cabinetry to contrast with the rest.
There is no rule that all your cabinets have to match each other. And you don't have to have an island, either. Use a contrasting cabinet in just one section of the kitchen. Break up an all-white kitchen with darker cabinets over the range or under the sink. Got a pantry? Give it contrasting doors.
Go two-tone with your upper and lower cabinets.
Dark lower cabinets and light upper cabinets are both on trend and practical. Placing darker tones closer to the floor anchors the look. Lower cabinets also are likelier than upper cabinets to get bumped or splattered, and darker shades won't show those dings or spills like light cabinets might. Your Kitchen Tune-Up expert can show you these and other door styles and help you release your inner designer. Find your nearest Kitchen Tune-Up today.