The Wonder of Wood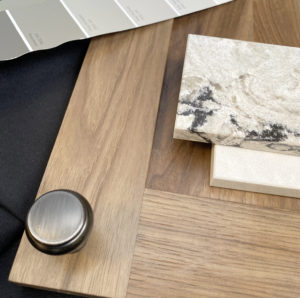 For years, all-white kitchens have dominated the design websites. Now, there's a trend toward two-tone kitchens, with two colors, or a color plus white, on the cabinets.
So whatever happened to wood cabinets that look like wood? That classic look for kitchen cabinets may not be the darling of design sites but it's very much beloved, and used, by homeowners everywhere.
This mood board is a reminder that the natural warmth and unique textures of wood makes beautiful cabinets. The sample above is a Shaker door made of knotty alder. Knotty alder has light brown and sometimes reddish tones and a distinct, straight grain punctuated with knots. The brushed door pull has grain of its own, reflecting the woodgrain rather than competing with it like a shiny metallic handle might.
Both the countertop samples are quartz, the manufactured surface that resists stains and scrapes while imitating real stone's look.
The top sample is a good example of why you should place materials next to each other when you're choosing the style of your dream kitchen. Lay this quartz on top of the alder wood, and you'll see the quartz's taupe-brown veins pop out from the swirling black and white background. The wood's color brings out the quartz's matching undertones, showing why this particular quartz countertop would look terrific on top of these cabinets.
Countertops and cabinets don't have to "match," but should complement each other with some similarities—like the echo of color, here—while contrasting with each other enough to keep the kitchen from feeling bland and blah.
A second quartz countertop sample is a simpler alternative, a white, textured surface. You can mix things up and use both countertops. Picture the white counter on an island and the marbled one on the countertops, or vice versa.
Find the Right Wood
Picking the best wood for your kitchen cabinets takes some effort. You want a wood with the durability to stand up to hard use plus the appearance you want.
When you talk with your Kitchen Tune-Up expert, ask about which types of wood might work best for your kitchen. Does it get a lot of foot traffic? Do you have kids who bump into the lower cabinets? Is the cabinet style you want available in the type of wood you prefer, or will you need to compromise?
Learn about hard, durable oak, softer cherry, tough and classic walnut, versatile and easy-to-use maple, and the many other wood choices Kitchen Tune-Up offers by talking to your local Kitchen Tune-Up expert.