The following is the warranty you will receive from your independently owned and operated Kitchen Tune-Up franchise location upon completion of your project.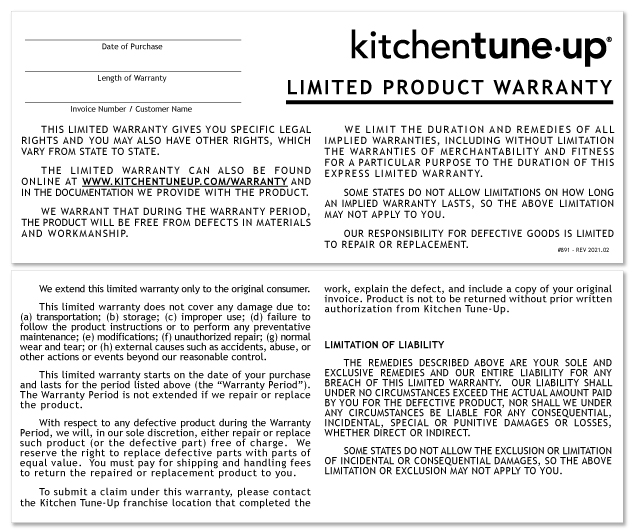 Kitchen Tune-Up has always stood behind the quality of our products – and here's the guarantee to prove it. The warranty is in place from the date of purchase until time specified above by the franchise location. The warranty is personal and non-transfer-able. Warrantor reserves the right to replace defective parts with parts of equal value. The Warrantee (purchasing consumer) must provide and pay for such removal, installation, and transportation. This warranty does not cover the installation, labor, or transportation costs. Nor does this warranty cover any products or installation in connection with such replacement doors such as plumbing fixtures, gas or electric appliances, or countertops. This warranty does not apply to damages from improper handling, misuse, alterations, installation or product used for any other normal use.
IN NO EVENT SHALL WARRANTOR BE LIABLE FOR CONSEQUENTIAL, INDIRECT, OR INCIDENTAL DAMAGES RESULTING FROM THE USE, INSTALLATION, PERFORMANCE, OR FAILURE OF ITS PRODUCT. Some states do not allow the exclusion of limitation of incidental or consequential damages, so the above exclusion may not apply to you. This limited warranty gives you specific legal rights, and you may also have other rights, which vary from state to state. THIS WARRANTY IS IN LIEU OF ALL OTHER WARRANTIES EXPRESSED OR IMPLIED. To submit a claim under this warranty, please contact the franchise location that completed the work, explain the defect, and include a copy of your proof of purchase (original invoice). Merchandise is not to be returned to the Warrantor without proper written authorization from the factory.