Mixing Trendy Green With Classic White in the Kitchen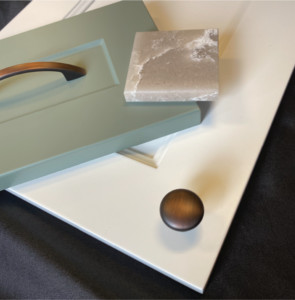 Mood boards can be deceptively simple, like this one. Two popular colors, white and sage, and two basic designs—a Shaker drawer front and a recessed panel cabinet door. What's to see here?
Look harder. The beveled edge on the white door's recessed panel is a subtle contrast to the Shaker drawer's plain edges. Mixing these two styles keeps the eye engaged. And don't let sage's popularity make you overlook it. Sage marries green with gray for a muted, neutral shade you can use all over the kitchen.
How about using this shade of sage on a kitchen island, to coordinate with sage cabinets? Or going with all-white cabinets—an enduringly popular pick—but wrapping that island in sage as a contrast, to break up all that white? If you really want to mix things up, pick just one cabinet to highlight with sage. You could go for a two-tone kitchen, with sage lower cabinets and white upper cabinets. Tie them together with the gray and white quartz countertop shown on the mood board. This countertop choice works well because the gray picks up on sage's gray undertones.
And we've said it before in our mood board blogs, but it bears repeating: Quartz countertops are affordable, durable, and resist stains and scratches. They're easy to maintain, yet have the desirable and luxurious look of natural stone.
Bronze Hardware Adds Warmth
Whatever your cabinet choices, you can rely on this oil-rubbed bronze hardware to add eye-catching shapes and warm metallic color to your kitchen.
Oil-rubbed bronze is a change from brighter, cooler, silver-toned hardware like brushed nickel or steel. The darker finish, with the metal's golden hue beneath it, gives the bar-shaped drawer handle and round door pull extra depth.
When you shop for oil-rubbed bronze, remember: First, this versatile finish can vary from nearly solid black to greenish hues, so choose with care. Second, consider whether you want sealed or unsealed bronze. Over time, there's a big difference. Unsealed, the finish rubs away gradually, revealing more of the metal beneath and creating an intentionally worn, more rustic patina. Sealed, the hardware looks the same over time as it does when it goes onto your kitchen cabinets. Pick whichever look you'll want to see in a few years.
Want to learn more about colors, styles and finishes, and see how they might look in your own kitchen? Visit Kitchen Tune-Up's online Design Tool here.