Retiree's Dream Kitchen: A Remodel for Hosting Family and Making Memories
Cherie and her husband, Ron, had been considering a kitchen remodel for at least 2 years. Cherie was a little more hesitant in starting the process, until one day while out shopping, she decided to visit the nearby Kitchen Tune-Up of Grand Rapids showroom. This is where she met Design Consultant, Jaydn Braun. Jaydn showed Cherie the 5 core services that Kitchen Tune-Up offers from painting, refacing to custom cabinetry. Cherie was happy to learn there were other options aside from a full kitchen remodel.
For the most part, the layout of the space worked for Cherie and Ron, but the cabinet faces and doors were old and worn. The one area where the layout didn't work for them was the peninsula. It closed off the kitchen space to the living room and felt very tight when multiple people were in the space. They enjoy having their children and grandchildren over so having the option of removing the peninsula and opening the space to the living room, while keeping the other cabinetry intact, was the perfect solution.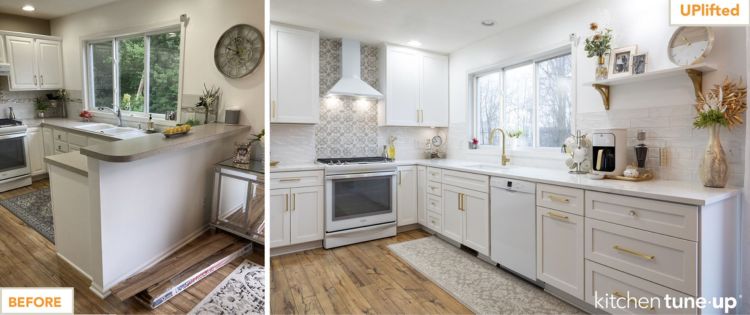 Kitchen Tune-Up was able to accomplish this using their kitchen refacing plus service. The peninsula was removed, and new cabinets were added to the right of the sink. The existing cabinets were refaced and extended to the ceiling, giving the kitchen a brand-new look, without the disruption and cost of a full kitchen remodel.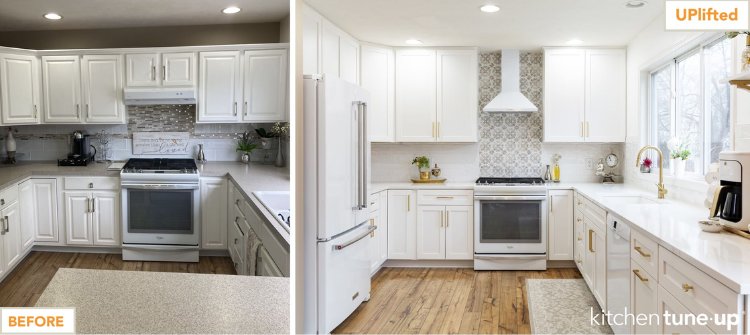 Ron and Cherie also love coffee and wanted to incorporate a specific coffee space into their updated kitchen. They converted a double doored base cabinet into drawers and utilized one of the larger drawers to store mugs and all their coffee accessories, which was exciting for Cherie as she could now organize everything together in one location.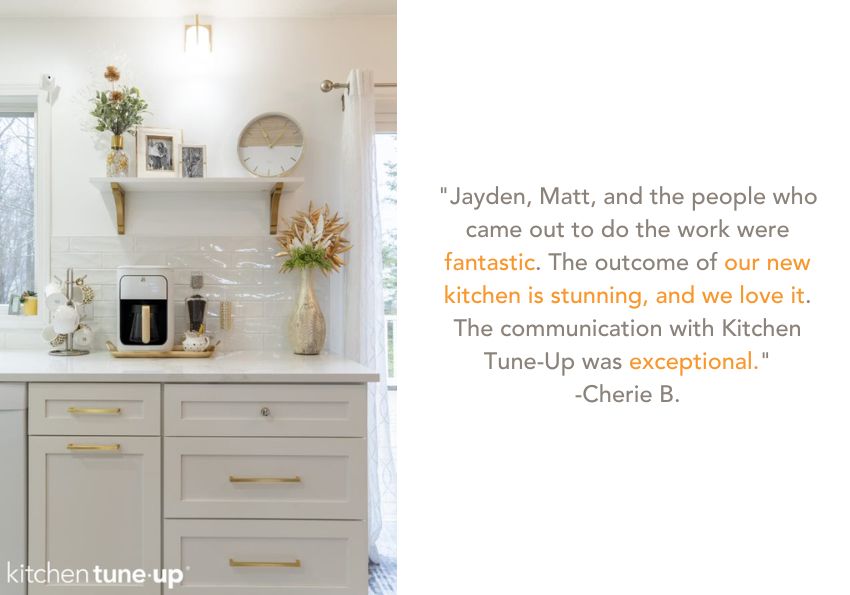 The new cabinetry also included a larger, built-in trash bin, which was a must-have for Cherie as it made the space more functional. She is thrilled with the outcome of the remodel and loves how beautiful the kitchen turned out. One of her favorite features of the kitchen is the gorgeous quartz countertops and granite composite sink. She's really appreciative of the collaboration with Jaydn and the suggestions she made. Jaydn was able to bring their vision to life and solve their pain points from aesthetics to function and created a beautiful area that they both love.