Kitchen Tune-Up Voted Best of Flagstaff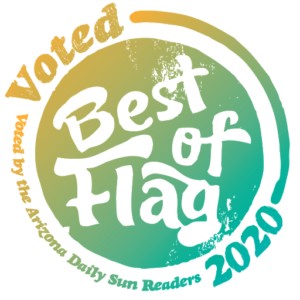 The votes are in and once again Kitchen Tune-Up Flagstaff, Arizona has swept up the Best of Flag award! We couldn't be more proud of Andy and Laura Leigh Mathis for guiding their amazing team towards this honor once again. This is the third year in a row that they've won!
The Best of Flag Awards offer Flagstaff residents the chance to browse through the most well-loved companies in the area. The category for Best Home, Kitchen & Bath Remodeler has belonged to Kitchen Tune-Up for three years running now, and with good reason!
Andy and Laura Leigh have been committed to great service and fair prices since they opened. "Our favorite part of helping homeowners improve their homes is seeing the enjoyment they get from being in their new kitchen."
Andy and Laura Leigh understand how personal a kitchen can be, and they take care to walk every customer through their own unique remodeling process, guaranteeing them results that they won't just like, but love.
The Arizona Daily Sun also recognizes over 140 other categories. The voting is open to anyone who wishes to participate, which means that every winner of the Best of Flag 2019 was selected by the community.
You can visit the Daily Sun's website to see a complete list of all the other winners. Andy and Laura Leigh's services extend beyond Flagstaff to Kachina Village, Winslow, and all the surrounding communities. Their outstanding customer service have made them popular in every community they reach.
Kitchen Tune-Up Flagstaff, AZ has been racking up awards since 2017, and without a doubt, they'll keep at it for years to come! Wondering what kinds of stellar remodeling earned the Flagstaff team this award?
Visit their project gallery to see before and after photos as well as details about setting up your own kitchen remodel.