Anchoring Your Kitchen With Serious Color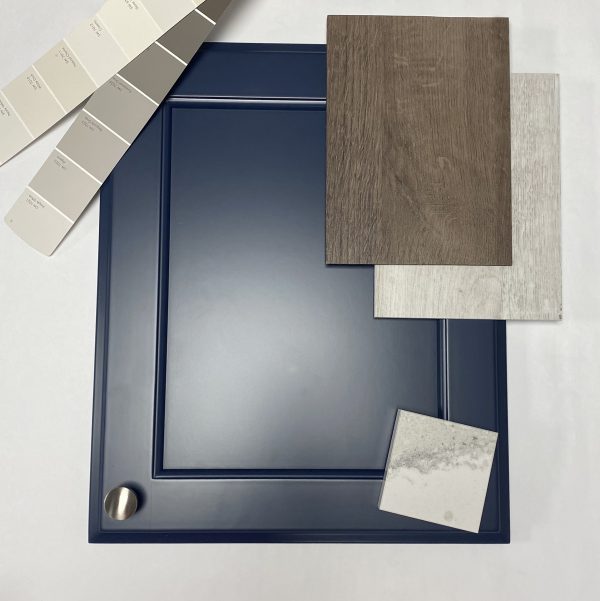 Navy blue: Its name evokes ships and the sea. But unlike fresh sea-green or light sky-blue, navy's darker hue doesn't really call up images of summer vacations. This ocean-deep color is cool and serious—and surprisingly ideal for both contemporary and traditional kitchens.
This navy mood board is a jumping-off point. Pairing the navy cabinets with these woodgrain wall accents in silvery or chocolately shades shows navy's versatility. Check out the paint samples: A wide range of grays, from near-white to almost charcoal, all work with navy. The door's muted gloss perks up its dark tone while the simple brushed-steel handle lends a little metallic glimmer. Kitchen Tune-Up can turn the samples you see here into a relaxing navy kitchen, and can help you with countless other combinations, too. Here are ideas for making navy the heart of a calming kitchen:
Let navy be your anchor (pun intended).
Choose navy for lower cabinets and white or light gray for upper cabinets. The darker blue, placed closer to the floor, lends visual weight to the cabinetry, while placing lighter colors above the countertops keeps the kitchen bright. Pull together the dark lower cabinets and the light upper cabinets with gray paint or a backsplash featuring blue and blue-gray accents.
Combine crisp, bright white with navy for a nautical feel.
You don't have to signal a seafaring theme with images of anchors and shells—just bring in some blue-and-white stripes and maybe a backsplash of miniature glass tiles to add sparkle like sunlight on the ocean.
In a small kitchen, use navy sparingly.
Too much dark blue could overwhelm a limited space. Paint the sides of a kitchen island in this rich blue. Or paint just one accent wall navy and add white, open shelves to stand out against the dark background and show off your collections (or just your dishes).
Navy features in patterns on backsplashes, walls or floors.
Break up the solidity of a navy kitchen with classic, traditional patterns like French country tiles or "Delft" tiles with old-world outdoor scenes. Accent the space with majolica tiles featuring a whole palette of blues in scrolling patterns. Want something contemporary? Think about sleek subway tile for your backsplash.
Don't forget light fixtures, fabrics and accents.
Add navy on pendant lamps or use navy patterned cushions on island seating. If you're using navy cabinets, add a bright pop with orange or yellow seat cushions, curtains or storage pieces. If navy catches your fancy, check out our gray mood board too—these two versatile colors have plenty in common.