Kitchen Design: Don't Take Versatile Gray for Granted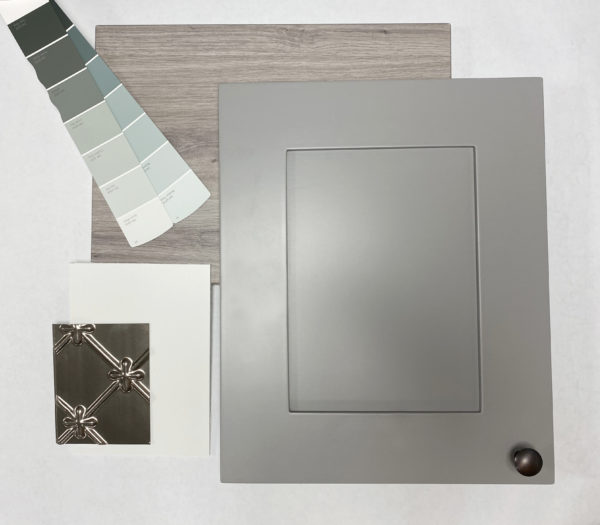 If "gray" makes you think of cloudy skies and dull days, think again. This gray mood board unveils a color so versatile it can accent any surface—wood, metal, glass, stone---and so varied it can stand on its own, the star of your kitchen.
Gray's design secret: This underestimated color can look cool or warm, industrial or natural, sleekly modern or demurely traditional. How does plain gray pull off this chameleon act? Undertones. Within the many shades of gray lie hints of other colors. Bringing them out helps you reimagine gray beyond its rainy-sky reputation.
Take your gray—a countertop sample, paint swatch, bit of flooring—and hold it against other colors to see which seem to spark with it. Cool grays show undertones of blue, green or purple, while warm grays glow pinkish. Brown undertones work especially well alongside wood.
Our mood board's paint samples showcase a range from dark slate-gray to grays light enough to stand in for white. Some samples lean close to subtle greens or blues.
From Contemporary to Country
Do you prefer modern looks? Design trends tag gray as contemporary. Charcoal cabinets with steel or chrome drawer pulls show sophistication. The mood board's subtly glossy, medium-gray cabinet door, with contrasting darker metal handle, shows gray isn't too dark for cabinetry.
Grays can be rustic, too. Picture weathered woods and the gray-brown of stone in a historic house. Translate that to gray wood cabinets around an old-fashioned white sink with a natural stone backsplash, maybe a slate floor.
Grays with blue undertones can evoke the ocean. Pairing a gray-blue kitchen island with cabinets in tones of sand and shell, and accents in blues and greens, plays up gray's earthy side.
Cool gray-green kitchens bring forests to mind—try out our sage mood board alongside these grays. Gray-toned metals on appliances, fixtures, and accents bring more variations on this theme.
Look for textured finishes, like wrought iron handles and pulls or brushed steel appliances or sinks. The mood board features a metallic surface with raised, diamond-shaped patterns catching light and adding interest.
Countertops play with the palette: Consider flecked granite, or the dark, matte gray of soapstone, or marble ribboned with pale grays.
To picture how gray can inspire you, use Kitchen Tune-Up's design tool. Our tool lets you mix materials and see design elements on screen. Drop in on our project gallery for ideas.
As you're dreaming up your kitchen, don't take humble gray for granted.