12 Space Saving Hacks for Small Kitchens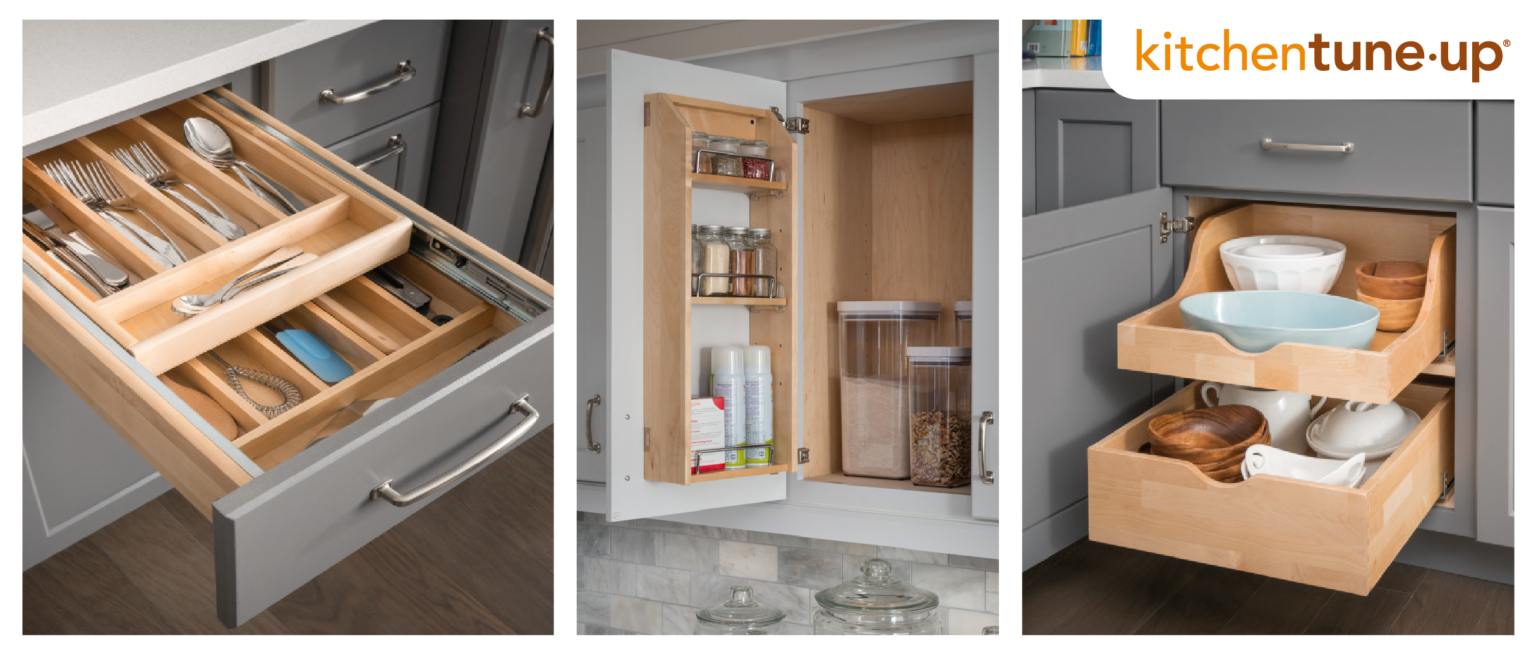 Unfortunately, not everyone can have the spacious kitchen of their dreams. While you are still waiting for your lottery ticket to win, let's dive into a few creative and resourceful ways you can maximize the space in your current kitchen.
1. Add a shelf to maximize space above your cabinets
If your cabinets don't run all the way up to the ceiling, use the dead space to store items you don't use on a daily basis, but still add decorative value, such as cake stands, serving pieces, or dishes you only pull down a handful of times a year.
2. Take advantage of wall space
Make your walls do double duty by adding a pegboard for kitchen gadgets or pots and pans. How about securing a fold-down table that can be used as extra counter space in a cinch or can be a serving station during your next dinner party? Rather than filling your wall space with kitchen-themed pictures, try adding a few floating shelves to create a coffee or tea station.
3. Make a small kitchen appear larger
By adding glass inserts or swapping out a cabinet or two with open shelving, you can play tricks on the eye and make the entire space feel larger. Be sure to think through your needs before making the swap, as you don't want to accidentally diminish the storage already available.
4. Two words: Magnetic strips
Skip the counter hogging knife block and keep your knives organized with a magnetic strip instead. The strips can be used for other metal kitchen tools as well! Think about using them to hold your pot lids, measuring cups and spoons, and any other metal gadgets.
5. Turn one shelf into two
Nothing is more frustrating than opening your cabinet only to find the pot or dish you want is on the bottom of a precariously stacked pile. Double your shelf space and get rid of wasted space at the top of each cabinet by adding risers or shelving. There's no need to compromise on your mug collection!
6. Brighten it up!
While this won't solve all your storage needs, brightening up your kitchen with light colored paint, extra lighting, or a reflective backsplash will make the space appear larger. There is a reason why white kitchens are so popular!
7. Utilize the end of cabinet runs
Swap out your counter wasting spice rack with some metal spice containers attached to the side of your cabinet with some magnetic strips. How about adding some hooks to hang your whisks, spoons, and spatulas?
8. Look to the inside of your cabinet doors
This is often the most under-utilized space in the kitchen and makes a great spot for frequently used cooking utensils. Create a chalkboard or whiteboard and keep a running grocery list or dinner menu for the week for everyone to see. If you have a full pantry with a closet door, have an organizer installed to hold your canned goods and give up the valuable deep shelving for your bulky crockpot and blenders.
9. Add roll-out trays to maximize your drawer and cabinet depth
Adding a single or double roll-out tray in your cabinets allows you to ready reach pots and pans and turns the depths of the cabinets into valuable storage space instead of a Tupperware black hole. Add a layering piece in your drawers to store a second layer of silverware or organize your gadgets into every day and occasional use.
10. Don't forget about under cabinet mounts
Have your coffee cup and wine glass within arm's reach by installing clever under cabinet racks or hooks. Let your glassware double as decoration!
11. The secret toe-kick drawer
In most kitchens, there are several inches of wasted space between the cabinets and the floor. By installing a toe kick drawer, you can put the traditionally wasted space to good use by storing smaller items like aluminum foil, plastic wrap, and Tupperware lids.
12. Over the sink cutting board
Counter space is always in high demand and we can never seem to find enough of it! By installing or using an over-the-sink cutting board, you can wash and chop veggies while still having enough room for your sous chef to help prep the rest of the meal. Find a Kitchen Tune-Up location near you to help get your kitchen organized and your sanity back! Organizers and accessories can be part of your kitchen update project, or you can simply focus on you're the inside of your cabinets.