Central Wisconsin Small Business Shines in Renovating Celebrated TV Kitchen Set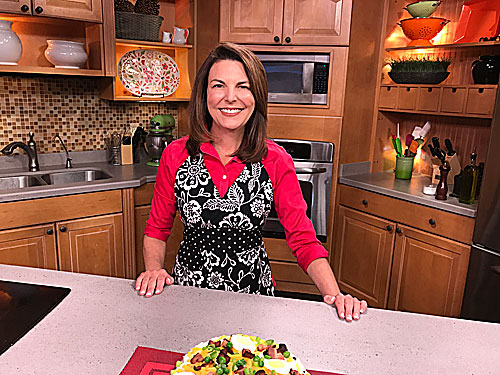 Living With Amy has been bringing home and family cooking and recipe ideas to Northeast Wisconsin for over 20 years. Through her kitchen, Amy has brought love and laughter to the hearts of kitchens across Central Wisconsin. But her cabinets and countertops were beginning to look dated and to show some wear and tear. Cabinets that were trendy in 2008 needed an update. But they needed an update that could fit into the shooting schedule.
When Amy Hanten of Living with Amy, https://fox11online.com/living/, heard she would be getting a new kitchen for her cooking show, she was thrilled! What was even better is that it was being done by Kitchen Tune-Up, a Central Wisconsin small business that specializes in kitchen wood rejuvenation, painting, remodeling, and organizational accessories. So not only would her 15-year-old kitchen get an upgrade, but it would only take 5 days to complete it!
As experts in the kitchen business, Kitchen Tune-Up jumped in to help Amy to fall in love with her kitchen again—and knew it could be found in quick, modern, and reasonably priced updates using the existing cabinetry that was already in place.
Amy's new kitchen will feature:
a two-tone color palette with new wide shaker style soft-close doors with concealed hinges

full extension rollouts that help bring heavy items out into the light for easy access

new drawer boxes that are dovetailed on full extension steel glides (also soft close)

new deeper drawers that allow for easy access and generous storage

built-in cutlery organization with hidden two-garbage can rollout

simple and elegant brushed gold hardware

new tile backsplash and walnut floating shelves
Kitchen Tune-Up has been providing quick, beautiful, and well-priced kitchen updates to central Wisconsin for over 4 years. As part of a multi-national award-winning franchise system, this business is a locally owned and operated small business. Their offerings and expertise combine to bring options for all budgets and kitchens as well as faster solutions significantly reducing or eliminating the hassle usually associated with remodeling. With 95% of all projects done in 5 days or less, Kitchen Tune-Up is uniquely qualified to help Fox 11 News Living with Amy and anyone who is wanting and needing a kitchen update. Their well-trained kitchen experts can help you choose to fit your budget, design, or function and they can do it in less time.
Kitchen Tune-Up in Wisconsin operates out of Stevens Point and Appleton, Wisconsin serving about a 100-mile radius around each area. Starting in 2018, the small business grew rapidly as customers responded favorably to the service level and offerings. Now 20 employees, Kitchen Tune-Up is excited to be able to serve even more customers – including TV personalities.