Top Projects of June Announced by Kitchen Tune-Up
Another summer is well under way! With June tucked safely behind us, we can now look back at Kitchen Tune-Up's most celebration-worthy accomplishments from the past month. Our teams strive to make every kitchen job a once-in-a-lifetime makeover, but after much deliberation, we were finally able to pick out the June National Project of the Month winners!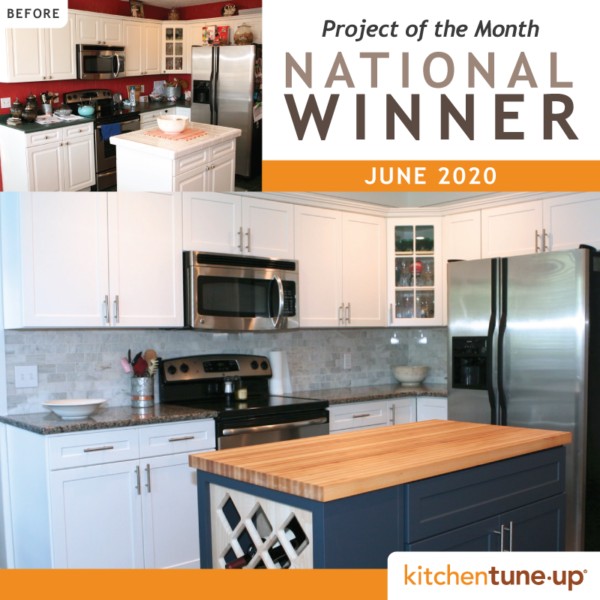 Ryan and Alex Bennet, Rogers, AR
This kitchen got fully modernized with updated white shaker cabinetry and a larger island. Yet the butcher block countertop and built-in wine rack lend this look some serious rustic charm. And painting the island that deep, accentuating blue just brings it all together. Visit Kitchen Tune-Up Rogers, AR here.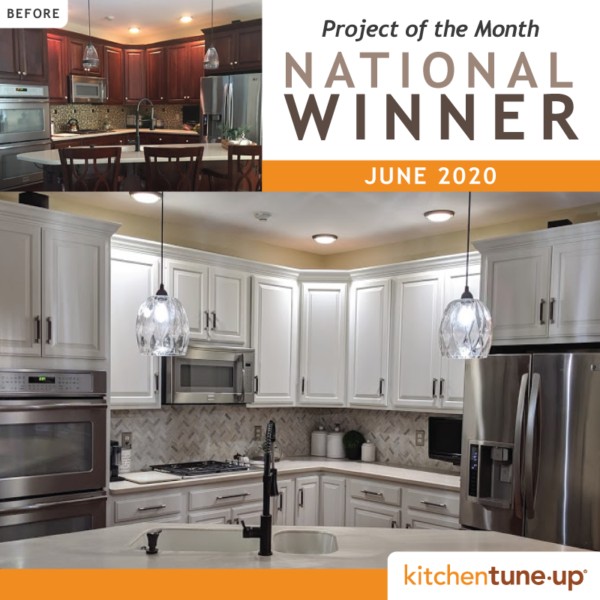 Sean and Karen Hall, Southern Erie, NY
Modernization comes to the rescue again. This kitchen goes full chrome and white, but lest you think the cabinet painting is too unanimous, you'll see the faucet and other accessories provide a nice touch of black to accent the kitchen. Find Sean and Karen's other kitchen transformations on their website.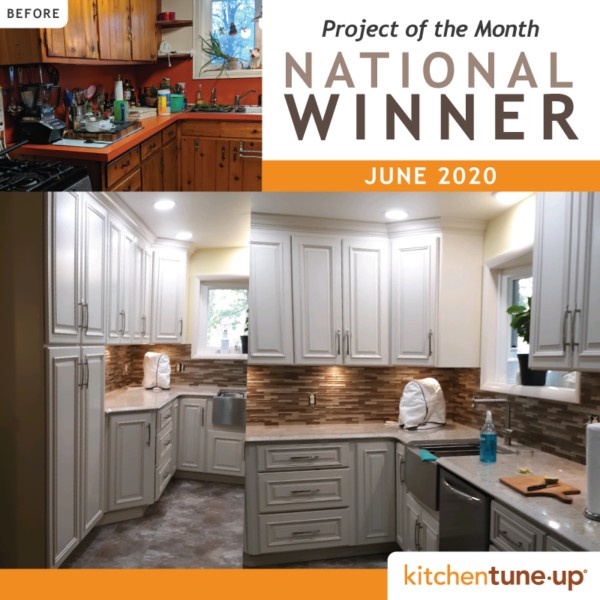 Sean and Karen Hall, Southern Erie, NY
Another Sean and Karen creation. This kitchen was saved by a natural backsplash that gives the kitchen a traditional feel while maintaining practicality. And the cabinet refacing in a lighter color opens up the whole room, making what once seemed cramped look and feel much more spacious. Learn more about Sean and Karen here.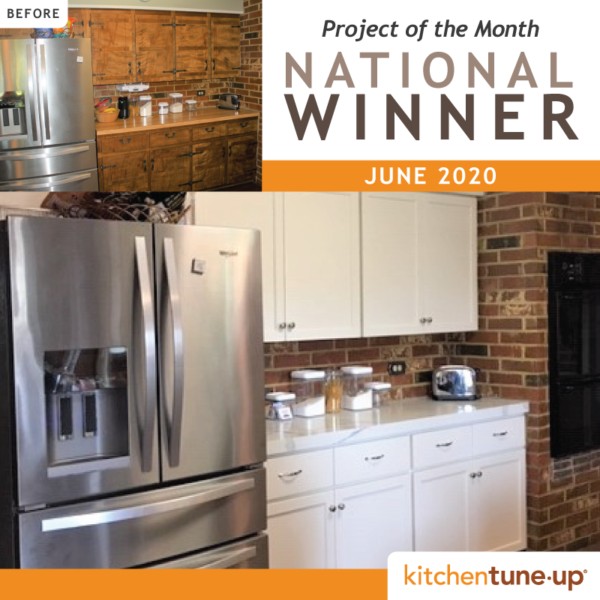 Charles and Susan Johnson, Little Rock, AR
See how the original cabinetry was lost against the busy brickwork? Nothing a custom set of white shaker cabinets couldn't fix! Now the brick backsplash looks positively cozy with the right cabinets in front of it. This kitchen renovation proves that it's not just the huge jobs that are worthy of consideration, this tiny kitchen was totally transformed! Visit Kitchen Tune-Up Little Rock, AR here.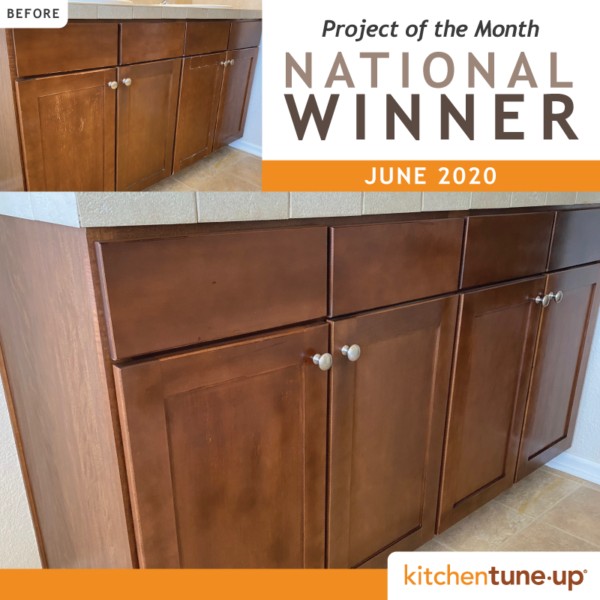 Paul and Kathryn Jost, Denver, CO
At Kitchen Tune-Up, we like to help people transform their kitchens into the culinary cookrooms of their dreams. But we do more than that, because sometimes you already have the kitchen of your dreams and it just needs a little sprucing up to help it really shine. As you can see by this 1 day Tune-Up, Paul and Kathryn's team was able to restore this kitchen to its former glory. Live in or near Denver? Kitchen Tune-Up Denver, CO is the place to go.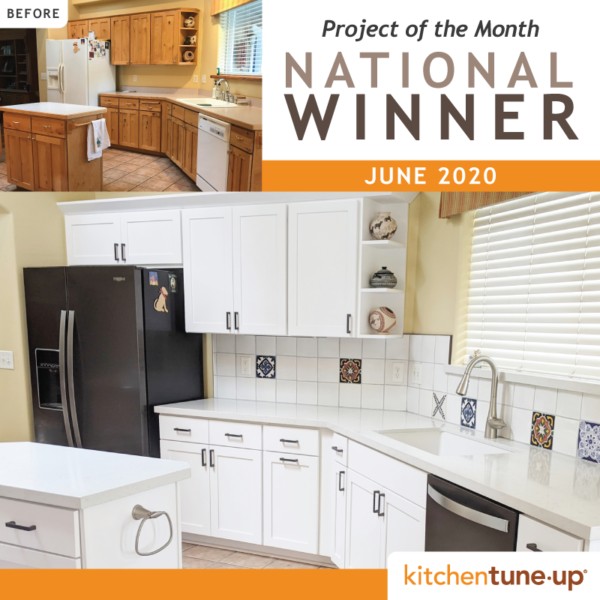 Andy and Laura Mathis, Flagstaff, AZ
This distinctly two-tone kitchen comes courtesy of the Mathis team down in the sunny state of Arizona. Those white shaker cabinets really bring out the shape of the kitchen, and the new backsplash adds some much-needed personality to the room. Visit Andy and Laura here to get a feel for their team's style.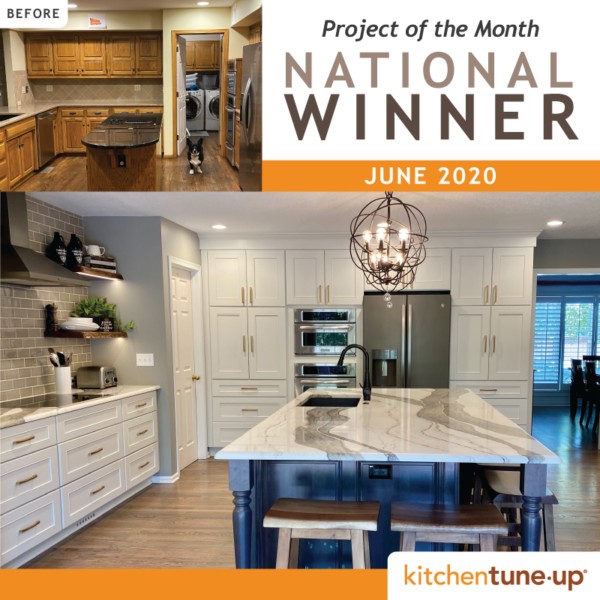 Adam and Rachel Phillips, Wichita, KS
This kitchen underwent a massive renovation. Just look at the difference in color and style. Open shelving is a staple of the farmhouse kitchen style, but this one puts a very modern twist on things with even a hint of tradition peeking out from that sneaky chandelier. Just goes to show you that you can mix and match styles to your heart's content if it gets you the kitchen that's best for your home! (Don't worry, the dog is just off-camera in the second shot!) See the other awards Adam and Rachel have garnered on their website.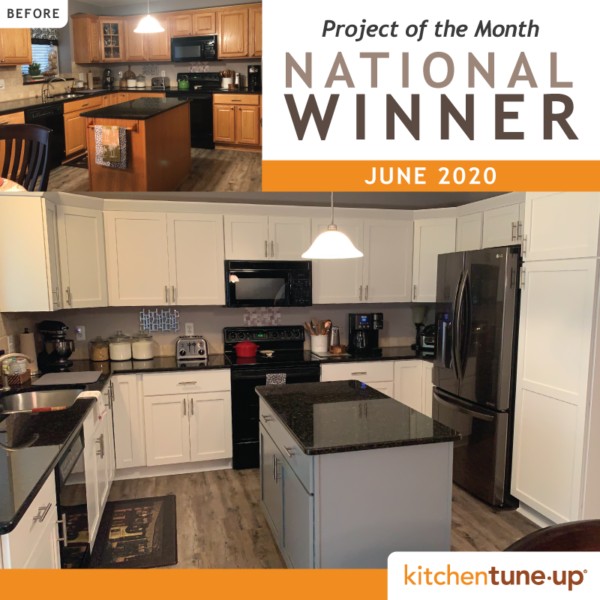 Cheryl and Terry Wojcickij, Port Huron, MI
Another delightfully two-toned kitchen. The stark pewter grey and white contrast really gives each part of the kitchen its chance to "pop". You'll notice white shaker cabinets are back again (their versatility makes them a great choice for many different kitchen styles). The Wojcickijs are a dynamic duo when it comes to kitchen jobs. Visit their Facebook page to see what else is happening! The decision was tough, but we're proud of our choices for June 2020. Cutting the list off here is necessary or we'll be here all day! As we head into July and the second half of the year, we'll have many more fabulous kitchen transformations to come. Who knows--one of them might even be yours! Start designing your dream kitchen today.