Put Summer Away So Winter Can Play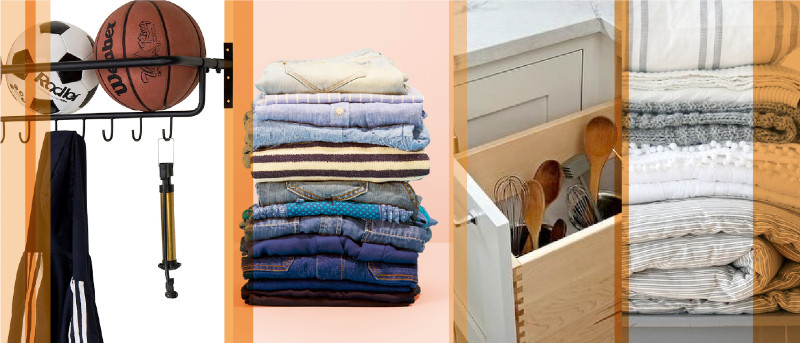 That invigorating chill in the air is your signal that it's time to put away summer gear and haul out the boots and gloves. These tips will help you cut seasonal clutter and prep for the first snow.
Store summer stuff before winter hits.
Sports equipment. Can it hang on the wall in a garage or basement? Cabinets and pegboards are great organizational tools to store off-season equipment. Balls, frisbees and yard games can be tucked neatly away behind closed doors or in baskets and larger items like bats and bikes can be suspended from the wall using the pegboard and allows the valuable floor space to be used for winter items.
Clothing. Summer and fall clothes can end up shoved to the back of the closet as the bulkier winter gear moves up. Don't leave summer duds to gather dust. Hang them on shaped or padded hangers (no wire hangers!). Then take clean, old sheets, snip small holes for the hanger necks to stick through. No need to buy storage bags!
Bedding. When you replace summer bedding with warmer winter sheets, blankets and duvets, keep summer sets together by placing folded sheets inside their matching pillowcases.
Kitchen gadgets. Weed out summer specialty tools: Ice cream maker, corncob holders, ice pop molds, plastic picnic plates, grill tools, and other seasonal items. There's no rule that summery kitchen items have to hibernate in the kitchen itself. Look to the basement or even a guest room closet. Cover small appliances like that ice cream maker with plastic bags to keep dust out.
Store winter gear where it's handy when you need it.
Snow removal tools. Be sure winter snow tools are close at hand. You don't want to wake up to find the driveway covered in snow but your snow shovel AWOL. Make sure snow shovels, windshield scrapers and de-icer sprays are ready to go for the season!
Snow boots. Nobody likes tracking wet snowshoes through the house! Line a sturdy, deep tray with clean gravel and sit boots in it. The water will drain through the gravel (and stay off your floor).
Gloves, scarves and hats. Tuck them in the pockets of an over-the-door shoe organizer. If it's made of clear plastic, you can see all your gear at a glance.
Sweaters. Don't hang sweaters or other knitwear. Store them folded or flat. To keep them easy to grab when you need them, create a rolling storage tray by attaching casters to an old drawer and sliding it under a bed.