Over 25 Years of Giving Back!
Marty Ceranec's relationship with the Humanitarian Service Project goes back 30 years, just a couple years prior to opening his Kitchen Tune-Up franchise. He started by volunteering for their annual Christmas Offering and has supported the program since. The Humanitarian Service Project's mission is to alleviate the pain and suffering that poverty brings to seniors and children in DuPage and Kane counties, Illinois, without discrimination or exclusion for any reason. Marty's participation spans across multiple programs, including the Senior Citizen Project, where he helps deliver 90-100 pounds of groceries directly to the senior's homes each month.
Twelve times a year, Marty sets aside an entire day to make deliveries and spends time visiting with the recipients. He also continues to sponsor a senior to provide additional support outside of the monthly deliveries. Marty's other large involvement with the group is the Children's Birthday Box Project. He sponsors 12 children so they can receive an annual birthday box filled with toys, books, games, stuffed animals, and a "Party-in-a-Bag" which includes everything to have a birthday party. To learn more about the Humanitarian Service Project, click here.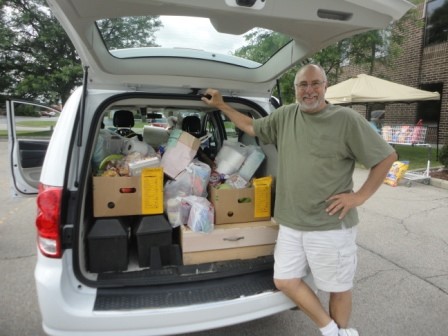 Marty loads up the back of his Kitchen Tune-Up vehicle to delivers groceries, paper goods, and hygiene products to senior citizens in DuPage and Kane counties, Illinois.