Kitchen Tune-Up Zeeland, MI Earns Highest National Award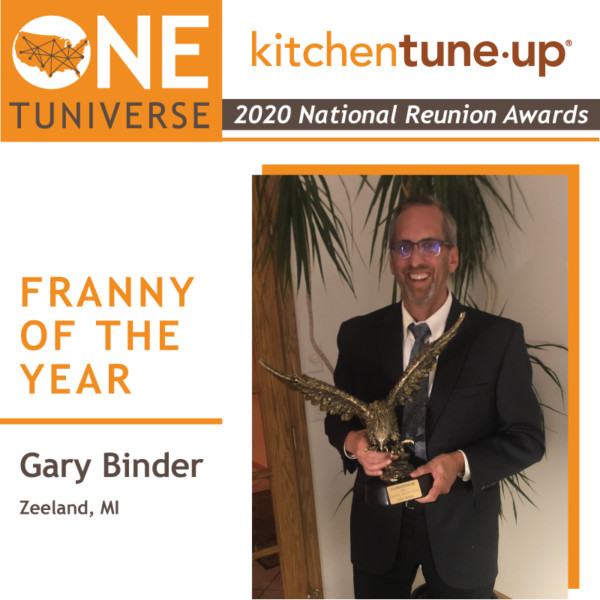 Gary Binder, owner of Kitchen Tune-Up Zeeland, MI, was recently honored with the Franny of the Year award at the brand's National Reunion held virtually from September 21-23.
Binder was recognized with the prestigious Franny of the Year award, considered the highest honor in the Kitchen Tune-Up Franchise System, based on his locations performance in several categories including sales, customer service, and service offerings. In addition to being awarded a large trophy, system recognition, and placement on the Kitchen Tune-Up Wall of Fame, the winner receives an all-expense paid cruise for two to Alaska (date yet to be determined).
Along with the Franny of the Year award, Binder was also awarded his C.H.I.P. Master designation. The designation which stands for Certified Home Improvement Professional, can be earned by individual owners at Basic and Master levels. Owners work dutifully towards earning points through a variety of ways, such as completing specialized training, upholding the company's Trustpoints or winning awards for their work.
During the reunion, Kitchen Tune-Up President Heidi Morrissey recognized high-performing franchise partners, or 'Tunies,' for their extraordinary work in their local markets.
Based locally in Zeeland, Kitchen Tune-Up has become the community's go-to source for kitchen remodeling and organization. Binder is committed to providing the most trusted kitchen remodeling services locally, including its signature "1 Day Tune-Up", cabinet painting, cabinet refacing, cabinet redooring, and new cabinets.
"I am thrilled to receive such a prestigious award from the Kitchen Tune-Up team." said Binder. "The annual national reunion is a great way to connect with other franchise owners to share ideas, network and learn about the new trends in the kitchen remodeling space."
From September 21-23, Kitchen Tune-Up franchisees, known as 'Tunies,' and corporate leadership came together from across the nation for the brand's annual National Reunion. Organized around the theme of "One Tuniverse," franchisees enjoyed focused workshops on sales, customer experience, project planning, recruiting and hiring. Shawn Van Dyke, national construction industry thought leader and esteemed business coach, and Tommy Mello, contractor marketing expert, were keynote speakers at the event.
"While our reunion looked different this year, the takeaways, insights and ideas shared were more powerful than ever," said Heidi Morrissey, president of the Kitchen Tune-Up Franchise System. "It was an honor to recognize some of our high-performing franchisees, like Gary, on a national, systemwide scale. Gary is dedicated to offering the highest quality services in the Zeeland area, and we're so excited to see what he accomplishes next!"
To learn more about Gary and Kitchen Tune-Up Zeeland, MI, check out his website and Facebook page.