Kitchen Tune-Up Savannah Brunswick Wins National Customer Service Award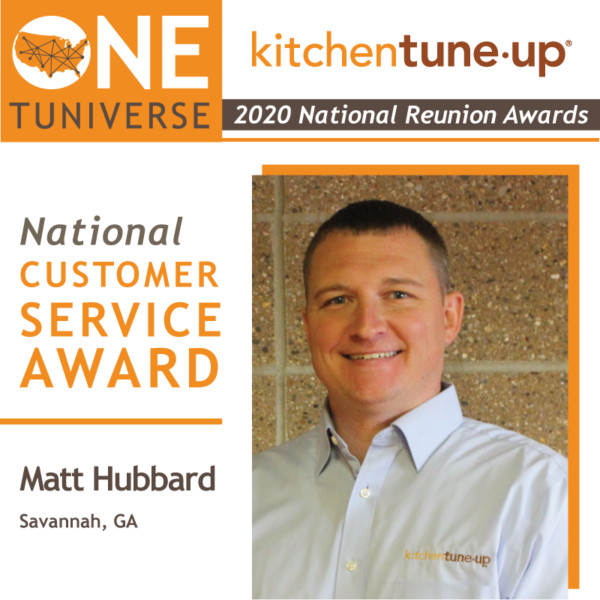 Matt Hubbard, owner of Kitchen Tune-Up Savannah Brunswick, was recently honored with the National Customer Service award at the brand's National Reunion held virtually from September 21-23.
The National Customer Service award is given to a franchisee for their commitment to providing exceptional customer service, based on feedback Kitchen Tune-Up's Home Office has continually received from Hubbard's clients.
Throughout the year, Kitchen Tune-Up honors a monthly customer service award and then the overall National Customer Service Award winner is selected from those twelve winners.
Hubbard is committed to providing the most trusted kitchen remodeling services locally, including its signature "1 Day Tune-Up", cabinet painting, cabinet refacing, cabinet redooring, and new cabinets.
"It's an honor to be recognized for our customer service," said Hubbard. "We work hard every day to ensure our customers receive the best care and that we provide service unlike any other company they've worked with before. Receiving this award shows us that we have been delivering on that promise!"
"I was so happy to present the National Customer Service Award to Matt this year," said Heidi Morrissey, president of Kitchen Tune-Up Franchise System. "Matt receives glowing reviews from everyone he works with and they love that his team can come in and reface an entire kitchen in one day! Matt has set the bar high for our entire system."
To schedule a free in-home consultation, contact Matt at (912) 876-8161, or visit his Facebook page here.