Kitchen Tune-Up Presents the 2020 Dave Haglund Entrepreneur Award Winners
The Dave Haglund Entrepreneur Award was created in 2019 to honor Kitchen Tune-Up Franchise System's founder, Dave Haglund. To receive the prestigious award, the recipient must show dedication to honoring the entrepreneurial spirit and growth mentality that mimics the same mindset as Dave.
The winners are chosen by current president of Kitchen Tune-Up and Dave's daughter, Heidi Morrissey. She considers all aspects of the owner's business and chose recipients that were following in the founder's footprints for success.
The awards were presented during the evening awards banquet during the National Reunion held virtually from September 21-23.
"While our reunion looked different this year, the takeaways, insights and ideas shared were more powerful than ever," said Heidi. "It was an honor to recognize franchises that embody my dad's entrepreneurial spirit."
2020 Dave Haglund Entrepreneur Award Winners
Chase Vincent Louisville, KY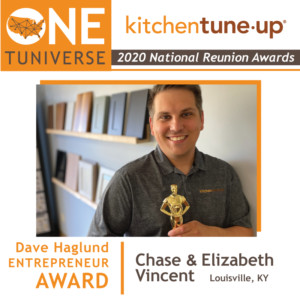 Andrey Leskiv Broadview Heights, OH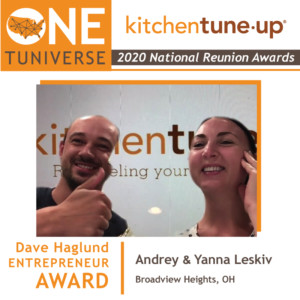 Nick & Tessia Pash Grand Rapids, MI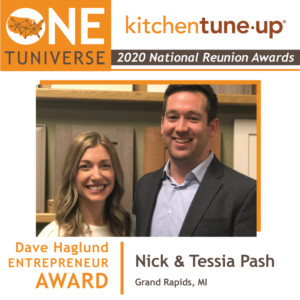 Wesley Steese Knoxville, TN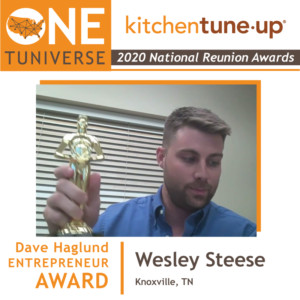 Jeff & Penny Toren Main Line, PA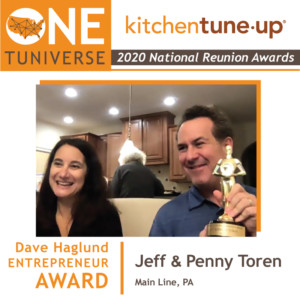 To learn more about Kitchen Tune-Up's annual reunion, read our last blog called Kitchen Tune-Up Franchise System Embodies Theme of "One Tuniverse" at Annual National Reunion.