Kitchen Tune-Up Highlands Ranch, CO Wins the Highest Honor: Franny of the Year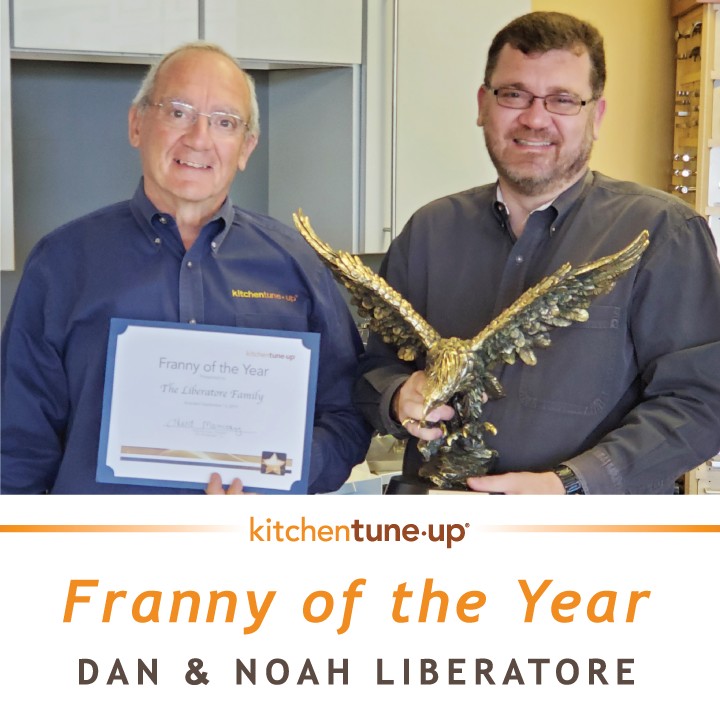 Dan & Noah Liberatore, owners of Kitchen Tune-Up Highlands Ranch, CO received the Franny of the Year award at our recent National Reunion held in Portland, Oregon.
The Franny of the Year award is the highest honor presented at our annual event is and awarded to the top overall franchise in the system as judged according to performance in several categories including sales, customer service, and service offerings.
In addition to being awarded a large trophy, system recognition, and placement on the Kitchen Tune-Up Wall of Fame, the winner receives an all-expense-paid cruise for two to Alaska.
"It's always our favorite time of year bringing the entire Kitchen Tune-Up family together," said Heidi Morrissey, President of Kitchen Tune-Up. "We are incredibly grateful to have such dedicated franchisees – it is the key to our success. Being able to take the time to recognize franchisees that have gone above and beyond shows how much we appreciate the effort they put in day in and day out for their clients and their team members."
"Our passion and dedication to our work have paid off. We are so honored to be recognized as the "Franny of the Year"," said Noah Liberatore. "This award means so much to us. We are excited to continue growing our business and make our loyal customers happy with our detailed, quality work."
To learn more about Noah and Dan, visit their website or give them a call at 303-721-1393.