Kitchen Tune-Up Atlanta Roswell Opens Design Center Showroom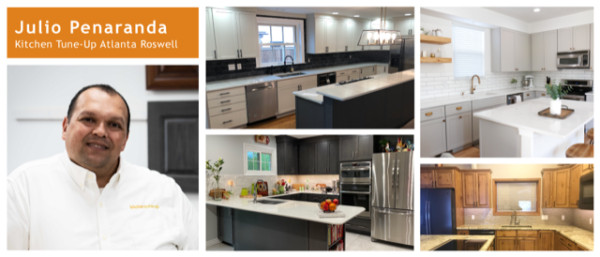 Kitchen Tune-Up Atlanta Roswell has announced the opening of its new design center at 292 S Atlanta Street, in Roswell. The new showroom is set to open on October 29, and will be kicked off with a grand opening celebration, open to the public.
Local resident and owner, Julio Peñaranda, is serving communities throughout Roswell and Marietta and offers a variety of service options to update kitchens and cabinetry. The grand opening celebration will start with a ribbon cutting ceremony between 10-11 a.m., officiated by The City of Roswell. Mayor Lori Henry will be present to say a few words.
"My goal is to make kitchen updates hassle-free for homeowners in the Atlanta area," said Peñaranda. "I want to show my neighbors that making a change in the kitchen can be easy and fun. The new showroom will allow homeowners to see exactly how their kitchen will come together." With a background that includes working in construction management and commercial property management for nearly 25 years, Peñaranda's experience has given him the foundation to launch and grow Kitchen Tune-Up locally. He is dedicated to bringing local residents' kitchen dreams to life, while providing A+ service.
Peñaranda has also brought on two in-house designers, Arica Munn and Shannon Schreiber, who bring nearly 25 years of combined experience. Munn has an extensive background in design, as well as over seven years of experience in the residential and commercial design industry from furniture and fabric selections, to plumbing fixtures and finishes. Schreiber is a driven sales professional and interior designer with over 16 years of interior design background and experience in various levels of interior remodel.
"I'm excited to bring the design center showroom to the community for residents to come see first hand the quality of work we offer," added Peñaranda. "I am proud to be part of an esteemed company – one that has built its reputation on trust, top service and amazing results."
In addition to residential clients, Kitchen Tune-Up Atlanta Roswell offers kitchen remodeling for commercial customers. Services for both client bases include the company's famous Tune-Up, a proprietary wood reconditioning process, as well as cabinet redooring, cabinet painting, cabinet refacing and custom cabinets. Plus, the Kitchen Tune-Up sales process guides homeowners through the entire project.
While most kitchen remodeling services can take weeks, leaving kitchens inaccessible, Kitchen Tune-Up can finish its work in as little time as one day. Kitchen Tune-Up's impeccable customer service standards, known as its Trustpoints, ensure a hassle-free experience from start to finish.
To learn more about Julio, his team and Kitchen Tune-Up Atlanta Roswell, be sure to visit their website and Facebook page.