Is Refacing the Right Option For My Kitchen?
Whether you've heard the term "refacing" before or not, this is an important option to consider when you are looking into updating your kitchen. Cabinet refacing allows you to keep your current cabinet boxes in place while replacing the doors and drawer fronts with brand new ones. A matching veneer, which is a very thin wood, is placed on all exposed areas, such as at the end of a cabinet run and on the exposed face frames. The result looks like a new kitchen, without the new kitchen cost!
Take a look at your current kitchen. Do you like the current layout? Are your cabinets still in good shape, besides the style of the doors? Then cabinet refacing may be the perfect option for you! It's also an eco-friendly way to update your space since the old cabinets don't end up in a landfill and you conserved the materials and energy needed to make new ones.
Refacing also limits the scope of the entire kitchen remodeling project. When you add all new cabinets to your space, you must replace your countertop, bring in plumbers and electricians to turn off appliance hookups and you risk damaging your current walls and flooring. With refacing, the project can be done in 3 to 5 days (yes, days NOT weeks!) and you have full use of your kitchen at the end of every workday.
When is refacing NOT an option?
• Your cabinets are falling apart or were poorly built
• You have metal cabinets
• You are unhappy with the entire layout of your kitchen
• You have structural issues, like floors that are beginning to settle
Like any kitchen project, the price of refacing depends on several factors, such as the size of your kitchen, the doors you choose, and any upgrades you choose to add to your projects such as new drawer boxes, a new island or cabinet organizers.
Custom cabinets usually come in around twice the cost of a refacing project and if someone tells you otherwise, think about the quality of the products and services you may be receiving from them as well as what all that price includes. Does it include the installation / labor? Taxes? New countertops that are now required? What about drywall repairs? Disconnecting and hooking up of appliances? Is there a warranty included? Where were the cabinets made? What does the quality look like?
You may be surprised to learn that the kitchens in this video were refaced.
Here are a few more examples: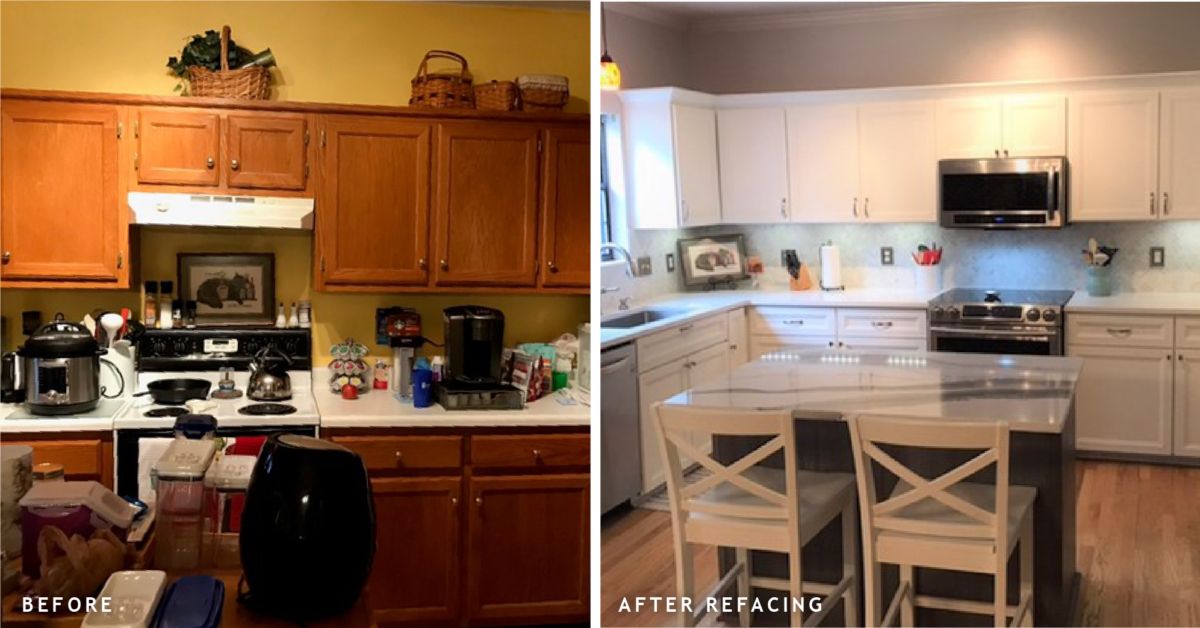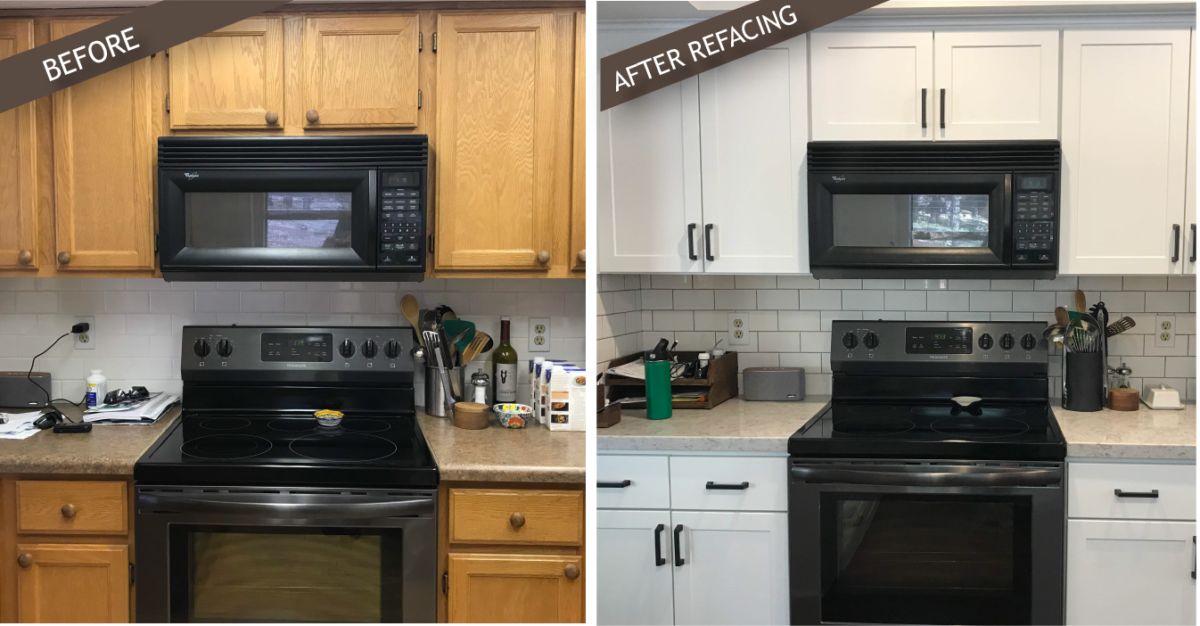 If you are ready to update your kitchen and think refacing is the right fit, visit our Locations tab to find a Kitchen Tune-Up near you! We also offer 4 other ways to update your kitchen: 1 Day wood restoration, redooring, cabinet painting, and custom cabinets, so we have an option to fit the needs and budget of most homeowners.