Kitchen Tune-Up Announces February Project of the Month Winners
In these award-winning projects, Kitchen Tune-Up owners from Florida to Colorado show how they turned homeowners' kitchen dreams into beautiful realities. See how these kitchens (and one playroom!) got tuned up with creativity and style.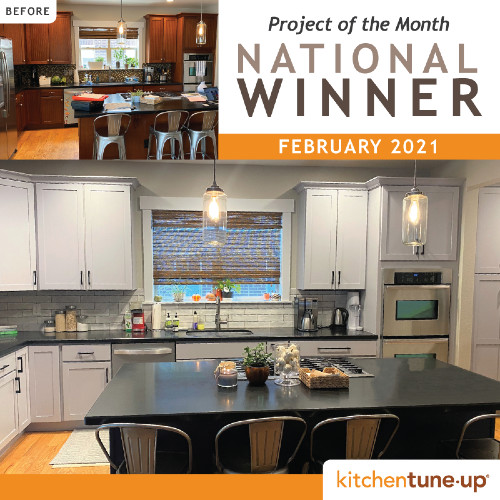 Paul and Kathryn Jost - Denver, CO
A winner in the cabinet refacing category, this transformation takes the kitchen from dim to dazzling. The original, dark oak cabinets get simple, versatile shaker doors in subtle French silver--an elegant alternative to white. The kitchen island is now indigo ink blue, a rich shade contrasting with the lighter cabinets. Don't miss the new backsplash! The previous dark, patterned backsplash is gone, replaced with unfussy, gray-white subway tile that complements the cabinets.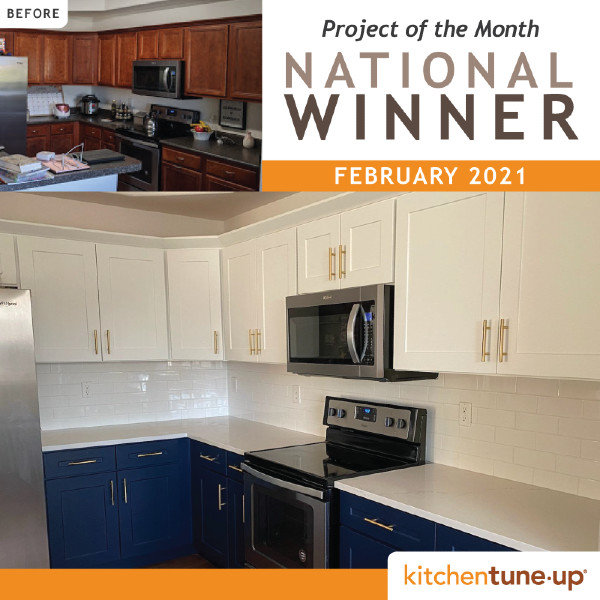 Joel and Jessica Winters - Castle Rock, CO
This kitchen is two-toned perfection! The client chose redooring to give those dark, stained maple cabinets a cool, contemporary look. Two-tone cabinets with light upper cabinets and darker lower cabinets are not only trendy--they also help make a kitchen look bigger and bolder. These white upper and navy lower cabinets get the perfect accent, gold hardware that adds some shine.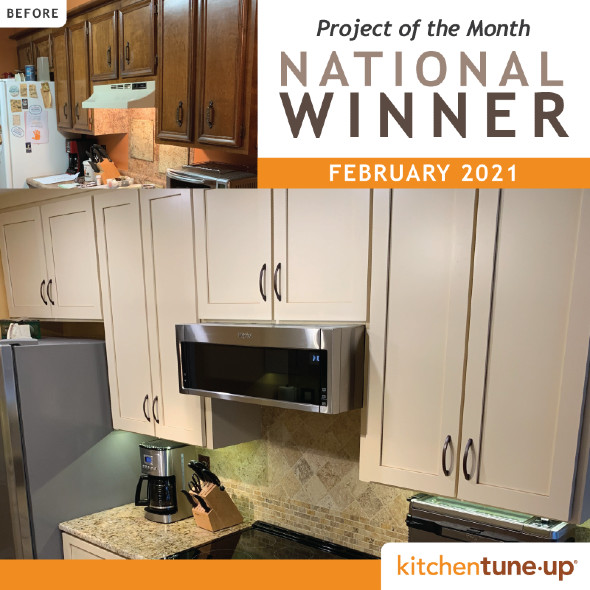 Carlos Lloyd - Jackson, MS
The client used the design tool on the Kitchen Tune-Up website to update her kitchen. Note how Kitchen Tune-Up removed the old cabinets over the countertop peninsula, opening up the space. New shaker doors for the cabinets are in a color dubbed biscuit, while the peninsula gets a makeover in hickory with a cashew stain. Big changes are hidden inside the cabinets here: Soft-close drawers, roll-out trays, roll-out baskets, spice racks and trash pull-outs all add functionality and convenience.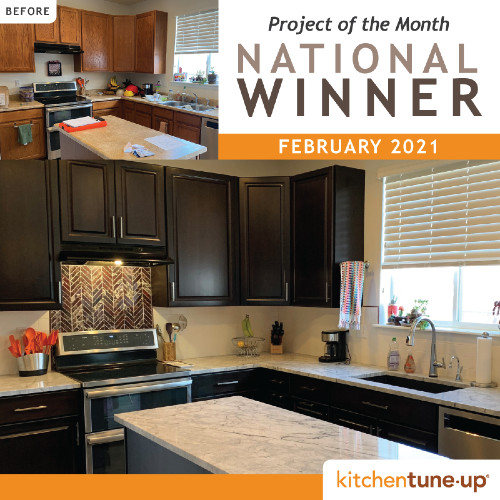 Paul and Kathryn Jost - Denver, CO
Builder-grade cabinets are often dull and inexpensive-looking. This remodel turned builder-grade oak cabinets into strikingly elegant, raised panel "Charleston" doors in a rich, dark espresso color. Kitchen Tune-Up redesigned the island to improve functionality by adding large drawers. Both island and cabinets got classic marble-look countertops. The new tile backsplash above the stove, in a herringbone pattern, draws the eye and picks up on the cabinets' deep brown tone.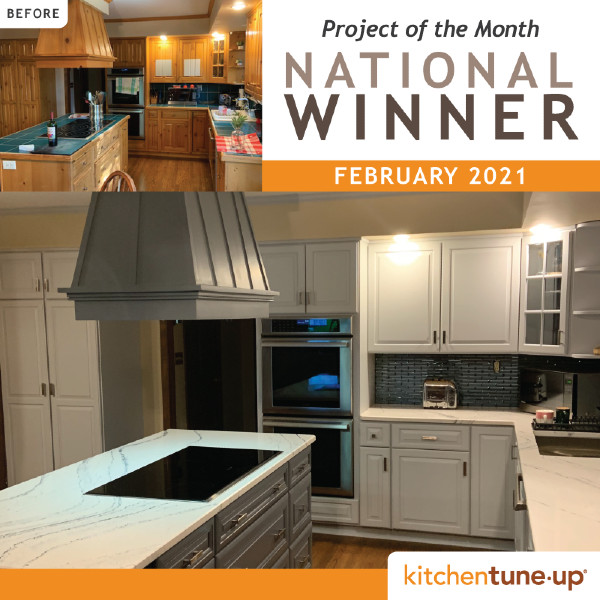 Michael and Deanna Stratton - Reading, PA
The client initially was interested in cabinet painting, but Kitchen Tune-Up owners Michael and Deanna Stratton suggested refacing instead. The resulting upgrade reflects how, without altering the layout of a kitchen, a homeowner gets a totally new look just with refacing, new countertops and new tile backsplash! These maple raised panel doors in "lazy gray" complement the darker gray on the island. Replacing the original dark countertops with lighter ones in a marbled pattern helps lighten the whole space.
Mike Lehmann - Columbus, OH
Sometimes, rather than refacing or redooring, a client goes for new cabinets. You see the results in this lovely kitchen, with its shaker style cabinets in a cool pewter color. The island, originally dark and heavy-looking, gains texture and lightness in a gray driftwood tone with a white countertop, veined in pale gray, to match the cabinets' countertops. The dark walls are gone, replaced with white subway tile all the way from counters to ceiling--a dramatic change! The counter is transformed with a new, deep stainless steel sink. Floating shelves in driftwood add style as well as storage.
Karin and Paulo Motoki - Coral Gables, FL
Our business says "Kitchen" Tune-Up, but we can make other spaces more useful and beautiful too. This client wanted to convert a playroom into a combined study and playroom. To create this flexible space, Kitchen Tune-Up installed a floor-to-ceiling cabinet with plenty of convenient storage. A new desk, attached to the wall, has enough work area for two computers. Over the desk, floating shelves provide storage and display. The whole family can use the combined space now.
Roger Koenig - Fargo, ND
Cabinet painting is one of Kitchen Tune-Up's core services, and this winning kitchen shows off its new paint with flair. The owner wanted to keep these unusual, attractive cabinets, island and counter, so the Kitchen Tune-Up team painted over the original cream color with a brighter white. Peeping out above the counter in this photo is the beautiful, custom color on the island--an eye-catching blue-green providing a terrifically bold contrast.