Featured Kitchen Project: Refaced Cabinets Add Pizazz
Check out how big a difference it makes simply to reface existing cabinets!
This kitchen transforms from worn to sparkling just with a refacing job. When Kitchen Tune-Up refaces cabinets, the basic layout of existing cabinets stays the same. The changes we make are both functional and cosmetic—we improve your kitchen's usefulness and its looks at the same time, all without tearing apart the kitchen.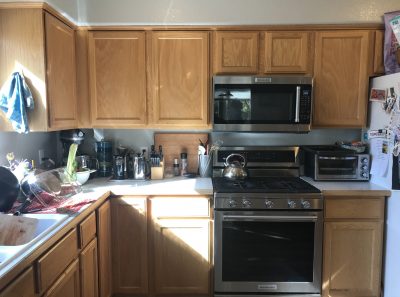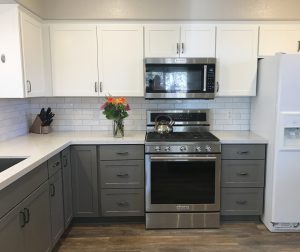 Before: The wood-tone cabinets look outdated and heavy. Too much of the same color shrinks the kitchen visually. And what's missing? Cabinet door and drawer handles. These are "finger pull" cabinets, opened by pulling the edges with your fingertips. While the style works well with some modern cabinetry, it's a bit old-fashioned here.
Tunified: The refaced cabinets take advantage of the popular two-tone trend. Upper cabinets wear the light color Stratus, while lower cabinets are a gray shade called Gauntlet. Choosing darker colors for lower cabinets brings color and contrast to the kitchen but it's also a practical choice: Lower cabinets tend to endure bumps, splatters and run-ins with kids and pets. Darker shades on those cabinets won't show dirt or scuffs as much as light tones would.
Looks aren't the only change. What were cabinets flanking the stove are now convenient drawers, creating a much better organized space. Note the new door and drawer hardware, too. These bar-shaped handles are easy to pull, and their brushed steel look picks up the gray and steel tones of the cabinets and appliances.
The new backsplash, of white subway tile, ties together the countertop and the upper cabinets. Tile is extremely durable and easy to clean, too, making it a good choice to use behind stoves and food preparation surfaces.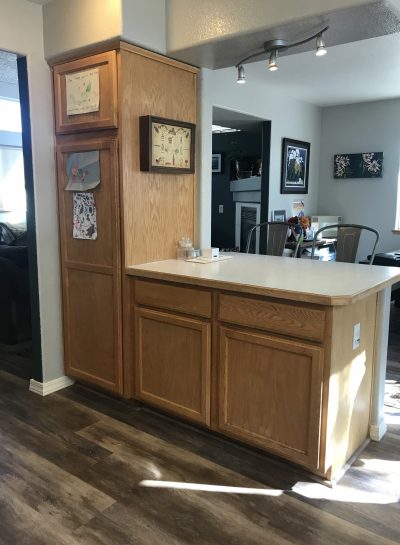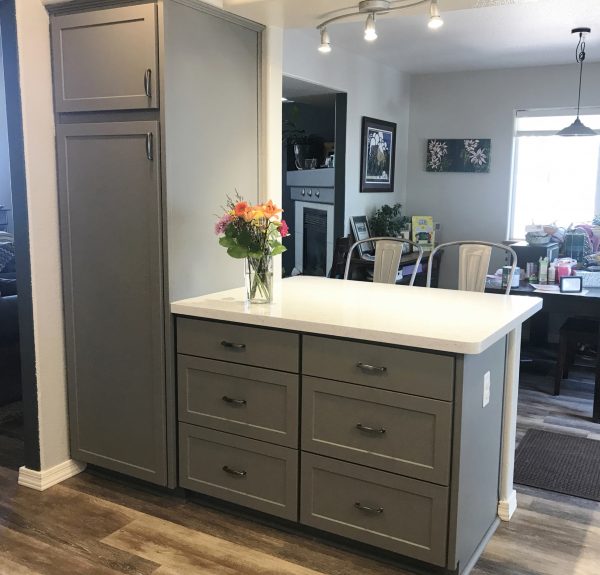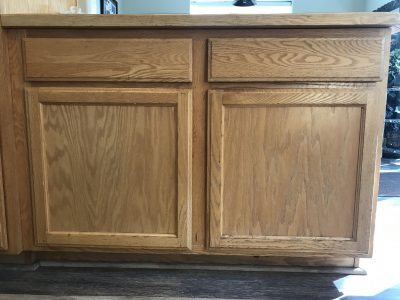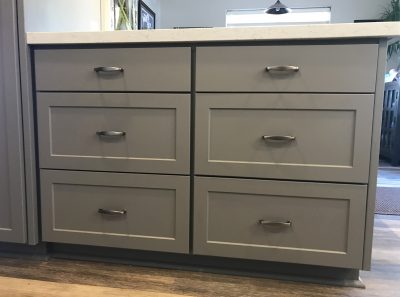 Before: This storage unit with a peninsula and worktop was handy, but needed better storage options than just cavernous cabinets. The close-up of the lower cabinets shows stains and wear, and the busy woodgrain pattern of the old wood is distracting and dated.
Tunified: The worn cabinets transform into a calming, coordinated pleasure to look at in Gauntlet gray. On the peninsula, the cabinets become drawers. Why so many new drawers in this project? Drawers below countertops are a storage plus for kitchens. Cabinets, especially lower cabinets, tend to fill up, and you end up leaning down to root around for what you need at the back. Drawers let you organize items better and access them more easily.
This kitchen is the work of Kitchen Tune-Up Flagstaff, AZ, but we have locations around the country that are ready to help you update your kitchen. To find a Kitchen Tune-Up near you, visit our locations page.