Featured Kitchen Project: From Blah to Beautiful
Watch this kitchen go from outdated to outstanding! Kitchen Tune-Up's cabinet refacing service is the root of this transformation, but we've made plenty of other changes to bring this customer's ideas to life.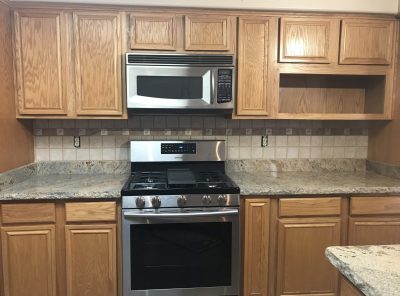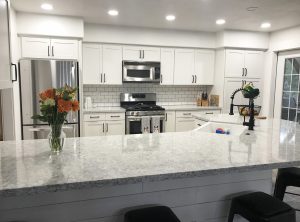 Before: Golden oak cabinets dominated. Behind the stove, a blah backsplash of beige tile did little to lighten the space. The large peninsula had a raised bar counter that reduced the amount of worktop available. An oversized fluorescent fixture cast harsh, bright light that still didn't illuminate the whole space well.
Tunified: We refaced the cabinets with crisp, clean, white Shaker doors and bold, contrasting hardware. The peninsula underwent big changes to improve its functionality and looks. We leveled the raised bar counter so the countertop was at a single height, creating more counter space for food prep. Then we topped it with a tough, beautiful new quartz countertop. The owner wanted a farmhouse feel to this kitchen, so we trimmed the peninsula's sides with shiplap, replacing the old stucco.
Be sure to look up, too. The Tunified kitchen features recessed light fixtures that shed softer light yet brighten the entire kitchen.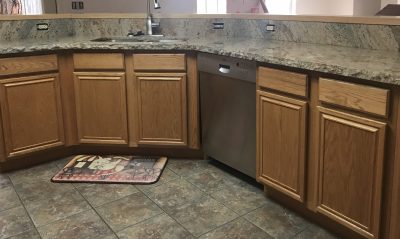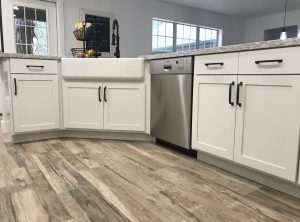 Take a peek behind the peninsula! This work area makes big gains in functionality.
Tunified: The cabinets and drawers are easier to open with the addition of handles. We swapped outdated flooring for the latest hard-wearing woodgrain laminate. The sink is a huge change: We modified the existing sink cabinet to make room for the big, deep farmhouse sink the owner wanted. A fantastic gooseneck faucet with sprayer completes the new sink.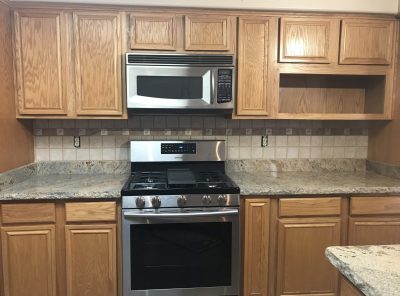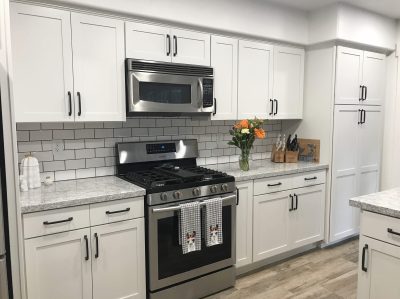 Before: The countertop and backsplash here seem busy but still manage to be bland. Those square tiles are outdated. The cabinets above them don't make good use of the space available, either. The open shelf with two tiny cabinets above it isn't providing much useable storage.
Tunified: That awkward little shelf-and-cabinets combo is gone, and in its place are two larger cabinet doors. The new gray-and-white quartz countertop looks great below the trendy white subway tile, which adds pattern as well as durable protection for the walls.
This kitchen is the work of Kitchen Tune-Up Flagstaff, AZ, but we have locations around the country that are ready to help you update your kitchen. To find a Kitchen Tune-Up near you, visit our locations page.