Featured Kitchen: From Dim and Dated to Bright and White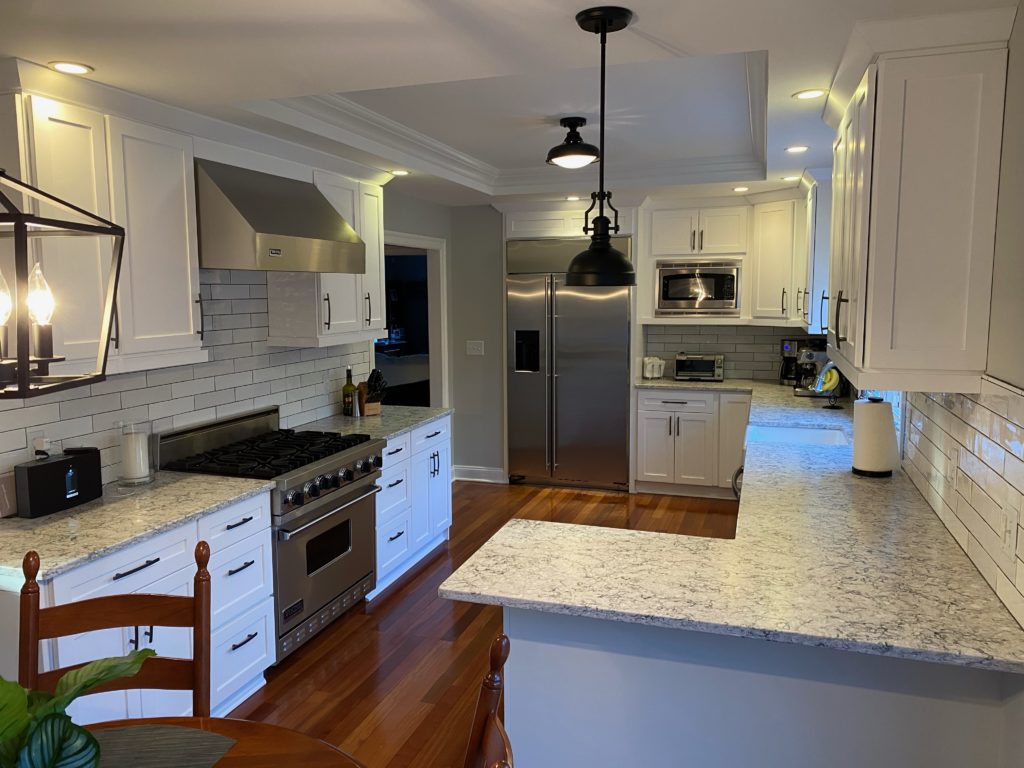 Ruth and Todd Finkenstadt might be new Kitchen Tune-Up owners, but this remodel was anything but a simple, newbie project. This big effort involved new cabinets, refaced cabinets, and a host of changes to upgrade a dim kitchen into a bright, contemporary one. Kitchen Tune-Up Glen Rock, NJ, worked with the clients to create the total reset the clients sought. The clients said they disliked all that dark wood and wanted to get rid of the fussy dentil molding.
The clients also wanted to do away with the kitchen's odd corners: the range, set against a wall on its own, was flanked by cabinets angled at the two corners. The result was a strangely cut-off look. The countertop peninsula was rounded at the end, a shape that reduces useable counter space and looks dated.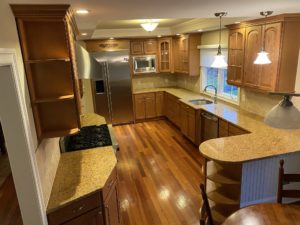 Before: this kitchen featured dark cabinetry and fussy details.
The Finkenstadts and their team replaced the cabinets on the range wall with new, more traditional ones. The rest of the kitchen demonstrates how refacing, one of Kitchen Tune-Up's core services uses existing cabinet frames as the foundation for what appear to be new cabinets. Without the mess, inconvenience and expense of ripping out the base cabinetry, Kitchen Tune-Up made the kitchen look brand new.
Check out these changes:
The new cabinet doors are shaker style--the popular style with a flat "rail" surrounding a recessed center panel. The color is satin white, a big change from the previous wood cabinets.
The clients chose a bar-shaped pull for drawers and doors, in a dark tone that stands out against the cabinets for a shapely contrast.
Above the cabinets, that dentil molding is history. (Dentil molding has small, tooth-like blocks in a row. You will spot it in the "before" photos.) In its place is new crown molding, a finishing touch that adds polish.
Below the cabinets, Kitchen Tune-Up replaced bland, beige backsplash tile with glossy, gray-white subway tile. The surface catches light and the color ties together the white cabinets and gray wall color.
The new countertops are quartz. This man-made composite has the look of real stone but is easier to care for and tougher, too.
The countertop peninsula's rounded end is now squared off for a more up-to-date look that coordinates with the new cabinets around the range.
Kitchen Tune-Up installed a new, deep farmhouse sink.
Convenient upgrades are tucked inside the cabinets, including roll-out trays and a trash pull-out.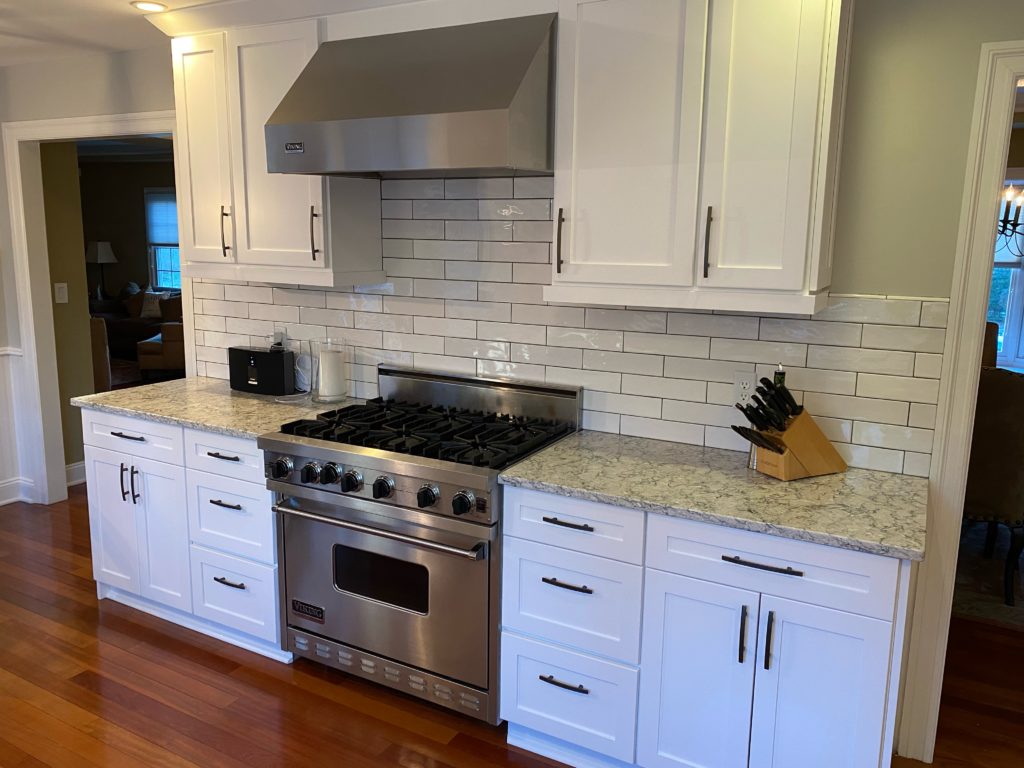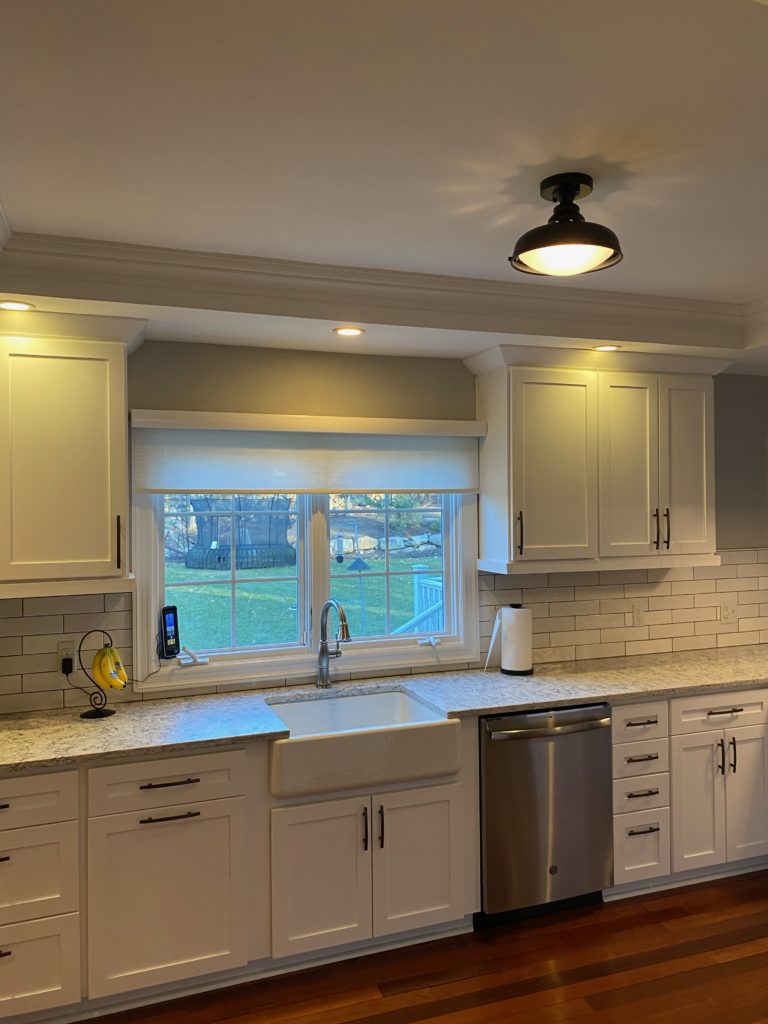 This kitchen won a Kitchen Tune-Up Project of the Month Award for good reason. It shows the creativity of both the Finkenstadts and their clients in reimagining the space as lighter, brighter and better arranged. To make your own kitchen dreams into realities, talk to your nearest Kitchen Tune-Up today.