4 Design Styles to Incorporate into Your Kitchen
When you plan your dream kitchen, do you picture a bright, contemporary space, or maybe a haven with plenty of wood and warmth? Do you long for streamlined efficiency and want clutter to vanish behind doors and into drawers? The design style you choose can help you achieve the feel and functionality you want in your kitchen. Check out these four kitchen styles and see which you can incorporate into your next kitchen remodeling project!

Contemporary
"Contemporary" in design simply means "What's popular right now." Contemporary kitchen design in 2021 features sleek simplicity but with more warmth than minimalist design. Here are elements of contemporary kitchens:
Frameless (called "full overlay") cabinets. Whatever the door style, the frames don't show.
Simple hardware on cabinets and drawers. Straight, bar-shaped handles in steel, chrome or brushed nickel are the definitive contemporary cabinet hardware.
Stainless steel appliances.
Geometric shapes. Think: Globe-shaped pendant lamps, geometric patterns on barstool cushion fabric, curved stainless steel vent hoods.
Natural materials used alongside manmade materials. Glass and steel pair with wood and stone. Picture wood cabinet doors with frosted glass panels, or steel appliances flanked by wood drawers.
Mixed white and wood kitchen cabinets. Or two-toned kitchens, with darker lower cabinets and light or white upper cabinets.
Pops of color on islands and backsplashes, especially teals, blues and greens.
Backsplashes of colorful tiles in unfussy geometric patterns.
"Floating" shelves made of wood.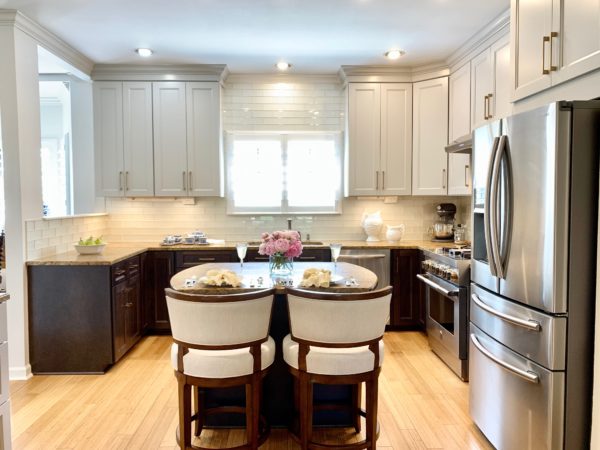 Traditional
Traditional has no one "right" style but should evoke a house's history and older surfaces. Straight lines and geometric patterns are gone, replaced by soft edges, soft hues and a living-room-like look with these details:
A muted palette like cream, light gray, muted greens, taupe or beige.
Painted wood cabinets, with the wood grain's pattern showing beneath the paint.
Natural surfaces, or "aged" man-made ones, like weathered brick, clay tile, wood, stone, or metals with patinas.
Flooring in wood or stone with variegated coloring.
Furniture-like elements. Imagine a dresser repurposed as a kitchen island, or a painted table in place of an island. Cabinets can have a more furniture-like look especially when made of darker wood.
Touches like crown molding, chandeliers, and leaded (not frosted) glass panels in cabinets.
Classic hardware like "cup pulls" and furniture-style handles in warmer tones like brass.
Patterned fabrics on seats or curtains, with natural designs like botanical prints.

Modern Farmhouse
The "modern" in modern farmhouse means this style is uncluttered. The "farmhouse" means it evokes a simple kitchen with natural elements, mixed metals and a touch of industrial style. Look for these features:
Shaker cabinets. This popular cabinet style's simplicity is ideal for modern farmhouse.
Neutral colors (think of color names like stone, fog and mushroom!) with greens, blues and terracotta. Black is here, too, for contrast.
Industrial-style pendant lighting that looks like it came from a warehouse or factory, in matte black or any metallic--copper, brushed steel, brass, enamelled metal.
Wood floors.
Countertops with a natural look even if they're man-made. Picture marble-look counters of man-made quartz. Wood countertops are especially "farmhouse."
Wooden floating shelves.
Rustic seating, like benches or stools with wood seats.
Islands wrapped in natural wood or in shiplap, in colors.
Stainless steel appliances. These work in almost any style kitchen.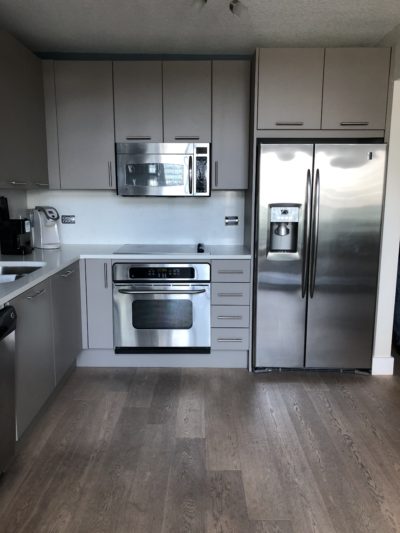 Minimalist
Minimalist kitchens are all smooth surfaces without anything unnecessary, not even drawer handles. This stripped-down look depends on plenty of storage and appliances and lighting that seem to disappear. Look for these elements:
Zero clutter. No gadgets, mugs, toasters, etc. live on the counters full-time.
Integrated appliances. Put appliances flush with cabinet fronts or hidden behind doors that match the cabinets. Opt for a flat cooktop and an "undermount" sink without a metal edge--so the counter appears to be one unbroken surface.
Frameless (full overlay) cabinets
No visible door or drawer hardware.
Monochrome. All-white is a minimalist dream. Black cabinetry with pale wood flooring is minimalist chic too. Forget geometrics or patterns.
Unobtrusive lighting. Try recessed lighting placed under the cabinets.
Countertops and backsplashes of the same material. No bright or patterned backsplashes here--go for one continual material tying the look together.
Don't navigate kitchen styles on your own. Talk to a Kitchen Tune-Up expert today to begin planning your kitchen remodel!