Project of the Year Takes Kitchen from Clashing to Cohesive
Joel and Jessica Winters turned this busy, less than convenient kitchen into a model of cool, beautiful efficiency. Their creativity won them a Kitchen Tune-Up Project of the Year award for their Castle Rock, CO team.
The Winters' achievement makes them one of just eight Project of the Year winners for 2020. To win these awards, a project must already be a Project of the Month winner, chosen by the Kitchen Tune-Up Home Office. Our Kitchen Tune-Up franchisees nationwide then vote on which of the monthly award winners deserve Project of the Year honors. These awards come from their peers, who know a great kitchen when they see one.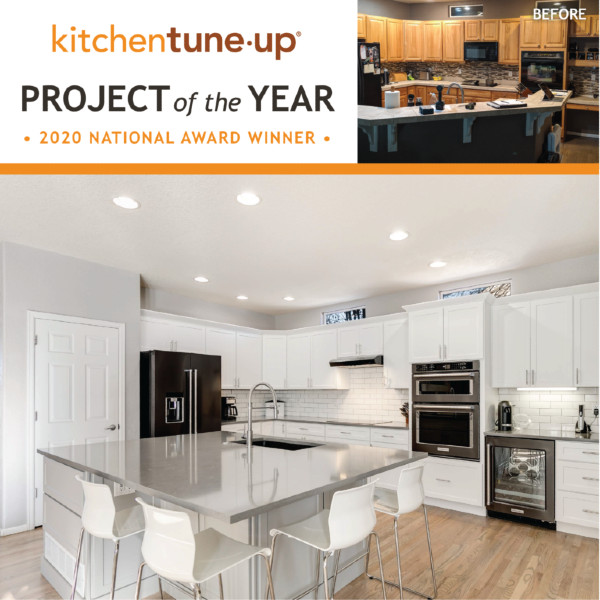 This winning project's "before" shows a kitchen that's ample in size but lacking in cohesion. The wood cabinets, variegated backsplash tile and gray wall paint don't mesh. The freestanding counter doesn't provide much workspace but does seem to hem in the kitchen. The renovation refaced the original oak cabinet doors with that popular, versatile choice, white Shaker doors. New molding at the top of the cabinets adds height and heft. New countertops in gray provide a contrast to the all-white cabinets. The busy backsplash is gone, replaced by white subway tile that ties together the upper and lower cabinets and makes the backsplash wall space look larger. The wall paint is now a paler gray than before, adding more light to the room without adding more white. Note how replacing the over-the-stove microwave with a sleek, steel vent hood makes the kitchen look less crowded. New appliances in steel and black finishes upgrade the whole look. The see-through door on the dishwasher is an especially eye-catching touch.
The most dramatic change to both form and function is the new island. The old counter's odd shape made it less than useful for either a work surface or an eating space. This new, custom-built island comes topped with a large countertop, a new sink with gooseneck faucet, and extra storage in the island's base, plus seating for four.
All these changes make this feel like an entirely new kitchen, yet the footprint of the cabinets and appliances didn't change. That's the kind of magic Kitchen Tune-Up can work—making kitchen dreams into realities without the inconvenience and expense of taking apart your whole kitchen.
Congratulations to Joel and Jessica Winters on their Project of the Year award. To see what else they've been doing, visit the Kitchen Tune-Up Caste Rock, CO website.