The Allure of Floating Shelves: Transforming Kitchen Spaces
In the ever-evolving world of kitchen design, there are always exciting trends emerging that can instantly revitalize the heart of your home. One such trend that has gained immense popularity in recent years is the use of floating shelves. These stylish and functional elements have revolutionized the way we think about kitchen storage, bringing a sense of openness, sophistication, and versatility to any culinary space. Join us as we explore the captivating allure of floating shelves and how they can transform your kitchen into a modern masterpiece.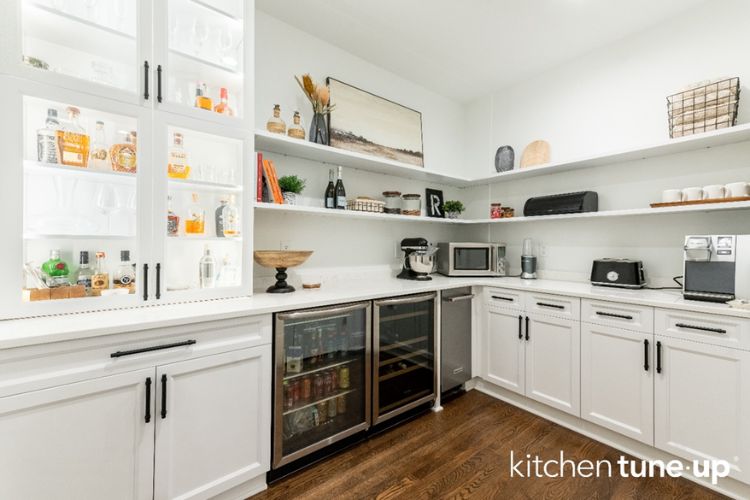 Maximizing Space Efficiency:
One of the primary reasons floating shelves have become a staple in kitchen design is their ability to maximize space efficiency. By eliminating the need for cabinets and replacing them with sleek, wall-mounted shelves, you can open up the visual expanse of your kitchen. This design choice is particularly beneficial for smaller kitchens, where every square inch counts. The absence of cabinet doors creates an illusion of spaciousness, making your kitchen feel more open and inviting.
Showcasing Personal Style:
Floating shelves not only serve as practical storage solutions but also offer an excellent opportunity to showcase your personal style and enhance the overall aesthetic appeal of your kitchen. Unlike traditional cabinets with fixed fronts, floating shelves allow you to curate a visually appealing display of your favorite kitchenware, cookbooks, decorative items, and even indoor plants. These shelves act as an open canvas for your creativity, allowing you to infuse your kitchen with a unique and personalized touch.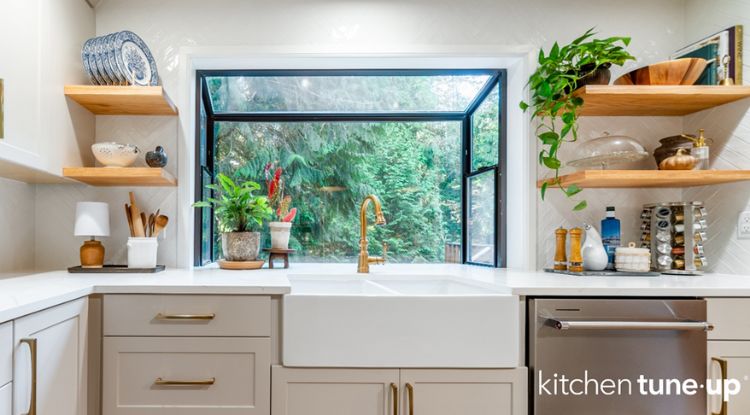 Embracing Minimalism:
In the era of minimalism and decluttering, floating shelves perfectly align with the desire for a clean and uncluttered kitchen space. Their minimalist design creates a sleek and streamlined look that exudes elegance and sophistication. By opting for floating shelves, you can embrace the principle of "less is more" and focus on displaying only the essential items, resulting in a visually pleasing and organized kitchen environment.
Allowing Natural Light to Shine:
Another remarkable benefit of floating shelves is their ability to let natural light shine throughout your kitchen. By replacing traditional upper cabinets with open shelves, you eliminate the visual barrier created by solid cabinet doors. As a result, the light from windows or overhead fixtures can freely illuminate the entire space, creating an airy and bright ambiance. This enhanced lighting not only makes your kitchen appear more spacious but also contributes to a positive and uplifting atmosphere.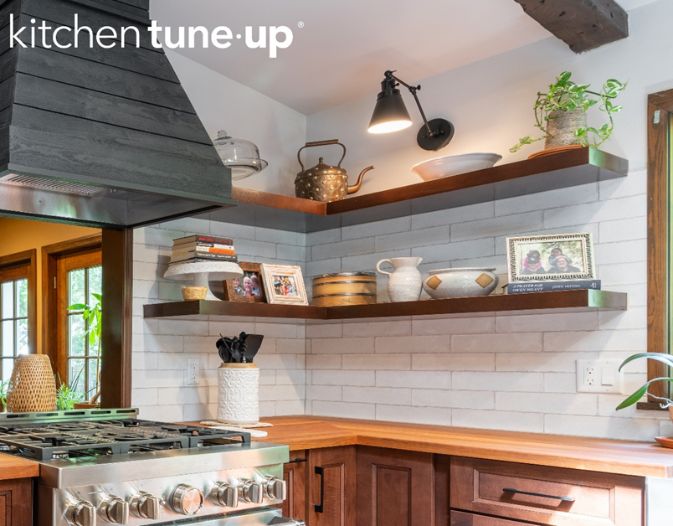 Add Texture:
With the white kitchen design trend not going away anytime soon, floating shelves give an opportunity to add warmth, texture and interest to the space. You can design with white cabinets and use floating shelves as an accent. Incorporate the use of wood to add a layer of interest while keeping the aesthetic of light and bright that a white kitchen brings! (Check out other ways to incorporate texture, color and pattern by clicking here.)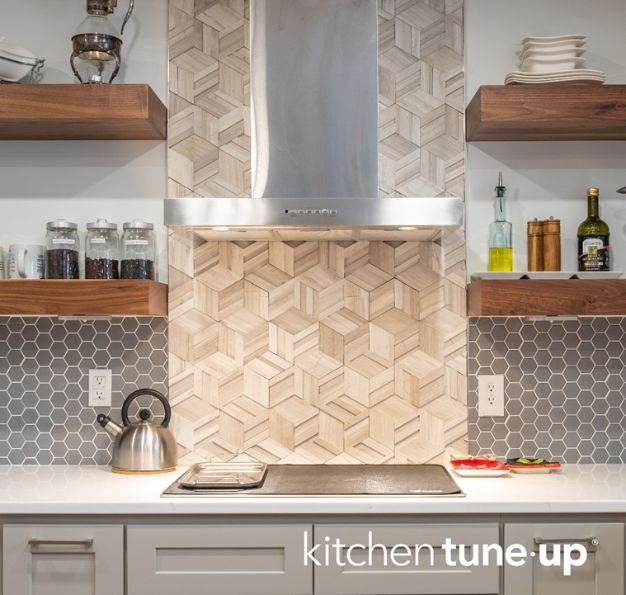 Floating shelves have undoubtedly become a design trend that continues to captivate homeowners and interior designers alike. With their space-saving efficiency, style versatility, minimalist appeal, and ability to amplify natural light, these shelves offer a multitude of benefits for kitchen remodeling projects. Whether you have a compact kitchen in need of an illusion of space or simply desire a fresh and contemporary look, floating shelves can transform your kitchen into a functional and aesthetically pleasing culinary haven. (View more of our favorite accessories!) Embrace this trend and experience the charm and allure of floating shelves in your kitchen today.
Are you ready to get start in creating the kitchen of your dreams? Request your complimentary consultation today!