Kitchen Tune-Up: Types of Outdoor Kitchens
If you've decided that you like the idea of an outdoor kitchen and think it might be for you, you wouldn't be the only one. Outdoor kitchens are among the most popular home add-ons, especially as we get closer to Summer. However, outdoor kitchens aren't as simple as some may imagine.
Much like indoor kitchens, there are many different styles and aesthetics you could choose from when designing your outdoor kitchen. It's a good idea to have a general idea of the style and aesthetic you want before hiring a company like Kitchen Tune-Up to help you obtain it. Here are just a few styles of outdoor kitchens to give you some inspiration.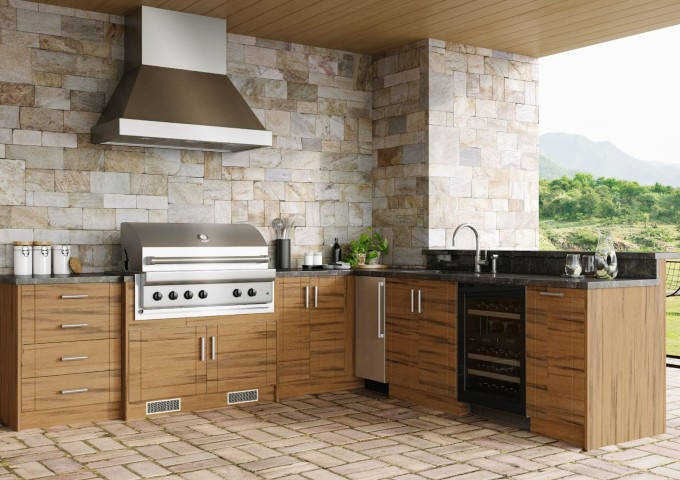 Basic Patio Kitchen
As the name suggests, a basic patio kitchen is a standard kitchen built on an outdoor patio. They typically include a grill, sink, and an in-counter refrigerator. Most people that haven't had an outdoor kitchen before and want to start small prefer this kind. They are simple to install, fairly inexpensive, and don't take up too much space.
One of the most significant benefits of a patio kitchen is its exceptional protection against the elements and aspects of nature that may present potential problems. When built under the patio roof, an outdoor kitchen experiences much less harsh sunlight, is significantly shielded from rainfall, and has fewer leaves falling into it from nearby trees.
Eat-In Patio Kitchen
An eat-in patio kitchen offers all of the benefits of a basic patio kitchen and more. In addition to protection from the elements, it provides a better space for entertaining guests. While they typically feature a fireplace and other fun features, the defining trait is that the table is the centerpiece of the whole design.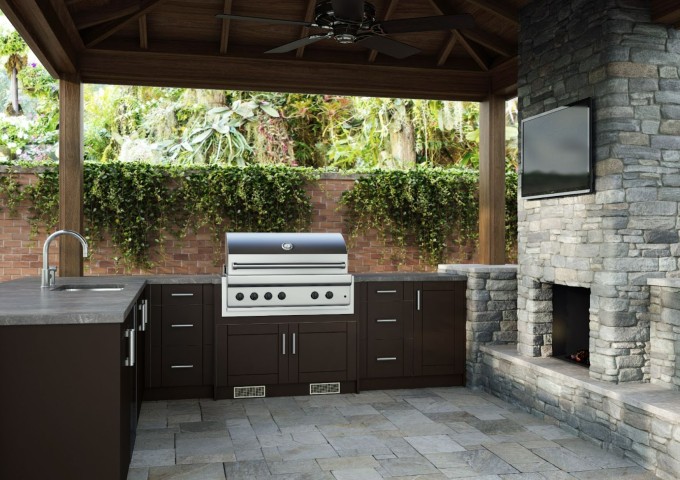 U-Shaped Kitchen
U-shaped designs are a popular choice for people designing indoor kitchens with a bit of extra money to spend. This is also true for outdoor kitchens, especially with limited yard space. U-shaped kitchens are popular because of their ability to optimize space usage.
U-shaped outdoor kitchens allow for more counter space without causing a disconnect from the rest of the yard. They also tend to have more room for appliances, so you can include non-necessities like a wine fridge and a dishwasher if you choose.
Standard Island Kitchen
The layout for an outdoor island kitchen is the same as it would be for an indoor one. They are similar to other indoor or outdoor kitchen layouts, with one unique identifying feature: an island. Island here refers to a set of freestanding counters or cabinets rather than a small landmass in the center of a body of water. Islands tend to match the style of the rest of the kitchen while adding room for prep work, seating, storage, and more.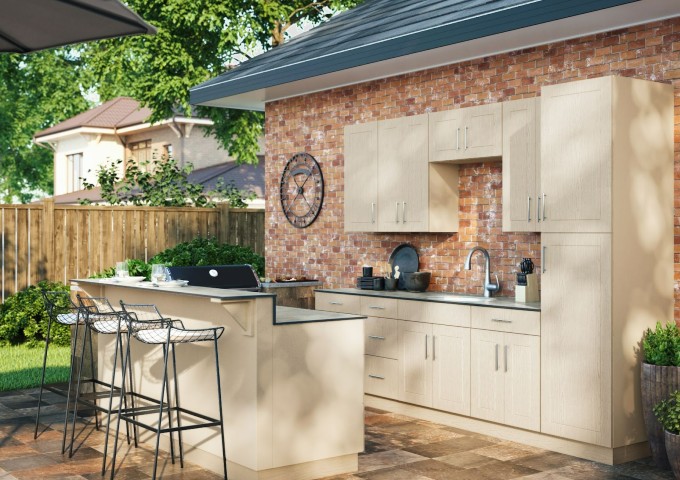 Outdoor Bar
Another popular type of outdoor kitchen is one that can double as a bar. This can have the layout of any other type of kitchen and similar features. The only real difference is the alcohol accessories. Bar kitchens have shelves and refrigerators to store your drinks or ingredients and usually a bar counter with stools. These tend to be preferred by people that host parties more often than they have big family meals or get-togethers.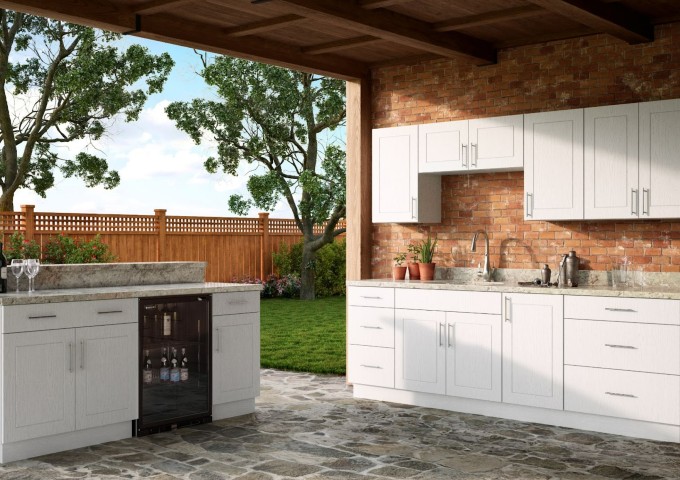 Outdoor Bar Variants
1. Sports bar
An outdoor sports bar is almost identical to a basic outdoor bar. The differences can be easy to miss if you aren't looking for them. The main thing is a TV, which will almost always be tuned to sports. You might also add sports memorabilia and decorations to support your favorite teams.
2. Swim-up bars
Swim-up bars combine a full outdoor kitchen and an outdoor bar. They include all of the necessities that an outdoor kitchen has, plus a double-sided bar. One side faces an above-ground pool, and the other faces the rest of the kitchen. That way, you won't have to take a break from a cool, relaxing swim to get a refreshment on a hot summer day.
3. Curved bars
Lastly, we have curved bars. They are the same as any other bar except that the bar counter is curved rather than straight. This can offer a few different benefits, the main one being that you can seat more people with less space overall
What to do Once you Decide on an Outdoor Kitchen
Once you've done your research and decided on the kind of outdoor kitchen you want, it's time to find the right people to help you get it. There are many different people to choose from, but we would love it if you considered hiring Kitchen Tune-Up for the job.
We've got the experience and know-how to get the job done right. To schedule a consultation with a professional, click here. We would love to help you out.