Kitchen Tune-Up Unveils Project of the Month Winners for April 2021
Kitchen Tune-Up makes homeowners' dreams come true, remodeling kitchens into more beautiful and functional spaces. These December Project of the Month winners show the terrific variety of Kitchen Tune-Up's creativity.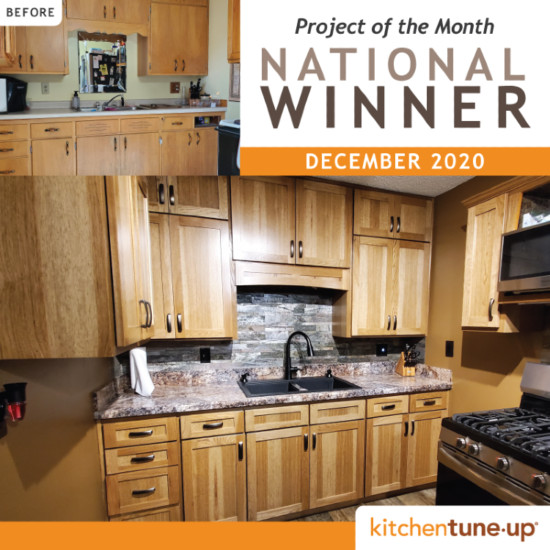 Lynn and Pat Aman
Aberdeen, SD
This refacing project removed the blonde plywood cabinet doors and replaced them with Shaker doors in beautiful hickory. Hickory's naturally varied tones add texture and warm color with this "Roasted Barley" finish. New countertops, backsplash and appliances add a modern touch.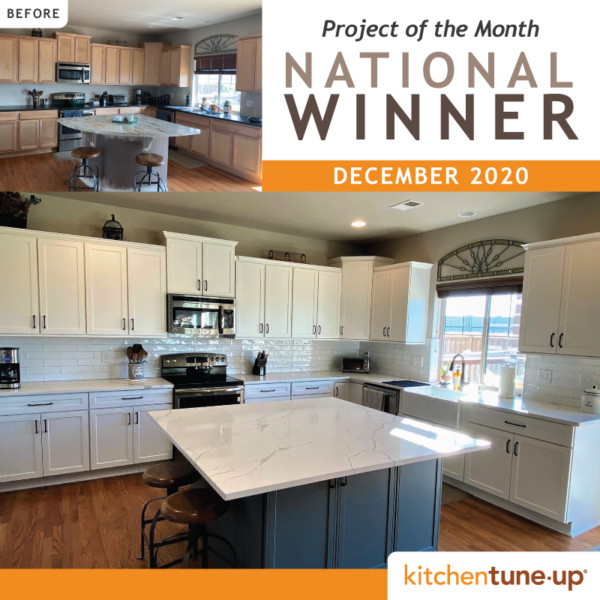 Kathryn and Paul Jost
Denver, CO
Popular Shaker cabinets in cloud-white "Stratus," and an island in sea-blue "Surf," give this kitchen a serene makeover. Kitchen Tune-Up Denver, CO modified the old island into a larger, more functional one with more useable workspace. Note the new farmhouse sink, too.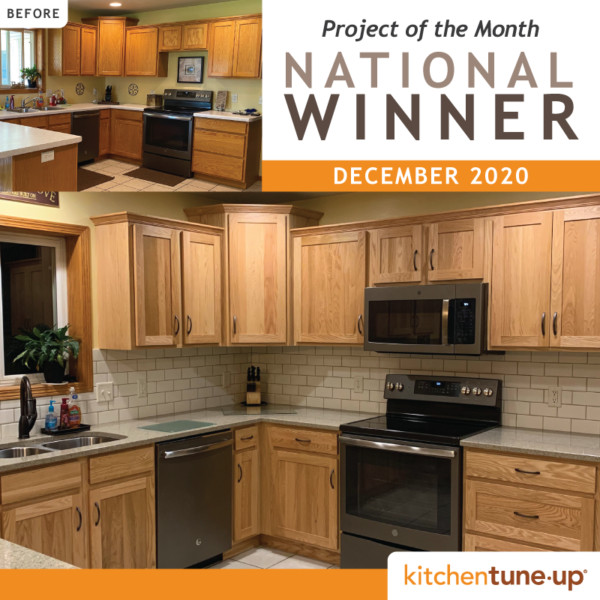 Andy Thompson, Bobby and Ashley Kuhns
Stevens Point, WI
The old cabinets' yellow tone dominated and darkened the kitchen. The homeowner chose a natural, stained oak, Shaker style cabinet door. The cooler tone and the terrific patterns in the woodgrain refresh the space. A new backsplash of white subway tile and new stone countertops complete the changes.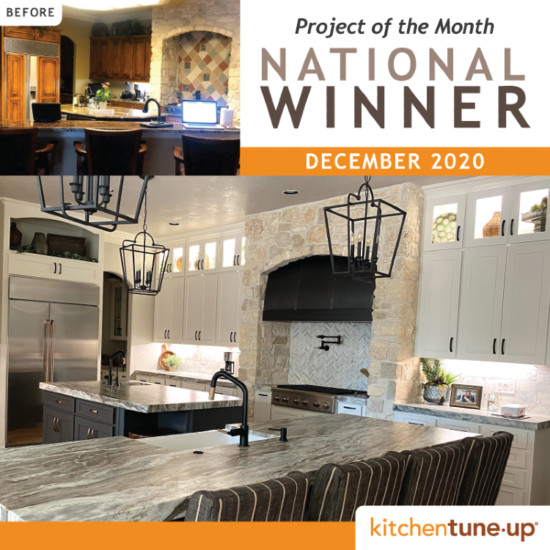 Rudy & Debra Jimenez
New Braunfels, TX
The look here is elegant. Keeping existing features like the under-cabinet lighting and the striking stone arch, Kitchen Tune-Up New Braunfels, TX brightened the space with white maple doors. Illuminated display cabinets near the ceiling are truly eye-catching. For contrast, the islands are dark "Black Fox." Marble-look countertops provide an especially classy touch.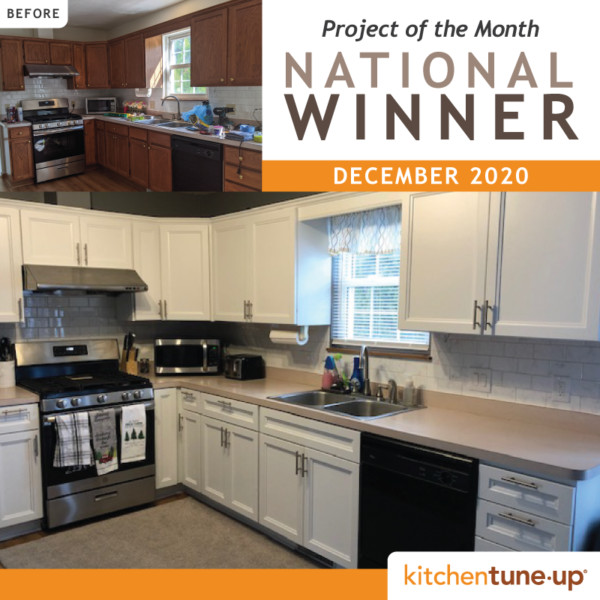 Scott Deevers
Streetsboro, OH
Before: The stained oak cabinets looked dull. After: White Shaker doors transform the kitchen with light. The job included a change from round handles to updated bar-shaped handles in a silvery tone that picks up the light those white cabinets now bring into the room. The white cabinets now coordinate better with the existing white tile backsplash, too.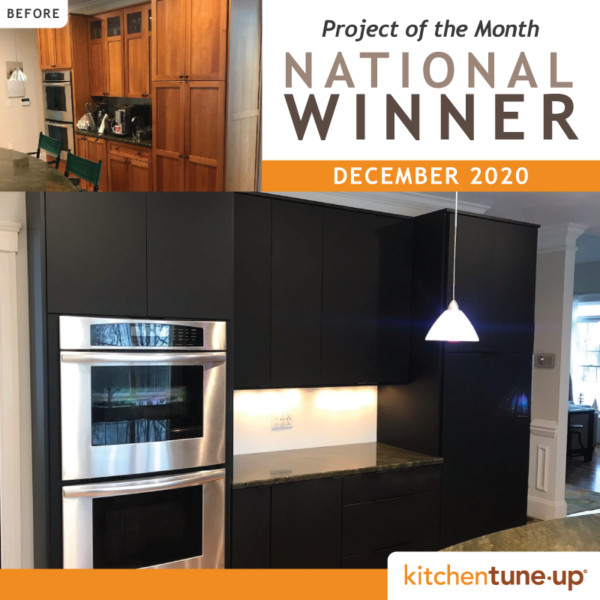 Mike, Janice & Jesse Dugan
Norton, MA
This month's most dramatic renovation takes the clients' kitchen from traditional to contemporary with stunning results. Kitchen Tune-Up Norton, MA refaced the existing cherry Shaker cabinets with slab laminate cabinets in a deep charcoal shade aptly named "After Dark." Flat-fronted slab cabinets—with no handles and no visible frames—create a strong modern vibe. As a contrast, the team wrapped the kitchen island in a light shade, "Boxcar Blonde."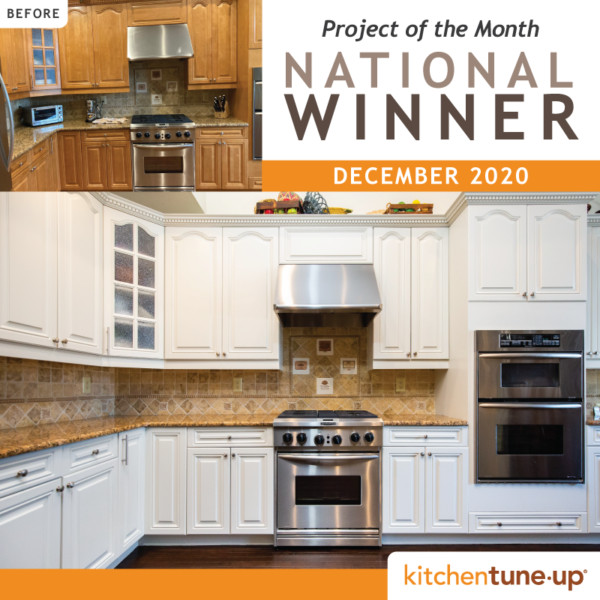 Takia Livingston
Bloomfield, NJ
Simple changes produce results that make guests think you got a whole new kitchen. Here, the client liked the cabinet style, but not the color. Kitchen Tune-Up Bloomfield NJ's solution: Paint the cabinets classic white. The result is a more unified look among the cabinets, backsplash and walls. Sometimes "just" a paint job is the perfect option.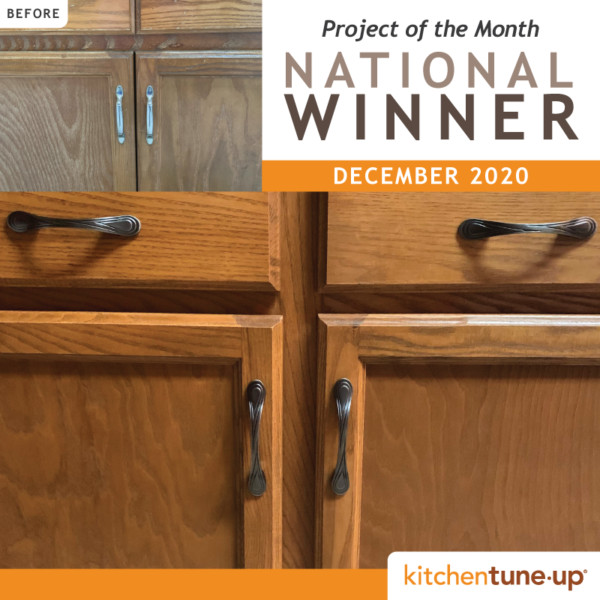 Andy Thompson, Bobby and Ashley Kuhns
Stevens Point, WI
Our one-day Tune-Up process restores battered, stained cabinets to their old glory. This project demonstrates how effectively a Tune-Up works. Stripping away damage, then restoring color and finish, revived this cabinet. New countertops and a new tile backsplash added to the updates.