Kitchen Tune-Up Fredericksburg & Stafford Awarded Franchisee of the Year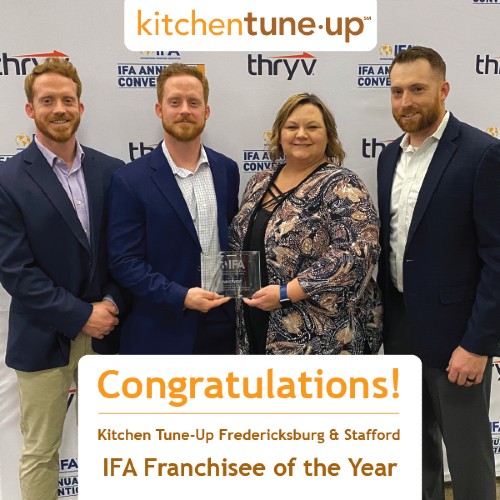 The International Franchise Association (IFA) has named The Lethbridge Family of Kitchen Tune-Up Fredericksburg & Stafford, Virginia as Franchisee of the Year. Zach, Jake, and Matt Lethbridge were honored at the IFA's 62nd Annual Convention in San Diego, California, for being an outstanding franchise establishment owner-operator.
"It is an honor to be recognized as the Franchise of the Year from the International Franchise Association," said Zach Lethbridge. "We work tirelessly to ensure we are always delivering the best work possible, so being recognized for our efforts is extremely fulfilling. It feels amazing to be a part of a company and franchise organization that truly values our continued success."
After opening their Kitchen Tune-Up business in June of 2021, the three Lethbridge brothers got to work transforming kitchens across Fredericksburg & Stafford. They made it part of their mission from the start to be community minded in their operations. As military veterans, they have also utilized their network and have enjoyed offering employment to other veterans, in addition to carpentry apprenticeships as they continue to grow their talented team. They also recognize the necessity of nurturing interest in the remodeling industry and have partnered with a local technical school to sponsor a Project of the Month, highlighting the students' work and abilities.
"Franchisee of the Year Awards are the highest honors presented to individual franchisees," said Matthew Haller, President and CEO of the International Franchise Association. "These local business owners, like Zach, Jacob, and Matt, represent some of the best entrepreneurs in the country, and we are proud to recognize their contributions to their communities, their employees, and all those they serve."
The Franchisee of the Year Award, sponsored by IFA's partner Paychex, recognizes leading franchisees who exemplify at least one of IFA's "Open for Opportunity" core pillars: Community, Workforce, Diversity, Equity, and Inclusion, and Veterans.
Several Kitchen Tune-Up and Home Franchise Concepts associates attended the IFA's 2022 Convention in San Diego. In addition to the valuable sessions, networking, and more offered at the convention, our associates were able to congratulate the Lethbridge Family for their win and express appreciation for all they do for their clients and for our franchise family.