Kitchen Tune-Up Celebrates 35 Years of Updating Kitchens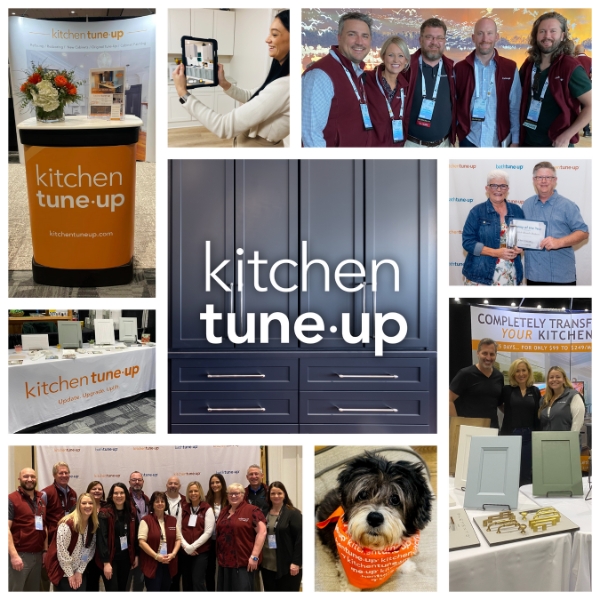 Kitchen Tune-Up is proud to celebrate 35 years of creating kitchen upgrades across the United States and Canada! As we enter our 35th year, we're continuing to innovate with a brand refresh and several technology upgrades.
Founded in April of 1988 by David and Cindy Haglund in Aberdeen, South Dakota, the Kitchen Tune-Up concept evolved from the Haglunds' cabinet store business. Our brand name devised from creative ways to "Tune-Up" kitchens in ways that do not involve demolition and replacement of cabinetry that is in good condition. Kitchen upgrades for style and function include our original Tune-Up wood reconditioning service, along with cabinet refacing and redooring, services, all of which keep the original cabinets in place but provide a fresh look. In 2003, David and Cindy's daughter, Heidi Morrissey, joined the company to support the Home Office and franchisees (who proudly call themselves "Tunies"). After serving as VP of Marketing and Sales, Morrissey became Kitchen Tune-Up's President in 2017.
Our growing home services brand had over 210 franchised locations by 2020 when we were acquired by Home Franchise Concepts. Kitchen Tune-Up has grown our location count by more than 25% since the acquisition. Today, our Tunies and their dedicated teams provide kitchen and cabinetry services to more than 270 locations across North America.
Our Tuniverse kicked off 2023 by unveiling a brand refresh in January to modernize and elevate our look and messaging. The refresh includes a modernized logo and a new tagline of "Update. Upgrade. Uplift." Often the most used and busiest room in the home, a remodeled or refreshed kitchen can truly uplift how families use the kitchen to create meals, messes, and memories. In addition to preparing meals, the kitchen is the heart of the home and where families and friends gather.
"Being a part of our incredible Tuniverse has been such a rewarding experience for me because of the people I've been able to grow the business with, both with our Home Office team and our Tunies and their families and team members," said Heidi Morrissey, President of Kitchen Tune-Up. "When I first joined the company, I couldn't have pictured the tremendous growth we've created over the past five-plus years. My dad left this business in a strong place prior to his retirement, and since I became president and we were acquired by Home Franchise Concepts, we've had extraordinary growth. I am so honored to be a part of this company and to work with such a talented team. The brand refresh and our continually evolving technology and systems put us in a great position as we look ahead to the next 35 years."
Kitchen Tune-Up is continuing to focus on implementing new technology to elevate the business, creating more automation for both franchise owners and clients. In February 2023, we launched a new app called ProView for our franchisees and their teams to use during consultations. The app is an augmented reality in-home visualizer, which allows franchisees to aid homeowners in visualizing different colors and designs to incorporate into their kitchen updates. Homeowners can now see how their kitchen will look with a new cabinet color or style.
In addition to the recent technology upgrades and additions, we now host franchise owner training classes at our Home Franchise Concepts Experience Center located in Dallas. A unique feature is a 1 bedroom home located inside the facility, allowing for the amazing real-life practice of conducting sales calls, measuring, and much more. The Experience Center also includes large classrooms equipped with updated technology and working pods to practice various skills.
For the fourth year in a row, Kitchen Tune-Up has exceeded 50% year-over-year revenue growth with expectations to once again have record systemwide growth in 2023. The Home Office team is actively looking for new tools to better facilitate the entire process for franchise owners and accelerate their individual growth. In addition to providing fresh branding and marketing and sales materials, Kitchen Tune-Up is developing more brick-and-mortar retail locations throughout the continent and elevating the brand with new talent on the Home Office team, bringing on eight additional team members and adding new roles in the past three years.
"The introduction of new team members has helped our team considerably," added Morrissey. "As we continue to expand into new territories across North America, we are bringing on new talent and implementing cutting-edge technologies to help our Tunies and their teams succeed. Kitchen Tune-Up wouldn't be here without them and their passion and eagerness to create only the best kitchens for their clients."