Kitchen Tune-Up: The Benefits of an Outdoor Kitchen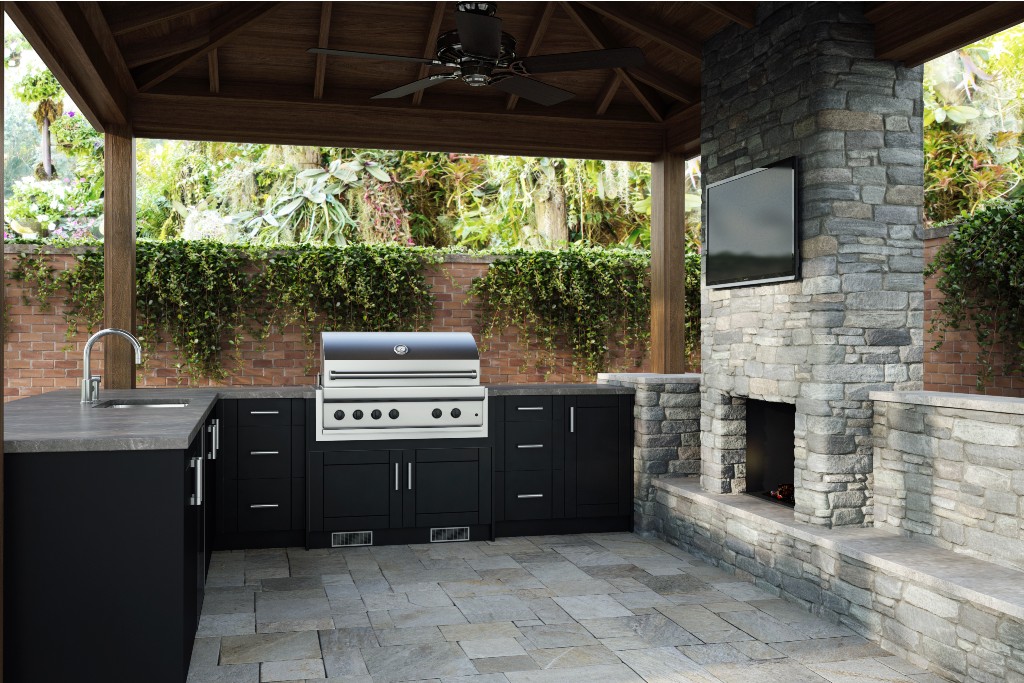 As Summer approaches, outdoor kitchens regain their popularity. Never out of season in places like California and Florida that stay warm year-round, outdoor kitchens are also prevalent where they get willing seasonal use. Indoor kitchens are a necessity in all homes, focused on practicality. In contrast, outdoor kitchens are making a resurgence as a recreational addition to a home. That means that you can design them with more focus on fun and entertainment.
There are many benefits to having an outdoor kitchen and your traditional indoor one. They may be a bit pricey, but after you hear about everything they have to offer, you may understand why roughly half of the people in the US think they're worth the cost.
Extends the Living Space
As mentioned above, outdoor kitchens often focus more on recreation than practicality. This makes them feel less like a kitchen and more like an additional living or family room. It's common to furnish outdoor kitchens with patio furniture like outdoor sofas in addition to the dining table, which only adds to that feeling.
This design can be especially beneficial if you have a big family. Instead of cramming into your living room to spend time together, you have the entire outdoors to work with. It's also beneficial for families with children, as it means you can supervise their outdoor play while you make dinner.
Spend More Time Outdoors
Speaking of playing outside, an outdoor kitchen is a perfect excuse to spend some much-needed time outdoors. It can also be a good motivator if you're the indoorsy type but want to work on getting more comfortable outside. Spending too much time inside can worsen mental illnesses like anxiety and depression. Unfortunately, anxiety and depression make it nearly impossible to motivate yourself to leave the house.
Lack of time outdoors can also lead to physical ailments like vitamin deficiencies or even light sensitivity in the eyes. Having an outdoor kitchen gives you a reason to go outside for at least a few extra minutes, making a surprising difference in health and wellbeing.
Better for Entertaining Guests
One of the best parts of warm weather is having guests over more often. Hosting social gatherings inside is fine for most people, but there are also downsides. For example, it can get crowded quickly, and not everyone cleans up after themselves.
With an outdoor kitchen, guests have plenty of space to move around, socialize, and have fun. And, if one of your guests is the type of person who can't take a hint when it's time to leave, sunsets are often a pretty good indicator – especially if you don't turn on your patio lights.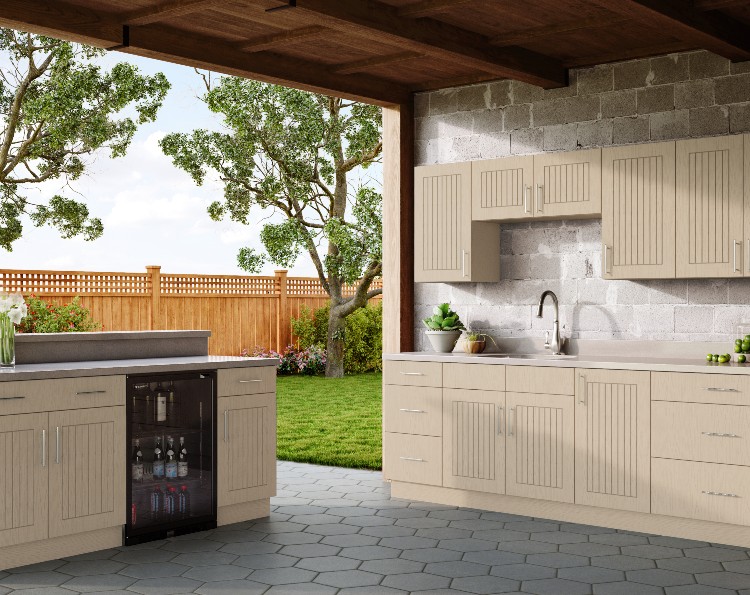 Lower Energy Bills
Another benefit of outdoor kitchens is that they tend to use less energy than indoor kitchens. Your energy bill will be lower when you use an outdoor kitchen vs. an indoor one. This is partly due to abundant natural lighting, and in the summer, you won't be putting extra heat into your house for your air conditioning to fight. The sunshine will flow beautifully through an outdoor kitchen, giving you all the visibility you need.
Additionally, opting for a grill in your outdoor kitchen rather than a second stove will reduce the electricity you use while cooking. Grilling food is an excellent way to bring out a dish's natural flavors, and it can work out cheaper in the long run.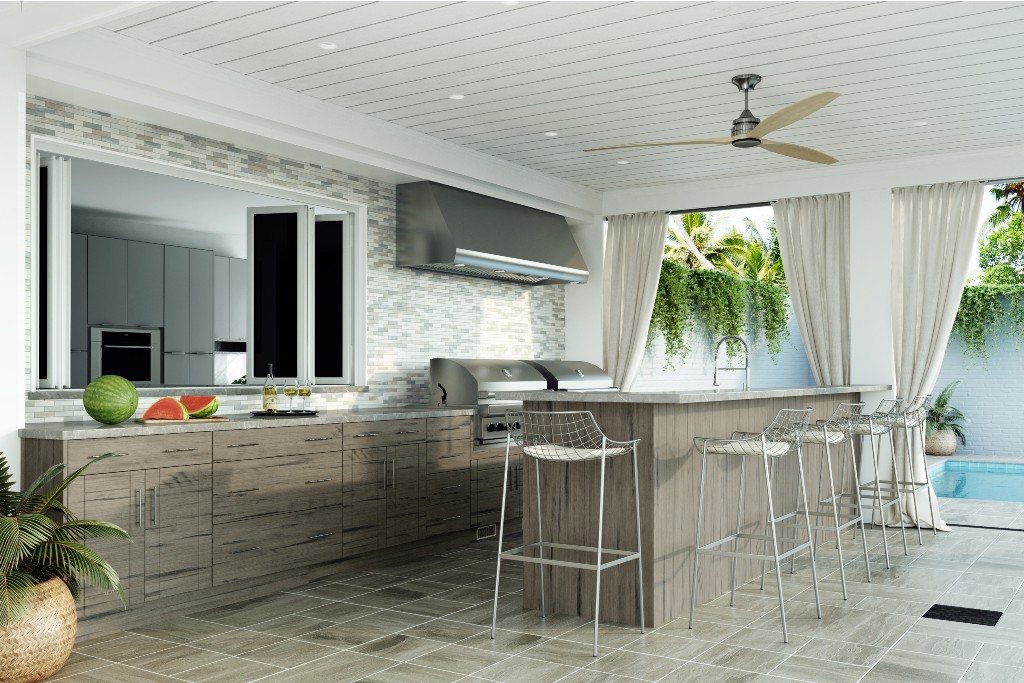 Adding Home Resale Value
Since outdoor kitchens are such a popular addition to homes, they increase your home's resale value. Not only do sellers tend to break even when investing in an outdoor kitchen, but experts estimate an ROI between 100-200%. As they grow in popularity, that number will doubtless continue to rise.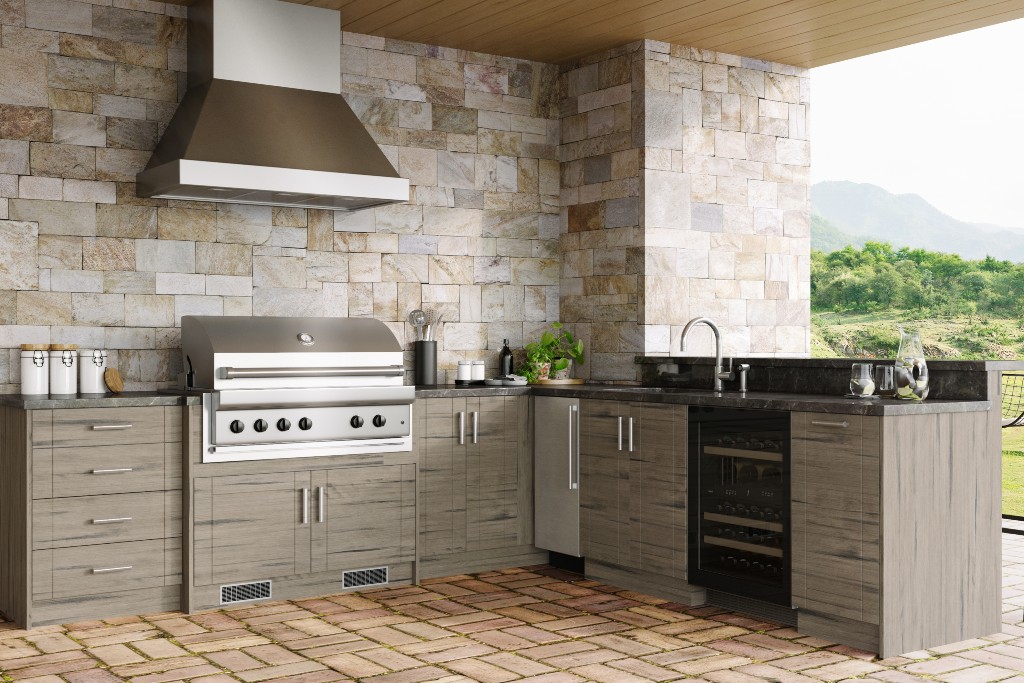 Are There Downsides to Outdoor Kitchens?
In the past, the main drawback of an outdoor kitchen revolved around maintenance. We all know how quickly things fall apart when left out in the weather, so why would a kitchen be any different? Those considering installing an outdoor kitchen might envision soggy cabinets collapsing and mold encroaching on your countertops, but luckily, such issues are a thing of the past!
With countertops and cabinets made of composite materials, you no longer have to worry about them absorbing moisture or sustaining water damage. Composite materials look good, resist weather and UV exposure, and come in a variety of colors and patterns to match any decor.
With a little forethought and planning, you can strategically place overhangs and awnings to cast shade, block wind, and protect your outdoor space for years to come. Planning to provide adequate shade not only protects your outdoor kitchen from sun exposure, it also provides a cooler place to relax during the height of summer. In short, moving your current kitchen outside would have plenty of drawbacks — but designing a kitchen with the outdoor environment in mind means building a long-lasting feature that resists the effects of both sun and rain.
How to Get an Outdoor Kitchen
If you, like many others, think that the benefits of an outdoor kitchen outweigh the drawbacks, you should start searching for a trustworthy company to help you build your outdoor kitchen. We recommend starting by looking into Kitchen Tune-Up services. We've been working with kitchens for decades and have gained priceless experience along the way.
We'd be more than happy to help you with your project. Contact us today at this link to set up a consultation. We look forward to working with you!