Kitchen Tune-Up Main Line, Pennsylvania Wins Prestigious Project of the Year Award
Congratulations to Jeff and Penny Toren, owners of Kitchen Tune-Up Main Line, PA on being one of the five franchise locations to receive the prestigious Project of the Year award for 2019! In order to be considered for the contest, the project must have already won a Project of the Month award, which is chosen by the Home Office. All the winning projects are then voted on by Kitchen Tune-Up franchisees from across the nation. Out of the hundreds of submissions received throughout 2019, only six projects earned the praise and votes from our franchise family.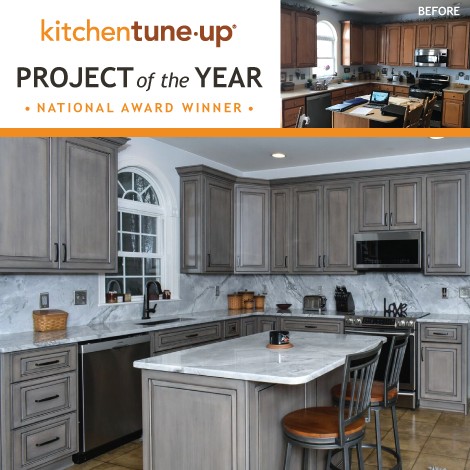 Jeff and his team took this builder-grade kitchen and transformed it into a modern space. They refaced the cabinets in our SRP-10 door style in driftwood color with a glaze that the homeowner fell in love with at the showroom in Malvern, PA. The project also included adding premium super white quartz countertops and backsplash, new pots and pan roll-outs and new hardware. What a difference in this space! Congratulations again to Jeff and Penny! They can be reached for a free in-home estimate at 484-318-7205. To learn more about Kitchen Tune-Up Main Line, PA and see more of their recent projects, visit their website, Project Gallery and Facebook page.