How Much Should I Spend on a Kitchen Remodel?
Remodeling your kitchen can be a big investment and something many people only do once in their lifetime, so how do you know how much to spend? And how do you know if the quotes you getting are a good price? The good news is that there are many ways to update your kitchen at a variety of price points and no matter what your budget is, in the end you can have a beautiful new space that is your favorite room in your home. The biggest ticket item in a kitchen remodel is usually the cabinets. For a lot of people, the idea of new cabinets brings to mind a picture of messy demolition, eating out for weeks, and doing dishes in the bathtub. There are several ways to upcycle your current cabinets and update your kitchen at a much lower price point than you may be imagining. Below are 5 different price points and the type of service you can have as well as a realistic price range to expect, depending on the size of your kitchen.
$1,000
If you have a small budget but are looking to make a big impact on your space, there are ways to restore your wood cabinets to 80-90% new with a one-day wood restoration process. Follow-up that process with new hardware, and you can have a like-new space for anywhere from $900-$1,400.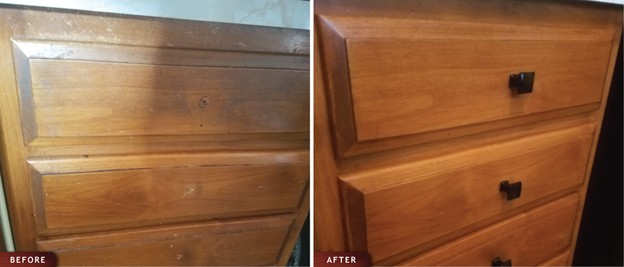 $3,000
Painted cabinets are all the rage, and despite what online bloggers and HGTV tell you, getting those cabinets to be a trendy white or gray color will cost closer to $2,500 - $4,000 for a quality paint job. Painting is not a long-term solution because the finish can be prone to chips and scratches, so if you are looking to change the color, you may want to investigate other solutions like redooring or refacing that can give you the color you want and remove the strong oak wood grain or golden oak color you are looking to hide!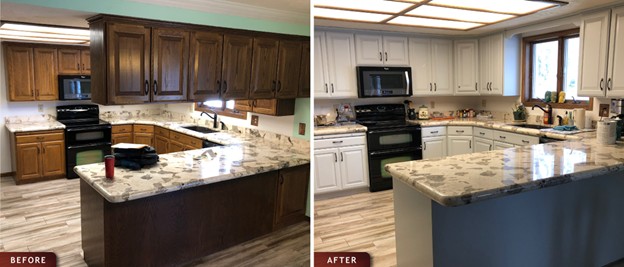 $5,000
Redooring may be a term you've never heard before, but it is an option if you are looking to update your cabinet doors to a modern door style, like a shaker, but like the current color and your cabinets are still in great shape. Cabinet redooring will cost anywhere from $4,000 - $7,000 depending on the size of your kitchen and door you choose.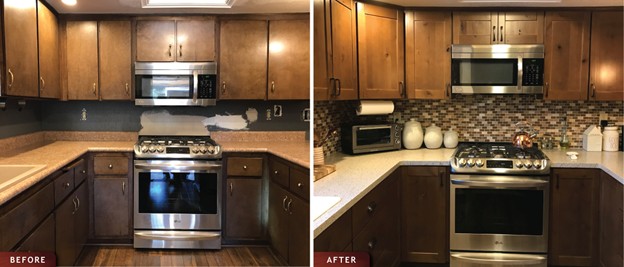 $10,000
A dramatic transformation can still be achieved without the dreaded demolition and mess of all new cabinets. You can reface your current cabinets and achieve the look of a custom kitchen without the custom price tag. Cabinet refacing can range anywhere from $7,000 to $15,000 depending on the size of your kitchen, door style and finish you choose, and scope of the project. Are you bringing in a new refrigerator and need to increase the height of your cabinets? Not a problem! Refacing projects can often include a cabinet modification or the addition of a new cabinet or two. Redooring and refacing are both options that keep your good-condition cabinet boxes from being tossed in a landfill.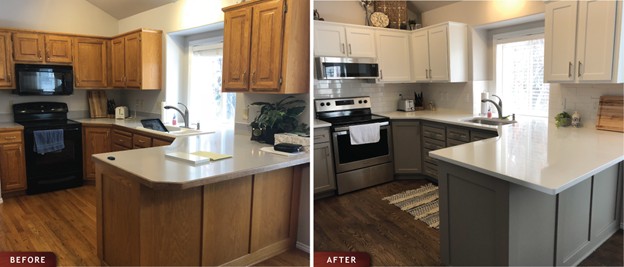 $15,000+
If you are looking to move appliances, tear down walls, and bring in all new cabinets, the sky is the limit as far as price goes. There are so many moving pieces to a brand-new custom kitchen, and no matter who you work with, there are bound to be things that come up and wish list items that continue to increase the budget. The important thing to remember is that not all kitchen updates have to jump straight to this price tag. There are options for every customer, and each will make a dramatic improvement to your space.