Design Classic: White Shaker Cabinets For Every Kitchen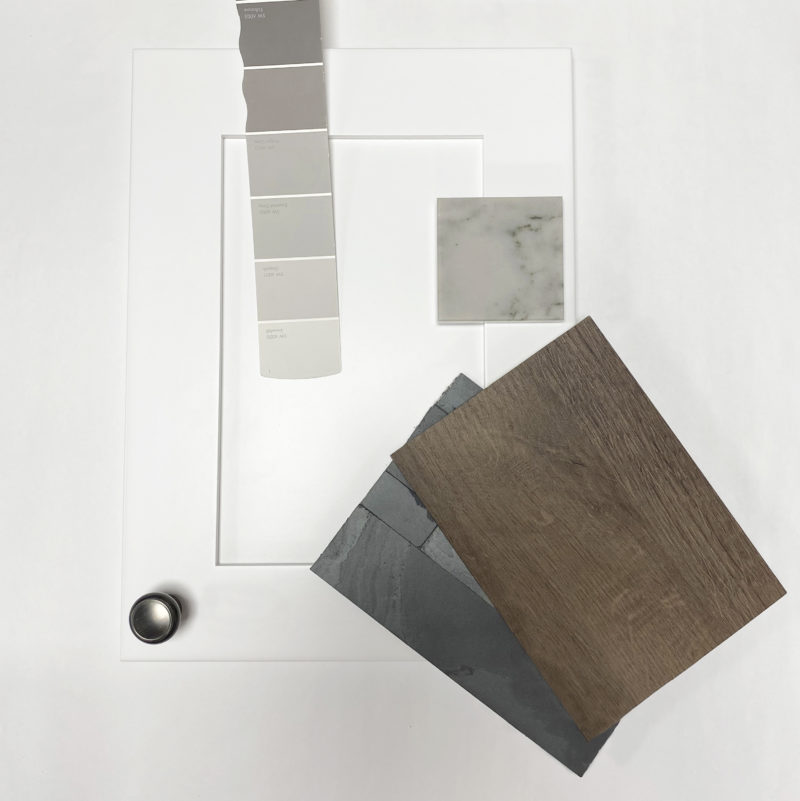 The humble-looking cabinet door before you seems plain--and it is. It's also one of the most popular kitchen cabinet styles in recent decades. What makes this quiet, white door the star of kitchens everywhere?
Meet the Shaker cabinet. You've seen it on TV design and renovation shows, at kitchen showrooms, and probably in friends' houses too. Yet these cabinets are so unassuming, you might not even realize that they're a style.
They take their name from the Shakers, the early American religious sect that lived simply and created useful woodcrafts of the highest quality, including famous ladderback chairs and sturdy, functional cabinetry.
Shaker cabinet doors and drawer fronts have a flat, rectangular frame around the edges and a flat, recessed panel in the center. That's all. The lines are straight and clean. No beveled edges, beading, grooves, or raised center panels.
Handles are usually simple too, like the round handle shown on our mood board. The immense popularity of Shaker cabinets is thanks to the simplicity that lets them fit almost any homeowner's plans.
White Shaker cabinets can look coolly modern—add bar-shaped metal handles, geometric lamps and the latest steel or colored enamel appliances.
Or white Shaker cabinets can show their traditional side, with antique-style handles and maybe a distressed glaze finish. They're loved because they're versatile.
Contrasts and Transitions
Imagine this mood board kitchen: White Shaker cabinets above and below. The deep gray slate-look wall treatment makes a beautiful backsplash between lower and upper cabinets, behind a sink, or above a stovetop.
The quartz countertop in gray and white creates a softly marbled transition between the solid white cabinets and the solid gray backsplash. Paints in a range of grays tie together the kitchen's white-and-gray theme.
Use any bold accent colors you fancy on lighting, kitchen island seating, countertop appliances. Pair the look with this flooring in dark brown. The floor's woodgrain adds texture and its dark tone anchors the room. Both the wall treatment and the flooring show off how natural materials and darker colors are great contrasts with white Shaker cabinets.
This mood board sings the praises of classic design in white. If Shaker simplicity appeals to you but a white kitchen doesn't, you can still have your beautiful cabinets. Shaker cabinets come in a wide array of colors—think, seafoam, navy, apple green, charcoal, and more—as well as wood finishes from palest pine to darkest cherry.
Go to Kitchen Tune-Up's online Design Tool to see how your kitchen might look with Shaker cabinets and the inspirations on this mood board.