Why Comparing Kitchen Cabinet Prices Costs You More

Sounds counterproductive, doesn't it? After all, taking the time to compare product prices is usually a very smart move on the part of any consumer. However, when it comes to your kitchen cabinets, you may be setting yourself up for failure. This isn't to say you should immediately jump onboard with the first remodeling company you find, with no comparisons at all. You should absolutely do some shopping around first. The catch is that you shouldn't be comparing prices. Instead, you should be comparing overall services.
Hidden charges
Extra costs come up sometimes, it's just the nature of the home improvement business. It's impossible to foresee every complication a project might encounter. However, many businesses make a habit of downplaying or even outright omitting information about charges they know are going to come up. Some companies may be coy about the costs of shipping, taxes, crown molding or even the price of the hardware in order to make their initial prices lower and more eye-catching. Companies can often scrape off up to 10 percent of the actual price this way, only to tack it back on later when it's too late for you to back out.
Inferior products
You know you want nice-looking, durable cabinets, but you may not know exactly what materials and processes go into creating and installing this level of quality kitchen cabinetry. And that's okay, you're not a professional home designer and you shouldn't have to be, but be careful, because a low price is often a sign that you're getting inferior materials. Here are some common quality reductions you'll see at lower-priced remodelers:
Demoting a ¾" cabinet box down to ½" can knock 5-10 percent off the price, but it's a sneaky quality reduction. You may not even notice the boxes are thinner, but they'll be weaker and more vulnerable to damage.
A plywood center in the panel door is up to 15 percent cheaper than a solid wood one. Some people may actually prefer this cheaper center, but if you're expecting solid wood at plywood prices, you'll be in for a surprise when your actual bill comes in.
Not including moldings in the cabinet order
Quoting the wrong type of molding or not including the molding at all is another way to account for about 10 percent of the total cost.
Just like boxes, the cabinet shelves themselves can be thinned to save money. Getting ⅝" instead of ¾" shelves is a noticeable downgrade in quality.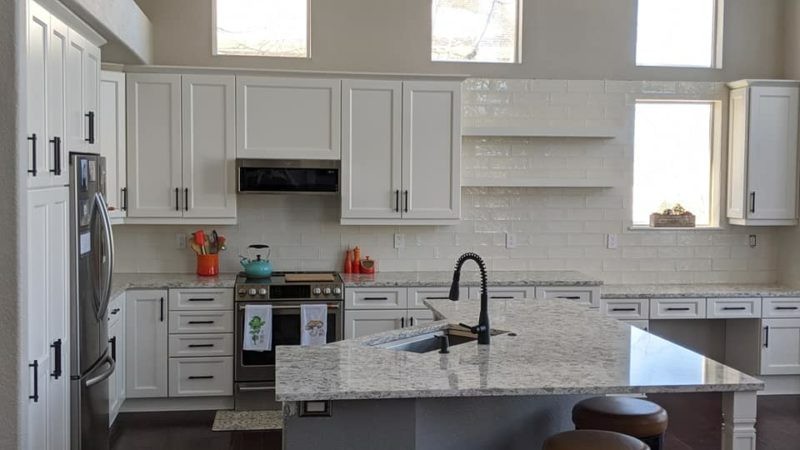 Integrity
It's about more than just the quoted costs being far lower than the actual price. Integrity is important when hiring a home remodeling company. After all, you're going to be trusting someone to come into your home and completely redo your kitchen cabinetry. If you can't trust a business to quote you honest prices without skimping on materials, can you really trust them to do right by your kitchen?
When you compare different kitchen remodeling companies, look for the quality of their service, their communication, and their transparency.
Unbelievably low prices are tempting, but you'll almost certainly end up paying well over what you've been quoted, and the cabinets you get will be of low quality. They may even be installed poorly and have to be fixed or replaced later on.
If in the end you find several options with identical services but slightly different prices, then perhaps you can safely factor costs into your decision. We're not here to tell you to turn down a good deal when you find one.
Just be aware that the ins and outs of kitchen cabinetry can get really tricky, and putting too much faith in a low price will almost certainly guarantee that you'll be scammed.