The Difference Between Kitchen Remodeling and Cabinet Refacing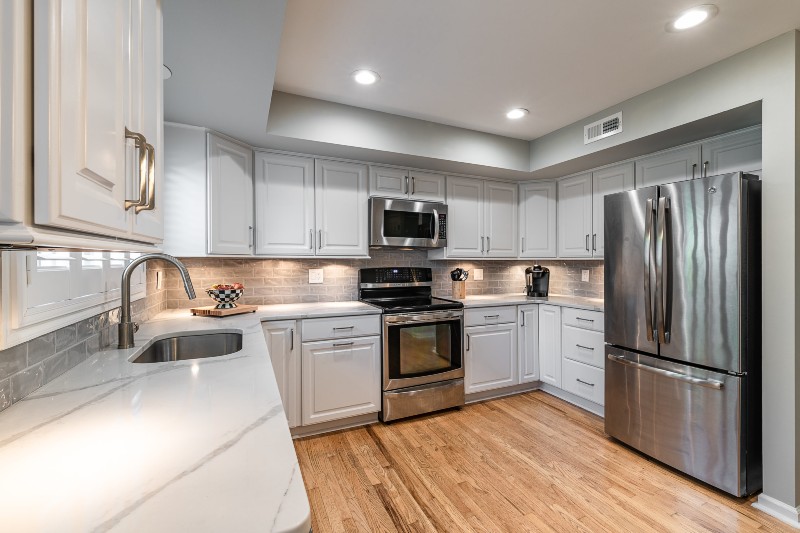 If your kitchen cabinets are starting to look a little worse for wear, then you may be floating around the idea of replacing them. Many people dread this decision because of how much money, effort and time goes into replacing a room's cabinetry, but the good news is you don't have to! If you've been postponing a kitchen remodel, then you might actually be interested in cabinet refacing.
Refacing is very different from a full replacement but it delivers similar results for most homeowners. The costs, time and renovation possibilities differ between these two processes. So before you commit to one or the other, let's look at the similarities and differences between kitchen remodeling and cabinet refacing.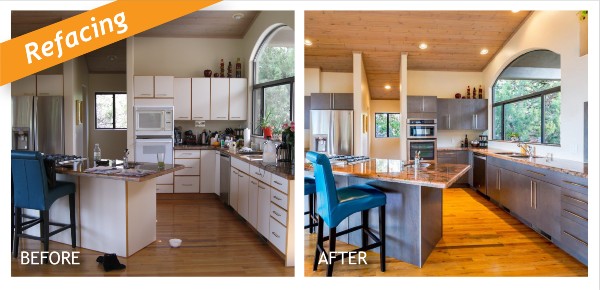 What is cabinet refacing?
Long ago, your only option for cabinet upgrades (short of replacing them all together) was to repaint. (And what a nightmare that was when your cabinets were thermofoil or some other unpaintable material!) But today, we have another option: cabinet refacing.
Cabinet refacing has actually been around for quite awhile, but it's only taken off in recent years as more homeowners discover its benefits. Think of cabinet refacing like a more advanced form of veneering.
You won't be getting completely new cabinets, and structurally your kitchen will remain the same, but everything will look brand new! When a contractor refaces your cabinets, they complete three basic tasks:
Replacing drawer fronts and cabinet doors
Veneering cabinet boxes to match
Installing new cabinet hardware
All this will give your kitchen or bathroom the look of new cabinets while in reality, the core of your cabinetry is still the same. Cabinet refacing can cost up to 50 percent less than a full replacement because fewer materials are needed.
Refacing also means fewer materials ending up in the landfill because when your old cabinets are removed, there's often nowhere else for them to go. (At Kitchen Tune-Up, we try to donate as many old cabinets as possible to organizations like Habitat for Humanity.)
The main downside to cabinet refacing is that you are stuck with your kitchen's current layout. Since the boxes remain the same, your drawers and cabinets are all going to be in the same place that they were before.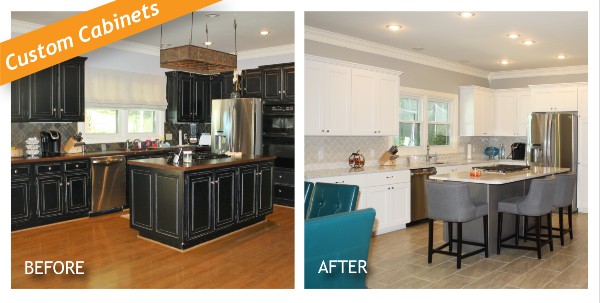 What is full cabinet replacement?
Cabinet replacement is the traditional option where your old cabinetry is removed and completely replaced with new materials. When you choose this option, we spend a great deal of time helping you custom design and order the perfect cabinets for your kitchen. Cabinet replacements can be roughly twice the price of cabinet refacing, but a lot of the cost will depend on which materials you choose.
Which option is best for me?
By now, you're probably wondering why anyone would ever opt for replacements when refacing is functionally the same but cheaper. Which option you go with is going to depend on your needs. Cabinet refacing may be the preferred option of many homeowners, but there are still some circumstances where it may not be the correct choice for you.
Your cabinet boxes are damaged Minor damage to a drawer or two can usually be addressed during refacing, but if your cabinet boxes are in really bad shape, a full replacement might be necessary.
You want to structurally change your kitchen If you are making major layout changes to your kitchen, then you'll need to install all new cabinets.
You want to complete the project yourself A professional job will always be better, quality-wise, whether you go with replacing or refacing. However, cabinet refacing is very difficult to complete on a DIY basis. While the savvy homeowners among us may be able to pull off their own cabinet replacement job, the same can not be said of cabinet refacing.
Kitchen Tune-Up offers a range of services at different price points (including both custom cabinets for a full replacement and refacing), and we're more than happy to talk through your options with you.
The kitchen is one of the most important rooms in your home, and you want to make sure it looks and feels just right. To see some of the kitchen transformations we've pulled off, check out our project gallery.