Stone Surfaces Lend Sophistication to a Dream Kitchen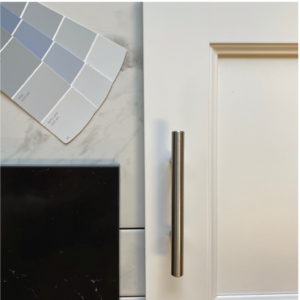 Is "classy" a mood? This mood board is evidence that yes, classy can be an inspiring mood for your dream kitchen.
Combining the sophisticated look of gray-veined white marble with the elegance of black quartz, these surfaces bring the timeless beauty of stone (both natural and man-made) to your kitchen. The cabinet sample shows a classic, recessed panel door. The understated beveling linking the panel to the rail around the door's edge provides just enough shape to catch the light and set this style apart from a basic Shaker door. A bar-shaped handle with a brushed nickel finish lends a subtle metallic gleam. This door's simplicity won't compete with the standout materials for countertops and floor.
And what standouts these materials are. The black countertop boasts the toughness of man-made quartz plus the looks of real stone. Quartz countertops—manufactured from ground quartz stone bound with resins—don't require the repeated sealing that granite countertops need, and withstand scrapes and stains well. This countertop's deep black hue includes white veins to imitate the look of marble, without the expense.
The white and gray marble floor tiles complement the black countertops. Few surfaces evoke class like marble, and real marble flooring is increasingly affordable for homeowners. But marble is also a flooring to choose with care.
Is Marble Right for Your Floor?
Marble is softer and more porous than other stones, like granite. That porousness means marble needs sealing to ensure it resists stains and spills that otherwise might sink into the surface easily. You might need to reseal a marble floor periodically. Once a floor is sealed, though, cleanup is simple.
Your marble floor's finish matters, too. Polished marble is easier to maintain because stains don't seep into the highly polished finish easily, but polished marble also can be a slick surface underfoot. A matte finish is a less slippery option but might require more upkeep. Talk to your Kitchen Tune-Up flooring expert to figure out what types of marble, finish and maintenance are right for your family and your kitchen.
Add a Third Color
Let's not ignore those modest-looking paint swatches on our mood board. The fancy surfaces shouldn't get all the attention. These samples show you how the black-white-gray stone palette works with everything from palest gray to deep, nautical blue. When a kitchen is predominantly black and white, adding a third color like blue keeps the space from feeling too chilly.
Curious about how to bring these colors and textures into your own kitchen? Contact your nearest Kitchen Tune-Up today to find out.