Project of the Year: An Elegant Yet Functional Renovation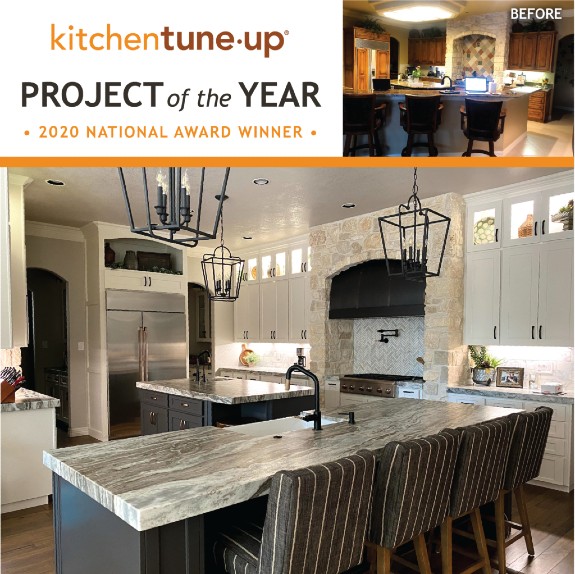 An elegant renovation with gorgeous details earned a Project of the Year award for Rudy and Debra Jimenez, owners of Kitchen Tune-Up New Braunfels, TX. This top-to-bottom project features custom cabinets and the addition of worktops that are as practical as they are beautiful. To be named a Project of the Year, a Kitchen Tune-Up franchise's work first must win a Project of the Month award from the Kitchen Tune-Up Home Office. Kitchen Tune-Up franchisees select Projects of the Year as the best of the best from among the monthly project winners. Rudy and Debra's fellow franchisees and peers selected this stunning kitchen as one of eight winners for 2020. Knowing what to keep and what to change when renovating a kitchen is essential. This renovation removed the existing bar counter, which provided little useful workspace and visually hemmed in the kitchen. The New Braunfels team wisely kept existing features that made this large kitchen special, like the under-cabinet lighting and the striking floor-to-ceiling stone arch surrounding the stove. Custom maple cabinetry added a new feature almost as eye-catching as the stone arch: glass-fronted, illuminated display cabinets near the ceiling create a feeling of extra height while showing off favorite pieces and adding more light to the space. The white cabinets get a boost of contrast from black hardware, echoed in the black, gooseneck faucet and elegant, black metal chandeliers.
Dominating the kitchen are two islands, combining beauty with practicality. The existing island got a makeover, going dark in a deep gray shade dubbed "Black Fox," which repeats on the new, larger island that replaces the old counter. Both islands and the countertops get classy, marble-look countertops in white and gray that ties together the kitchen's color scheme. A new tile backsplash reflects the under-cabinet lighting. The backsplash inside the arch adds pattern with a herringbone (or zigzag) design, replacing the patchwork of different-colored tiles originally over the stove.
Congratulations to Rudy and Debra Jimenez and the New Braunfels team on this national award. Visit their website to see what they're working on today.