Mood Board: Subtle Naturals Work with Cottage Chic or Contemporary Cool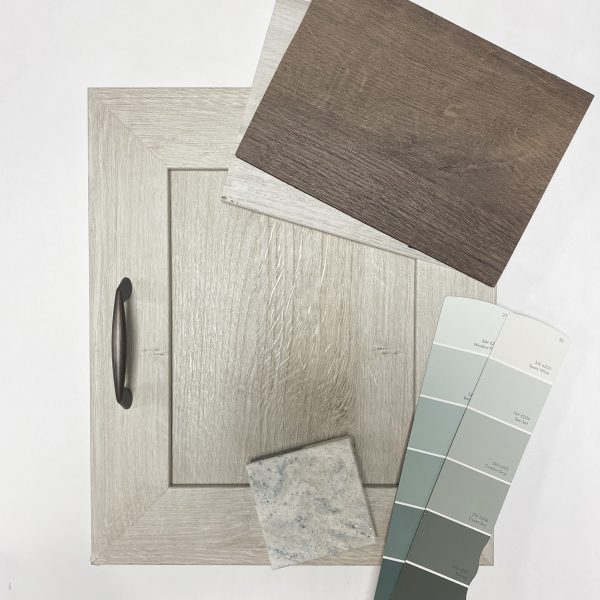 The elements of this subtle mood board keep things natural as they flirt with gray. The silvery tone of the cabinetry emphasizes the texture of the wood grain. Against the light wood, the dark, oil-brushed bronze handle stands out.
For the countertop, this gray-white marbled look adds more pattern but doesn't overwhelm. The wood accents show how a rich but quiet brown provides a contrast to the pale palette.
Eye the paint samples, too. What looks like gray at first is actually a range of greens. This mood board has the calming feel of a shady, well-watered forest. The beauty of this board is how it sets a stage for you to personalize your kitchen.
Once these light cabinets and tough but beautiful counters are in place, what attitude will you bring to the kitchen around them?
Consider a Casual Cottage
One popular decorating trend fits this board's muted tones—"cottagecore." Think: Cottages with a rustic, casual look. With its emphasis on romanticized country life, cottagecore focuses on nature.
Wood is everywhere—cabinets, islands, tables and chairs, but it's balanced with whites. Kitchen furnishings might be slightly distressed and painted in quiet blues or greens, pastel pinks or yellows, or shades of mustard or moss. Ceramic or stone sinks add to the country atmosphere.
Picture our mood board cabinets over a ceramic sink with wildflowers on the countertop. Mixed patterns create a lived-in, "I don't need everything to match" feeling. Backsplash tiles might be a French country blue-and-white pattern or any old-school traditional ceramic. Faded florals appear on cotton chair cushions or window treatments.
Flooring could be real (or imitation) slate or stone, or you could use a patterned flooring reflecting these muted shades.
…Or Choose Cool Simplicity
If a chic country-clutter look isn't "you," the mood board's elements are adaptable enough to express contemporary simplicity. Pair these cabinets with steel appliances and a steel sink, and watch how the gray wood complements the silver of steel.
Echo the dark richness of the doors' oiled bronze handles by hanging trendy pendant lamps with a dark bronze finish. Use glass tiles for backsplashes to pull light into your kitchen. Or try marble tiles that pick up the tone and pattern of these countertops.
If this mood board speaks to you, check out our mood boards for sage and gray, too. Mix and match from these three boards to see what elements best fit your dream kitchen.