Liven Up Your Kitchen: Play with Patterns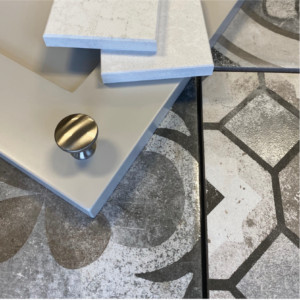 Today's mood board features a pale gray Shaker cabinet sporting a little shine, in the form of a round, brushed nickel door pull. The gray-white countertop is made of that easy-care composite, man-made quartz, a great choice for its resistance to stains and scratches.
But the star of this mood board is what really catches your eye—those patterned floor tiles! The color palette may be limited to shades of black, gray and white, but big, bold patterns more than make up for minimal color here. Whether your eye prefers swooping curves, or lines and angles, these floor tiles bring some movement to an otherwise cool, calm kitchen.
A strongly patterned floor might seem like too big a commitment at first. Will it be too busy and distracting? Will you still like the pattern in a year, or in 10 years? The key to using patterned floors in a kitchen is choosing your flooring in coordination with your countertops and cabinets.
No need for a perfect match
Consider these questions when you're thinking about this mood board:
How do we really use our kitchen? Looks are important, but don't let them outweigh considerations like durability. If your kitchen gets heavy foot traffic all day, you'll want a tough floor that won't show wear (patterns can help hide grime and scuffing, by the way!). If you cook a lot, maybe you want flooring that doesn't show every little splatter—and that's easy to clean.
Natural stone, like real marble, or certain wood floors require more maintenance than tile and other flooring types. Know what kind of use your kitchen floor really sees, and ask your Kitchen Tune-Up specialist for advice.
Should the floor, countertops and cabinets match? Nothing has to match perfectly! Think about coordinating, rather than matching. Your floor, cabinets and countertops are the three biggest surfaces in your kitchen and these three should work together without being exactly the same. If your surfaces are all too similar, you'll get a flat, dull look.
This mood board is a great example of introducing a coordinated contrast. The cabinets and countertop are neutral and solid. While a white tile floor or even a wood floor would look fine, these patterned tiles break up the kitchen's solid-color vibe. In this example, the contrast is about pattern, not about color.
How do you get the best advice on making mood board trends into realities for your kitchen? Find the Kitchen Tune-Up near you.