Kitchen Tune-Up's Top Projects for September 2020
Kitchen Tune-Up helped homeowners transform kitchens from dull to dazzling, affordably and quickly, in these National Project of the Month winners. Take a look at how homes around the country have improved thanks to Kitchen Tune-Up's attention to detail and communication with customers.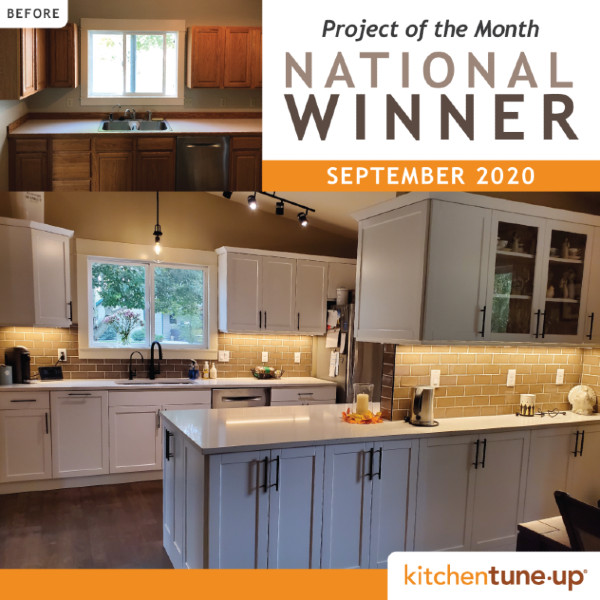 Todd and Konnie Bright
Bozeman, MT
This redesign brings the "wow" factor to an old kitchen in a recently purchased house. Kitchen Tune-Up replaced existing cabinets with custom-built cabinets in satin white, then wrapped new custom cabinets and counters around the wall that separated the kitchen from the dining area. Task lighting beneath all the upper cabinets brightens the room. The project added much-needed storage with trash roll-outs, a spice rack and roll-out trays inside cabinets.
This terrifically improved space is just one of the Brights' projects on view here.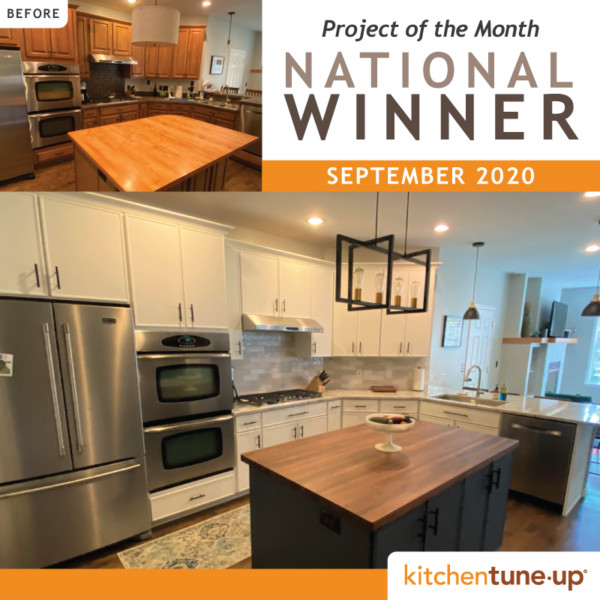 Paul and Kathryn Jost
Denver, CO This upgrade reflects how an update can fit within a kitchen's existing layout, yet transform its looks completely. Without moving a thing, the project created a whole new look, replacing old raised-panel cabinets with Shaker slim doors, accented with bar-shaped door pulls. The new tile backsplash adds subtle pattern. The island, now midnight blue, gives the space a focal point.
A modern, geometric chandelier replaces the old hanging lamp. The Josts welcome you to view their website.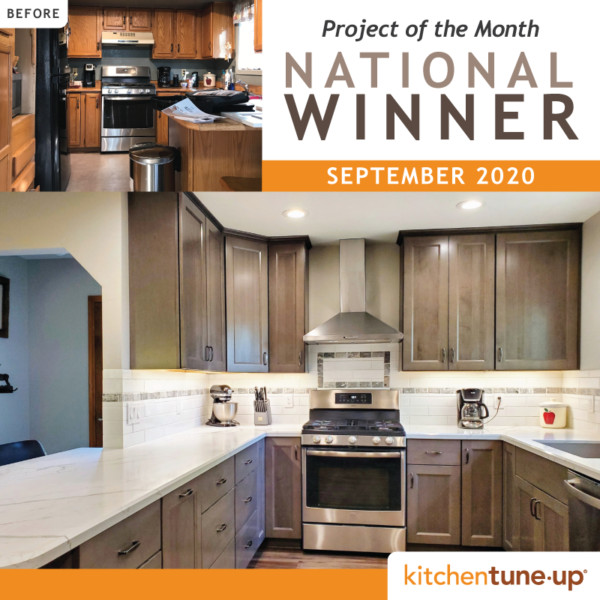 Andy and Laura Leigh Mathis
Flagstaff, AZ This remodel is like flipping a light switch, taking a space from dark to bright and revealing how lovely and functional it can be. The job began with removing a wall to create a seating space around a peninsula. New Shaker cabinets in a cool pewter tone, topped with white quartz countertops, reflect more light. Upgrades include repainting the dark ceiling, replacing the floor, adding plenty of white and gray tile as a backsplash, and installing a steel vent hood.
To see more of the Mathis's creativity, visit their website here.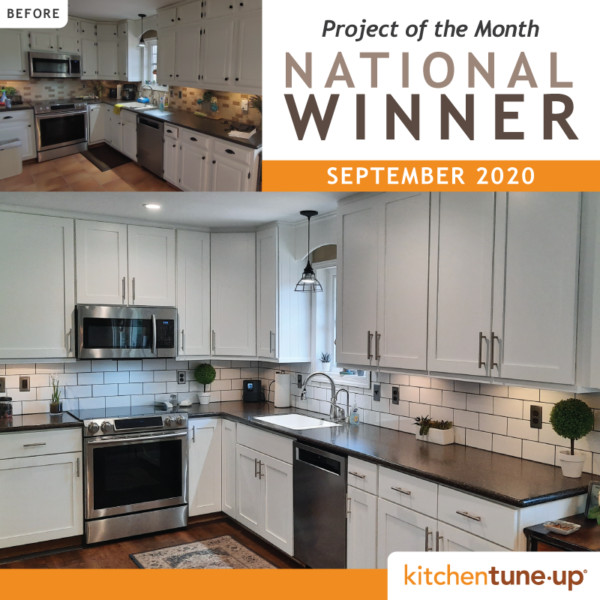 Michele and David Sweeney
Novi, MI Swapping new doors and drawer fronts for old ones is simple but effective. Look at how this Tune-Up modernizes the kitchen just by changing doors, hiding hinges, and updating hardware! The change took just days. A new floor adds a warm, wood tone, while a slight change to the backsplash—removing accent tiles and going all-white—unifies the space. This refit also added roll-out platforms for trash, a small but convenient detail. The Sweeneys' team is ready to show you their latest works on their website here.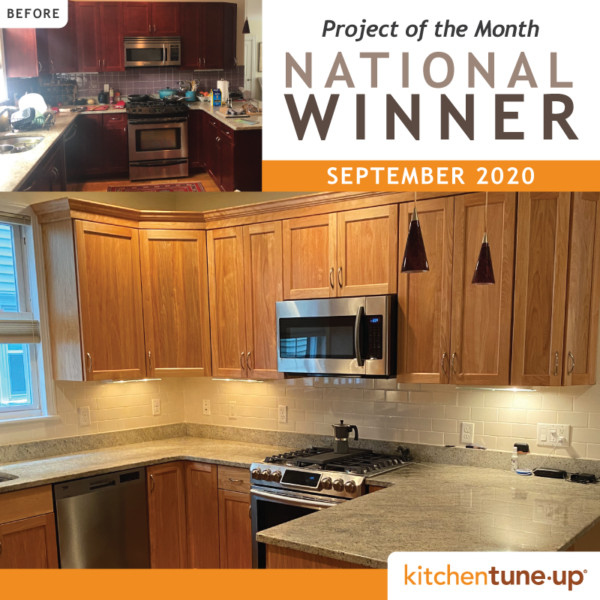 Mike & Blanche Hurley
Newton, MA The cabinets' shape and style are the same, but what a difference the wood makes! The client's dark cherry cabinets look heavy and formal, but reface them with red birch and the effect is dramatically more inviting. New molding topping the cabinets adds height to the look. Dark tile behind the stove is gone, replaced by sparkling white tile to enhance the lighter look. See the Hurleys' website to learn more about their award-winning work.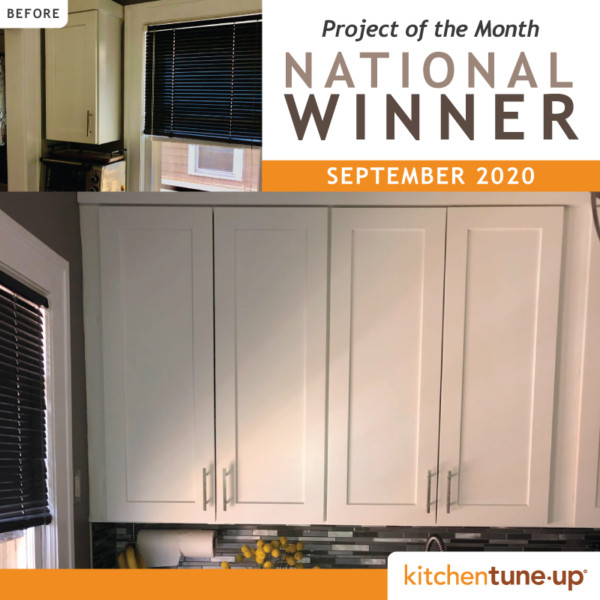 David and Elizabeth Conn
Beachwood, OH This kitchen boasts new, Shaker style cabinets in white with countertops in dark gray, all to replace old, built-in cabinets in need of updating. The style standout here is the tile backsplash, adding dashes of whites and grays to tie together the cabinets and counters visually. Note the modern gooseneck faucet with its pull-out sprayer hose incorporated right into the faucet. For more details about affordable remodels in Beachwood, OH, visit the Conn's website here.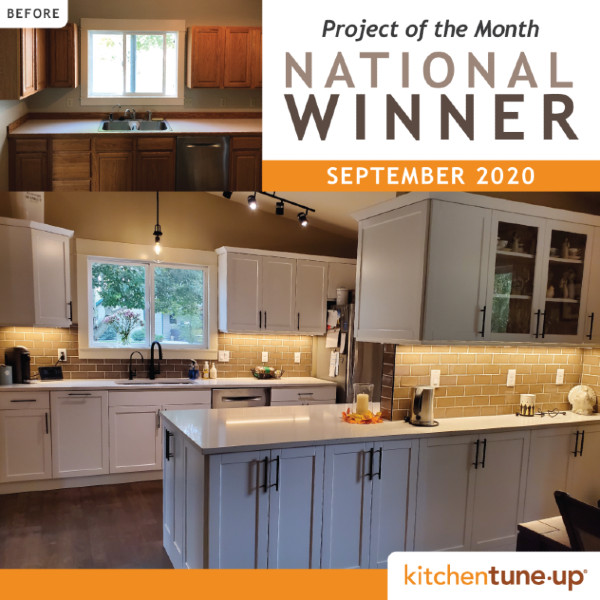 Todd and Konnie Bright
Bozeman, MT Sometimes a Tune-Up is short and sweet. This cabinet, with a cascading, pale stain flowing down its front, took only one day to repair. The house was up for sale, and the homeowner wanted the kitchen to look its best for prospective buyers. The result was sweet indeed: The house sold quickly! We like to think the Brights' quick, expert work helped seal the deal. Visit the Brights' website here to see what else they're working on in Bozeman.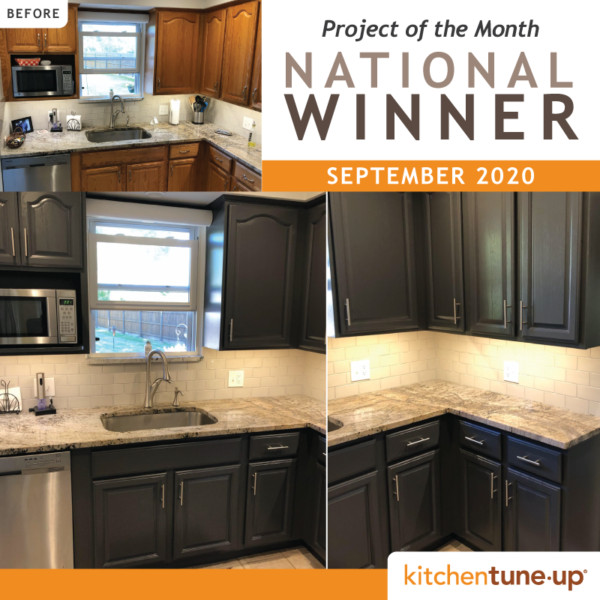 David and Elizabeth Conn
Beachwood, OH Seeking a more modern look, the client chose to have these oak raised-panel cabinets painted. The shade is called "flint," the paint is by Sherwin-Williams, and the result is beautiful. The new color coordinates ideally with the kitchen's existing countertops. Bar-shaped door pulls complete the changes to this updated space. To see more of Kitchen Tune-Up Beachwood's work, stop by their website.