Kitchen Tune-Up Stevens Point, WI Earns Project of the Year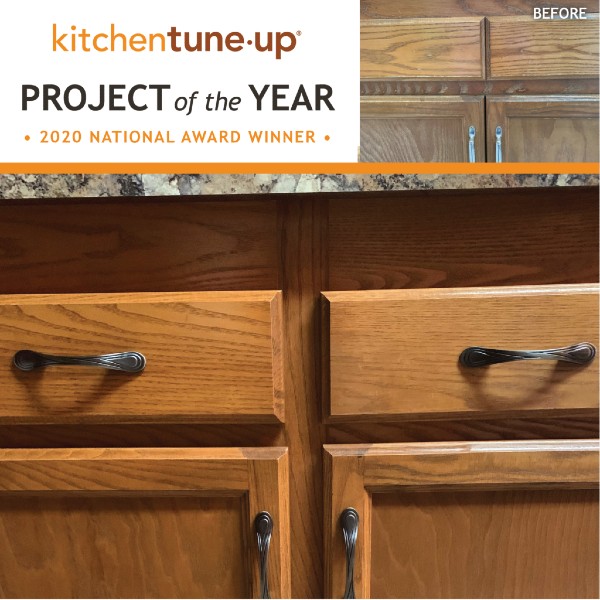 Kudos to Andy Thompson and Bobby and Ashley Kuhns. These owners of Kitchen Tune-Up Stevens Point, WI brought home the Project of the Year award for their terrific work in a category close to Kitchen Tune-Up's heart.
That category is the Tune-Up, one of Kitchen Tune-Up's signature services. The Tune-Up enables homeowners to refresh their kitchens affordably and simply, without having to install new cabinets or even change cabinet doors.
This honor for the Kitchen Tune-Up Stevens Point, WI team reflects their fellow franchisee's recognition. To be named a Project of the Year, a project first has to win a Project of the Month award given by the Kitchen Tune-Up Home Office. From among those monthly winners, Kitchen Tune-Up franchise owners nationwide vote on Projects of the Year. For 2020, only eight projects won this national award. In this case, the project competed against all monthly Tune-Up winners plus all monthly winners in the Cabinet Painting category.
The Tune-Up is one of Kitchen Tune-Up's signature services. When normal wear and tear leaves cabinets scuffed, grimy or stained, the Tune-Up process reconditions the wood. Instead of replacing the cabinets, you get your original cabinets back in beautiful shape, looking like new. A Kitchen Tune-Up expert removes dirt, grease and smoke from the wood's finish, then touches up and colors faded areas. A special penetrating oil restores dried-out wood fibers.
The finish on these cabinets had grown muddy over time and lost its golden hue. The cabinets needed cleaning and color correction. New countertops freshened up the look, as did new door and drawer hardware and a new tile backsplash.
Kitchen Tune-Up, across the country, performs many Tune-Ups each year. The Stevens Point team sets the standard for how they're done. This project exemplifies how a seemingly basic service makes a big difference in a kitchen's appearance. Helping homeowners get the best kitchens they possibly can, while not breaking their budgets, is a guiding principle for Kitchen Tune-Up.
To learn more about Tune-Ups and all the other services Kitchen Tune-Up offers, visit our website today!