Kitchen Tune-Up Reveals Project of the Month Winners for November 2021
Each month Kitchen Tune-Up franchises submit project photos of their 1-5 day kitchen updates. The Home Office team selects the most remarkable projects to be awarded as our National Project of the Month winners. Take a look at our winning kitchens! The November winning projects feature services completed in the following states: Arkansas, Colorado, Florida, Ohio, Virginia, and Wisconsin!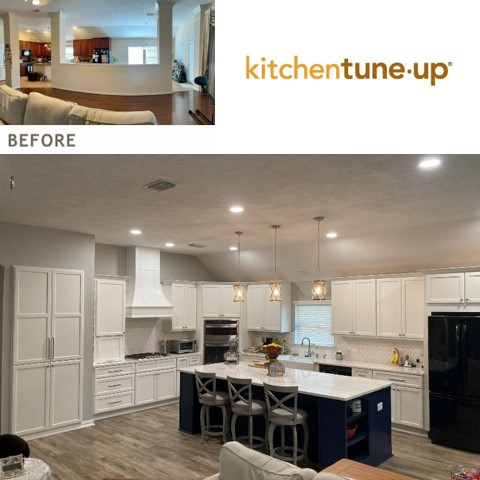 Joe and Amanda Boyd
Sugarland, TX
This kitchen is unrecognizable from the before pictures! A load-bearing wall was removed to open up the entire kitchen and dining room which made way for a 9' by 4' island. The team installed the beautiful wood look tile to contrast the new custom cabinets. A corner oven, decorative wood range hood, and custom pantry are just some of the highlights. This is truly a made for TV showpiece.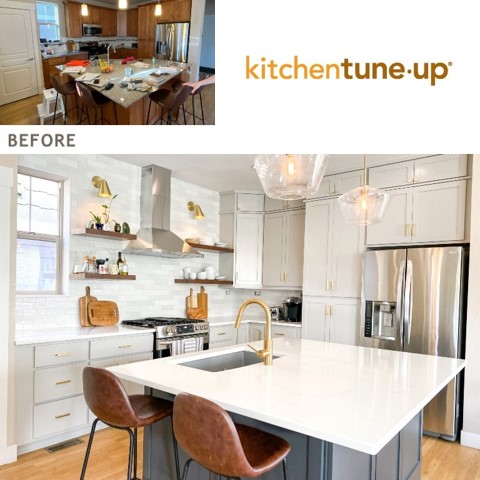 Paul and Kathryn Jost
Denver, CO
In this amazing transformation, we included redooring, painting and custom cabinetry. We removed some of the upper cabinets to create a focal wall with tile, walnut floating shelves, hood, and lighting. We removed the old island to make room for a more functional layout. With the addition of stacker cabinets, we brought height and more storage. New countertops, backsplash and undercabinet lighting completed the look.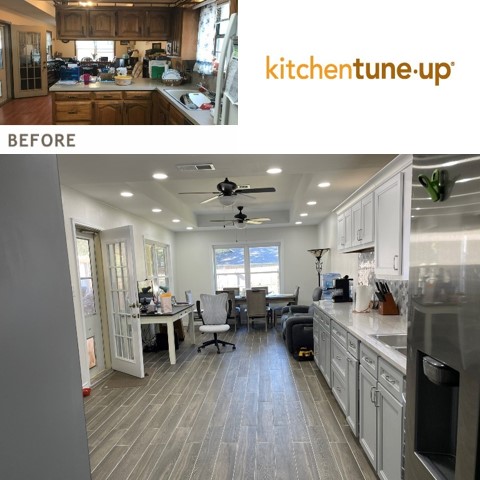 Paul and Jennifer Hooge
Tyler, TX
Original 1980's stained doors were replaced with the Laminate Contemporary Shaker door in Silver Fog on bottom and Snowcap on top to modernize and lighten up this Tyler, TX kitchen. The oven cabinet was transformed into a pantry and the original peninsula cabinets were relocated to the wall to improve storage and open up the kitchen to the eating area.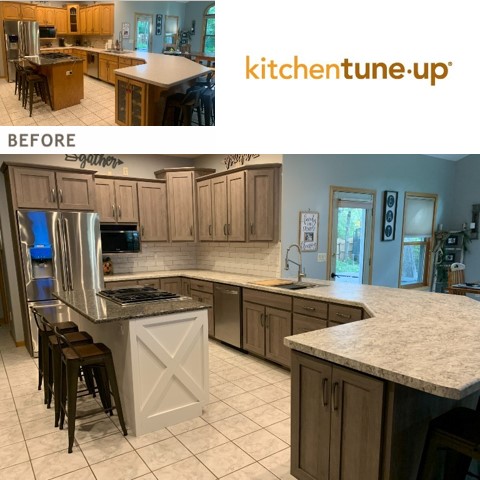 Andy Thompson, Bobby & Ashley Kuhns
Wisconsin
What a FANTASTIC look for this Wisconsin Rapids, WI kitchen after a Kitchen Tune-Up Refacing. The new Weathered Gray Oak colored perimeter cabinets and Snow White island look AMAZING! New hardware, crown molding, updated doors, new countertops, and a tile backsplash finish the new look. What a beautiful room!

John and Jenny Propps
Niceville, FL
This repeat customer wanted to update one of her rental houses before new tenants moved in, so she called us to help out. She wanted to completely replace the cabinets and countertops, so she selected an elegant White to give an updated look. We also took down a large section of uppers and removed all of the soffit in the kitchen so that the uppers could go all the way to the ceiling, maximizing storage space.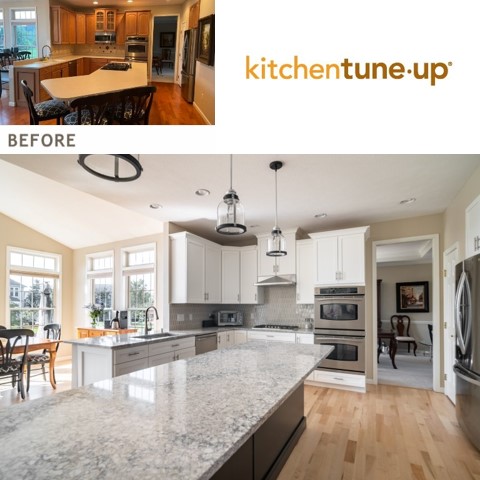 Jim and Dawn Berlekamp
Cleveland, OH
This transformation left the owners with a kitchen that now looks like it belongs with the rest of the house! Clean, bright, and beautiful!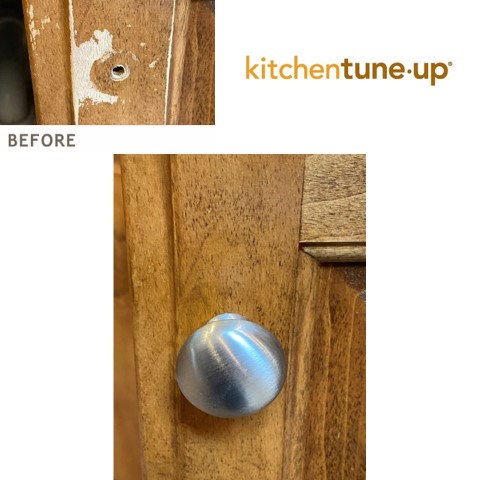 Ryan and Alex Bennet
Rogers, AR
With a little extra special attention to the details, this kitchen Tune-Up was a great success!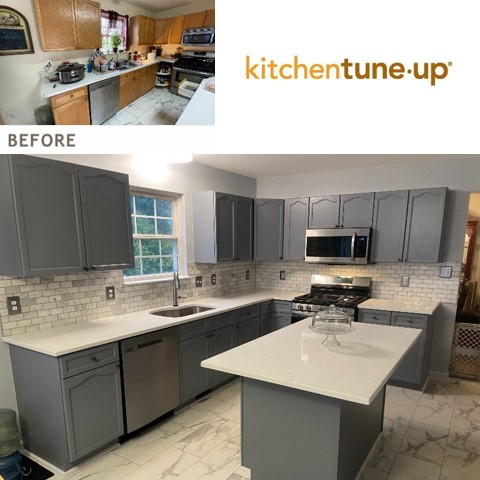 Zach, Jacob, and Matt Lethbridge
Fredericksburg, VA
Add some paint and a new backsplash, and you've got yourself a brand-new looking kitchen!