Kitchen Tune-Up Reveals March Project of the Month Winners
Each month Kitchen Tune-Up franchises submit project photos from one of their kitchen updates. The Home Office team selects the most stunning transformations to be awarded as our National Project of the Month winners. Here are our latest winners!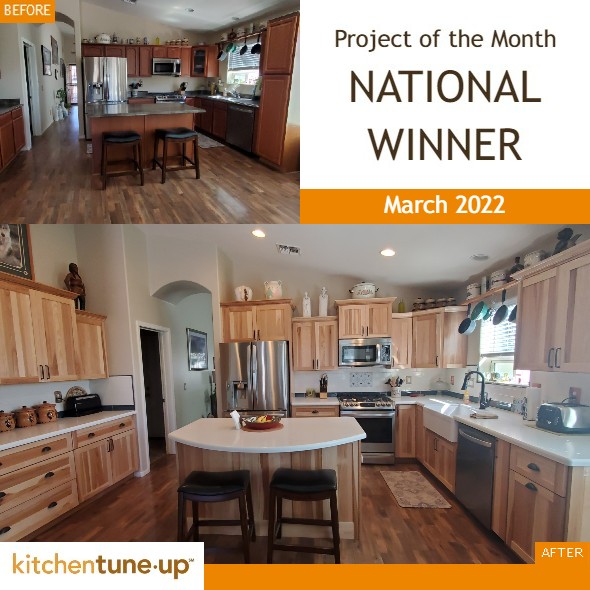 Garth & Rhonda Mathews
Phoenix, AZ
One of my favorite transformations. I love the look hickory gives a space. The variance in hues that are equally rich. The varying height of the cabinets helps to fill the vaulted space and adds interest. The light countertops reflect the natural lighting and the contrasting black hardware pops. The simple addition of a small half circle to the island countertop now makes it a more usable space.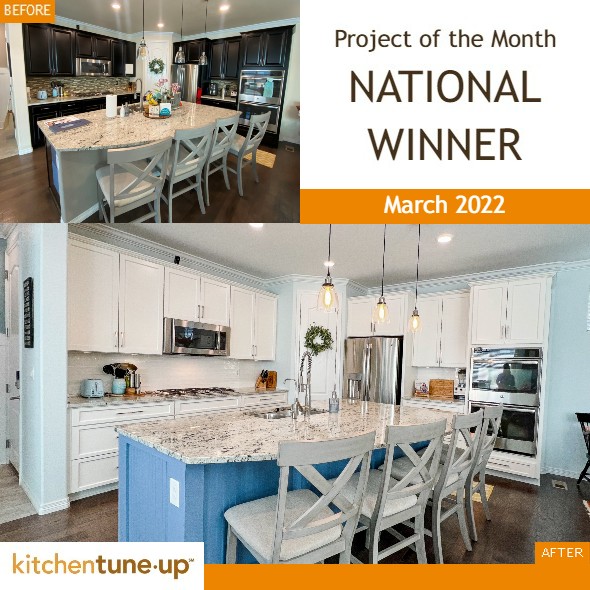 Paul & Kathryn Jost
Denver, CO
We painted the boxes and upgraded the doors to a shaker profile. The island was transformed by wrapping a bead board and brought in a refreshing blue to add a pop of color. All base cabinet doors were modified to drawers, roll-out trash/recycle and spice pull-out added. This kitchen not only is beautiful but also so much more functional!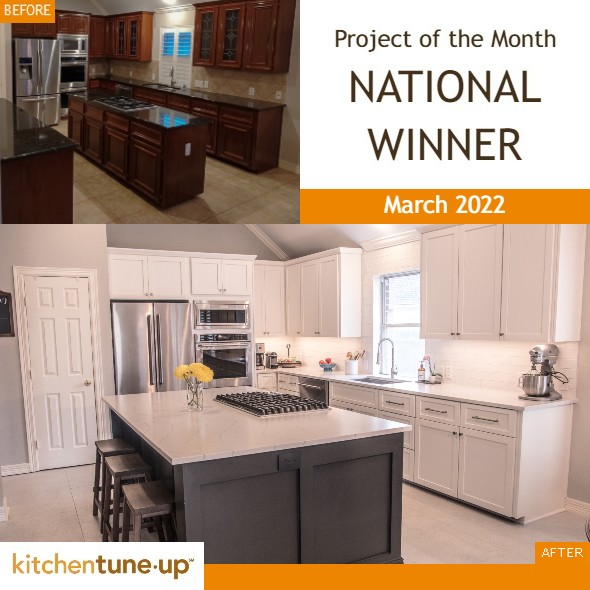 Joe & Amanda Boyd
Sugar Land, TX
The Sugar Land team brought new life into this kitchen with our refacing plus services. A set of cabinets separating the living room from the kitchen was removed, allowing for a larger, more functional island. Large format floor tile replaced the tired builders grade floor in this home. We brightened up the space by refacing the perimeter cabinets in white dove.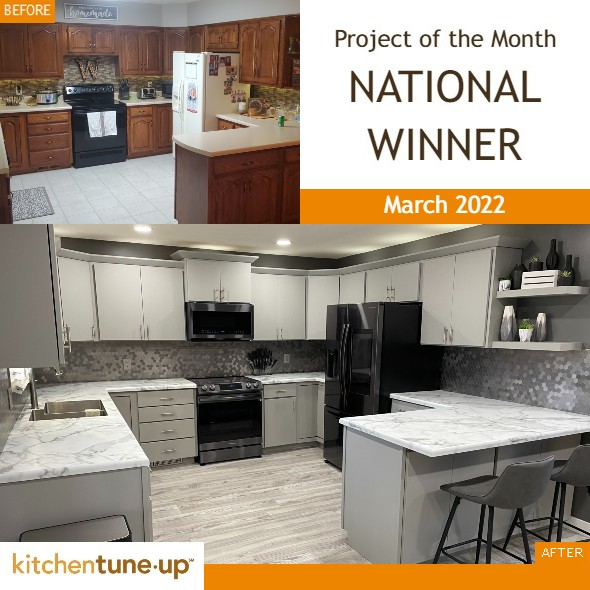 Kevin Kiefer & Courtney Pedroza
Tri-City Area, NE
New crown moulding and floating shelves. Laminate countertop in a marble look with built-in undermount sink. Made larger fridge opening and moved all upper cabinets up 1.5" to create more space for the backsplash and removal of the soffit.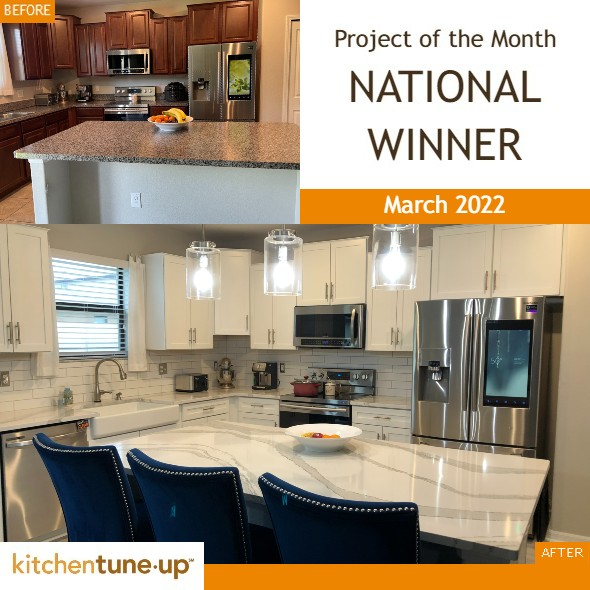 Brandi & Derk Shultz
Tampa, FL
There's nothing quite like the wow factor of a Cambria countertop, especially when it's an island unto itself.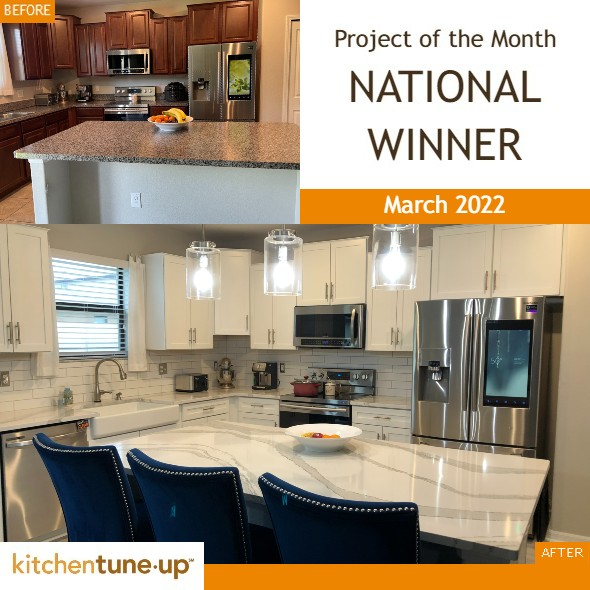 Brandi & Derk Shultz
Tampa, FL
Cambria countertops, white porcelain farmhouse sink, staggered brick pattern subway tile in a matte white finish: all the ingredients you need for a beautiful kitchen!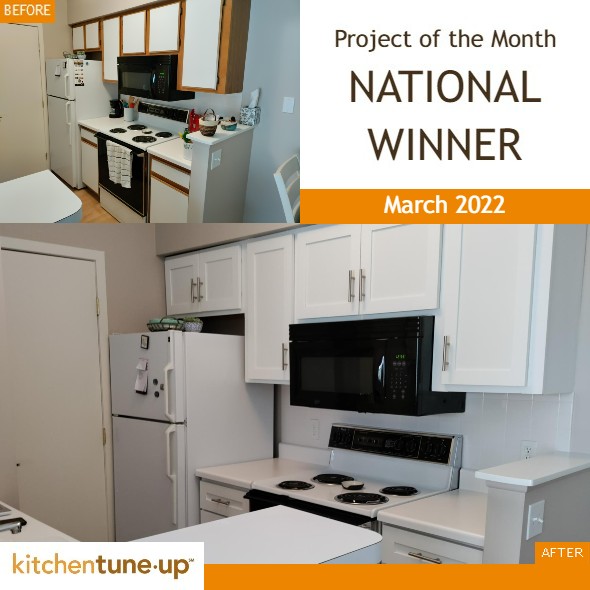 Melanie Wolfe
Howell, MI
Shaker doors, new hardware, and 3 roll-outs brought this condo apartment kitchen up to date and made it more functional.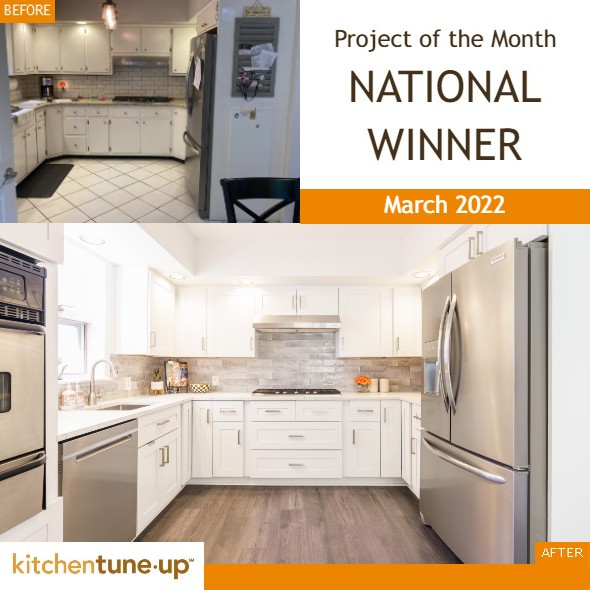 Takia & Steven Livingston
Bloomfield, NJ
This client wanted to sell her home and new cabinets were recommended. She chose a white shaker style with Calacatta Quartz countertop and gray subway tile for backsplash to complete the look. Her house was listed and was sold for over asking price in 7 days!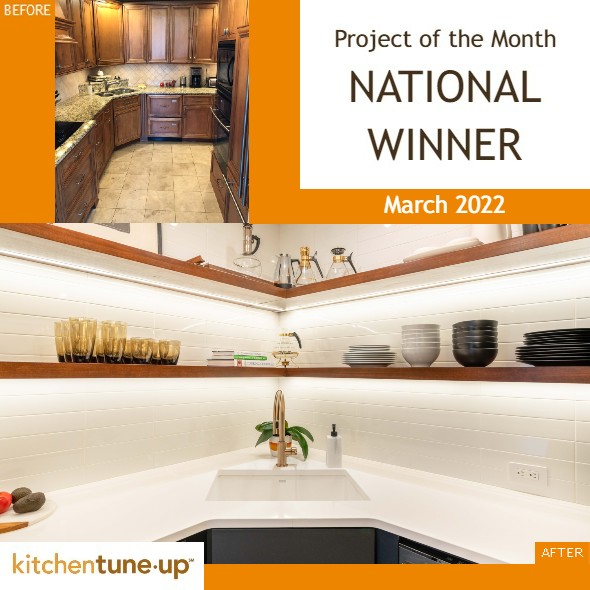 Chase & Elizabeth Vincent
Louisville, KY
This kitchen project was completed in style with an Emser Tile backsplash.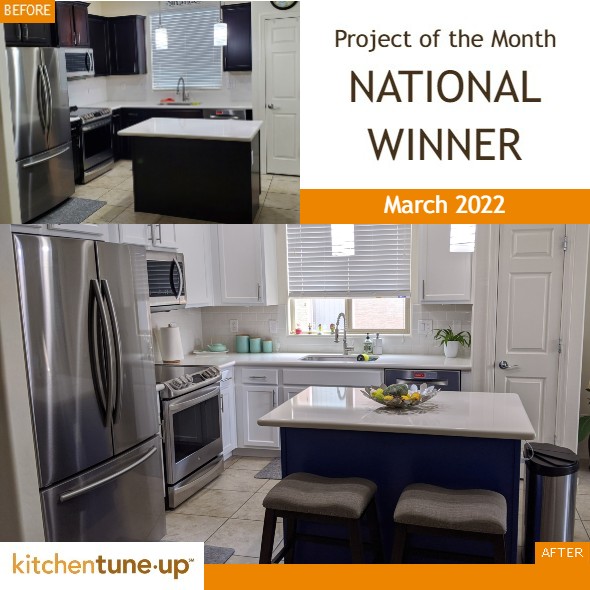 Garth & Rhonda Mathews
Phoenix, AZ
Dark cave of a kitchen was transformed into an inviting modern space. While the white cabinets brighten the space, the deep blue ads contrast to bring interest to the kitchen.