Kitchen Tune-Up Releases Project of the Month Winners for May
Another month has passed, and the projects continue to amaze. Here are the May winners for Project of the Month. We will take at projects from Arizona, Arkansas, Colorado, Indiana, Kansas, Michigan, New Jersey, Texas, and Wisconsin.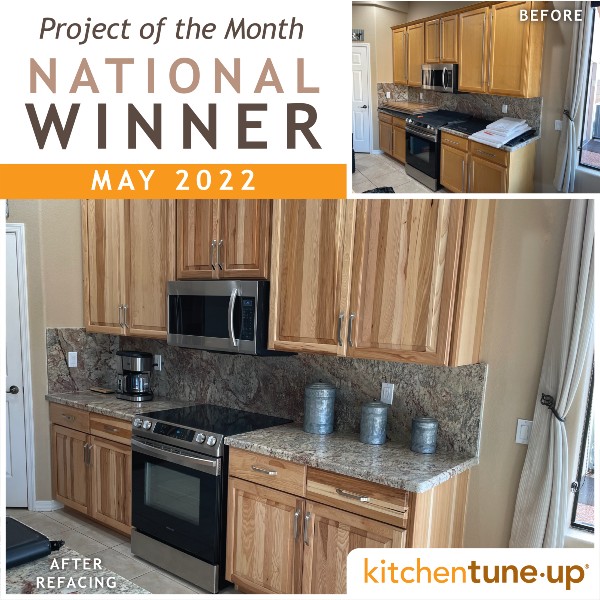 Taschia & Victor Salas
Lake Havasu City, AZ
Natural Hickory provided contras and interest to this kitchen. New hardware numped it up another notch.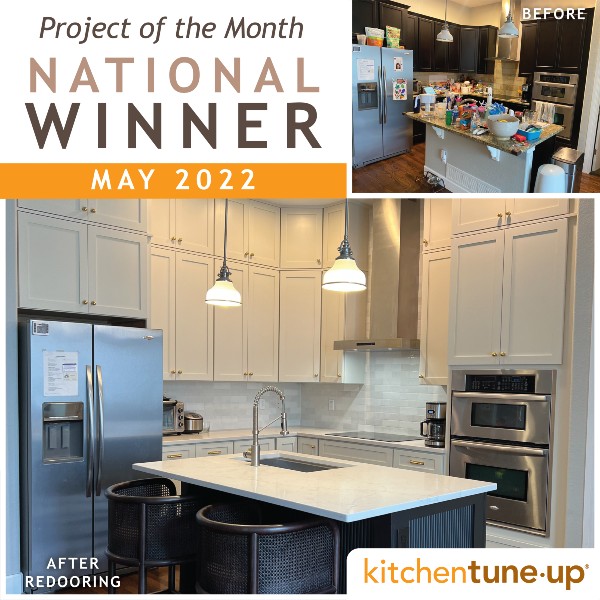 Paul & Kathryn Jost
Denver, CO
In addition to putting brighter cabinet doors, stackers were installed, the island was wrapped in tambour panels, and the backsplash and countertops were updated. Voila!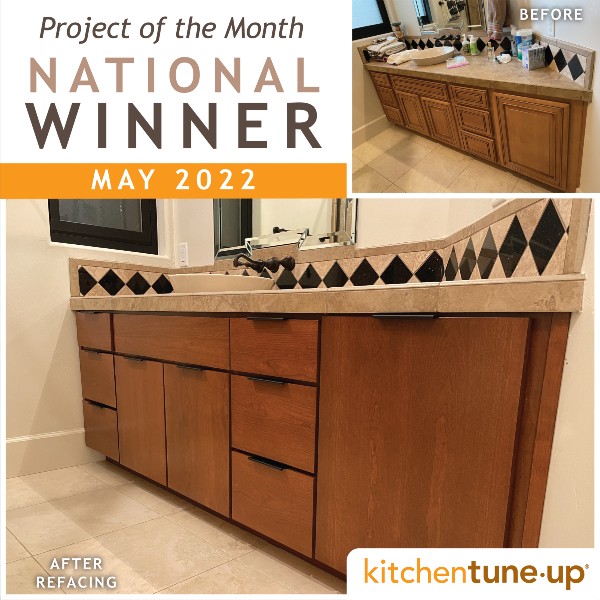 Paul & Lisa Peterson
Cottonwood, AZ
This refacing definitely made the bathroom look more modern and sleek.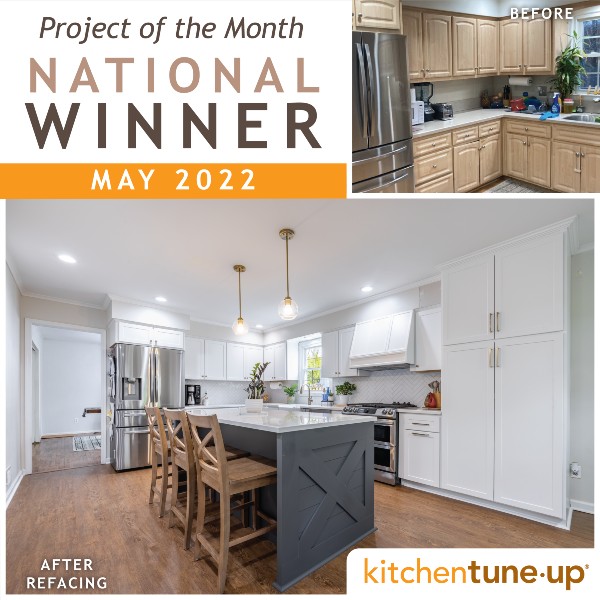 Takia & Steven Livingston
Bloomfield, NJ
This client has a big family and wanted more space for everyone to come together. The team installed a large island in Flint grey to achieve this look. They also added a large pantry for storage and the new white kitchen went perfectly with the new light brown floors. The homeowner was thrilled with the outcome!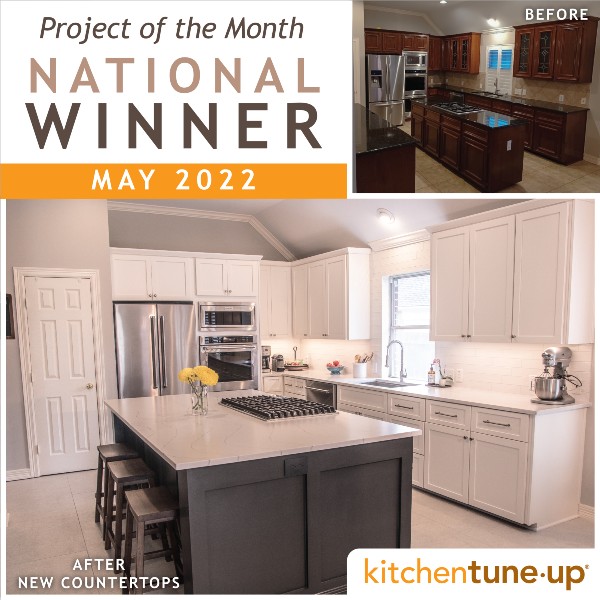 Joe & Amanda Boyd
Houston Sugar Land
Beautiful counterops, complimentary backsplash and under cabinet lighting were the final additions to this Texas showcase kitchen.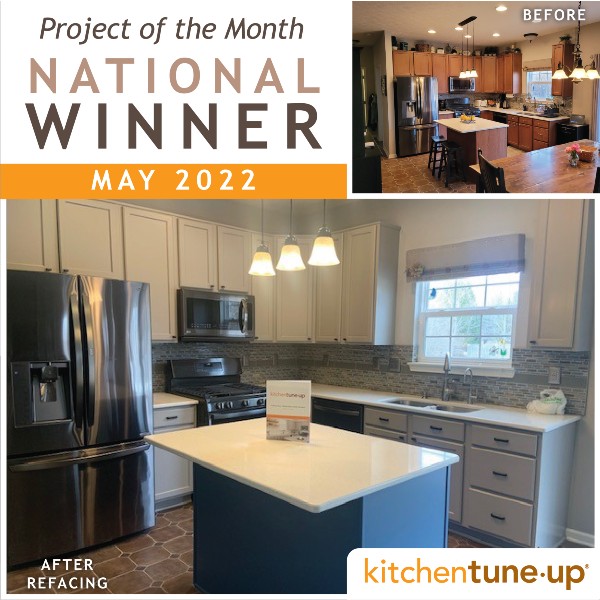 Greg & Jill Mirise
Avon, IN
These homeowners were ready to refresh their kitchen to a more modern looking space. The Avon team updated the cabinets with the modern white shaker and accent island in blue. They also added a new cabinet above the fridge, new blue subway tiles, crown molding and beautiful new quartz countertops. All complete in 3.5 days!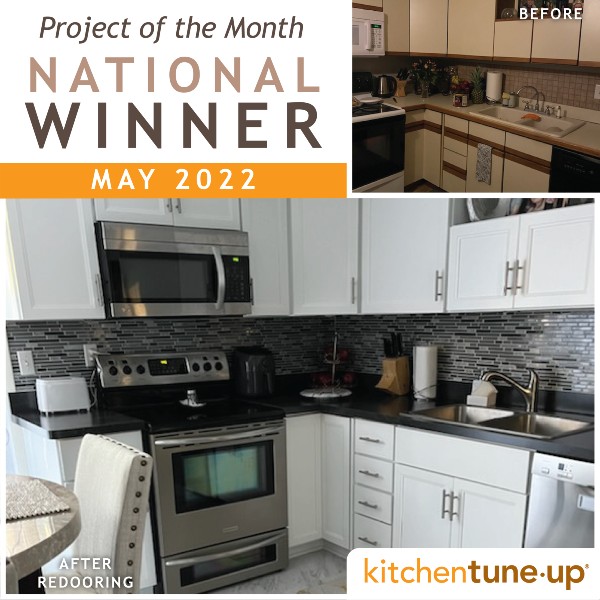 Melanie Wolfe
Howell, MI
White shaker cabinet doors and new hardware, countertops, backsplash, and flooring brought this kitchen into the 21st century. Beautiful and much more inviting!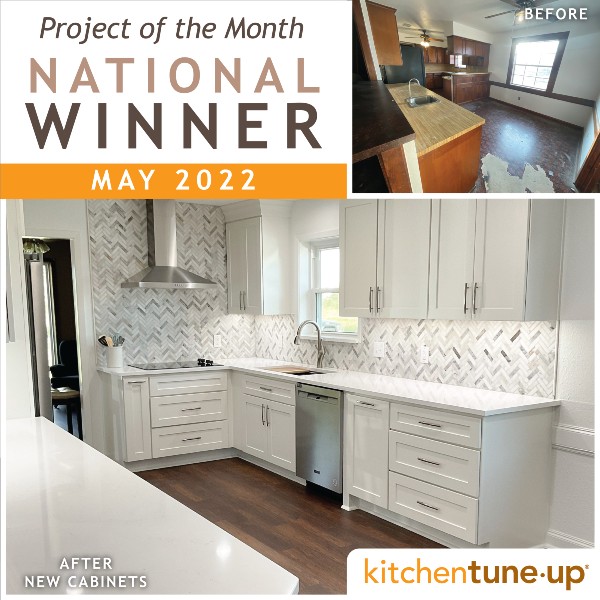 Joe & Amanda Boyd
Houston Sugar Land
After having Bath Tune-Up update two bathrooms in the house, this customer was ready to have the kitchen she had been dreaming of for decades. Every inch of this 1970's kitchen was gutted and updated by the Kitchen Tune-Up team to provide an absolutely stunning result.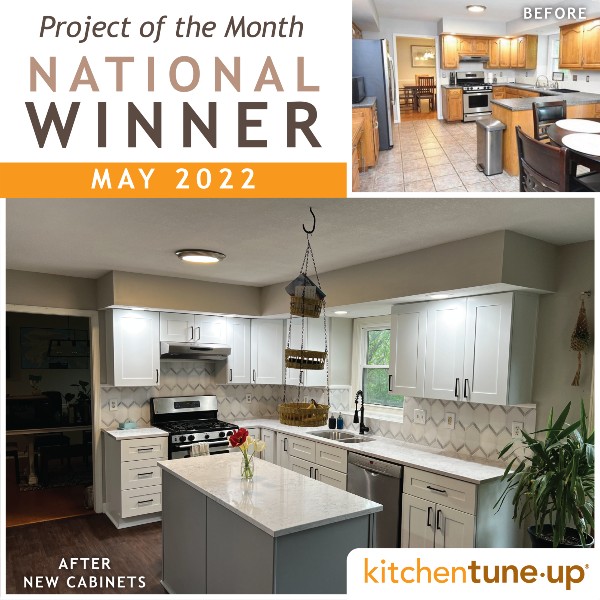 Phillip Morrison
Olathe, KS
With the removal of the peninsula and the addition of the island, this kitchen feels more open and balanced yet still very user friendly. The backsplash adds so much style and compliments the new white shaker cabinets....classy!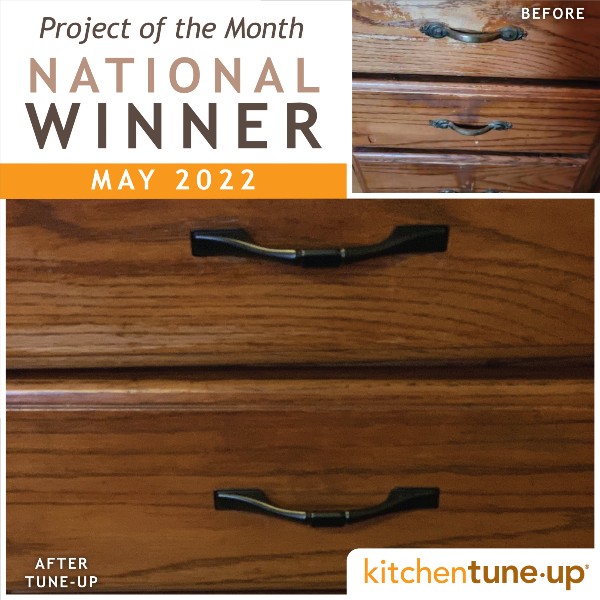 Andy Thompson, Bobby & Ashley Kuhns
Wisconsin
This home was left looking for some new life to be put back into it. The new homeowners wanted to renovate but keep the charm. With our Tune-Up services, we can keep all that charm and beautiful oak cabinets. The Thompson/Kuhns team cleaned and freshened 34 cabinets and added new hardware for that extra touch!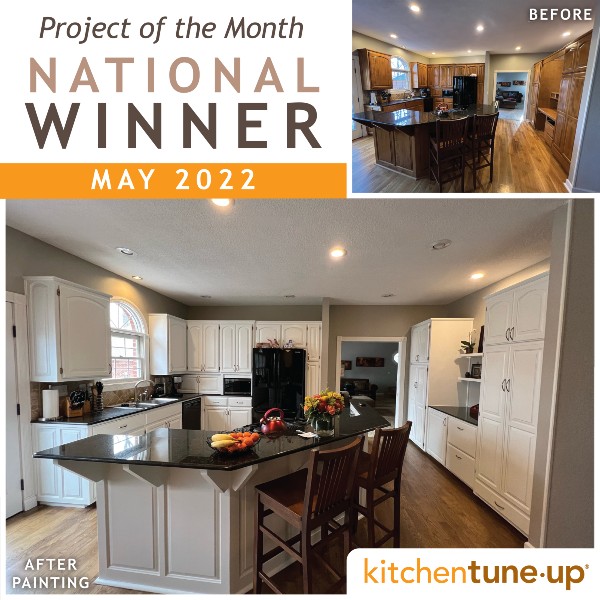 Ryan & Alex Bennet
Rogers, AR
The Rogers team painted the family room mantle and bookcases to match the kitchen. The rooms are open to each other. The white provides a nice bright contrast to the dark countertops and floors