Kitchen Tune-Up now offering new options for backsplash and wall accents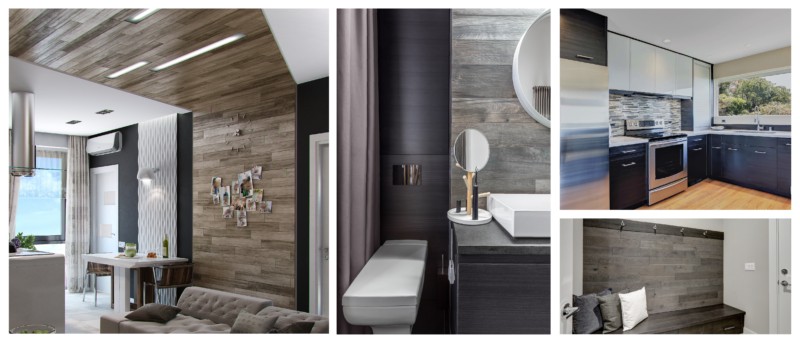 At Kitchen Tune-Up, we're here to take care of your whole kitchen, even when things get a little messy. Sooner or later the sauces are going to go flying, and you want to make sure your kitchen walls not only resist stains but look great while doing so. That's why we're proud to announce we've got a new inventory of fancy yet functional backsplash and wall accents for your kitchen.
Accent Planks
We're excited to now offer a robust line of accent planks for your kitchen. Accent planks are a great way to transform your kitchen into something stunning yet practical. Accent planks are made from ⅛"-thick boards that adhere easily to painted surfaces, wood and metal. Just about any wall your kitchen has, accent planks can fit nicely! You can apply them horizontally or vertically and they'll always look great. The advantage of accent planks comes in their simplicity. While tile or other permanent materials can take hefty mortar and days to fully cure, accent planks are fast and easy. You can apply them with just your hands and they don't use any toxic chemicals to stick to your walls. Accent planks adhere strongly.
Why choose a Kitchen Tune-Up backsplash?
• Lightweight
• Non-toxic
• Easy to apply "peel and stick" backing
• Durable
• Stylish
• Class A fire rated
• Made in the U.S.A.
Go with stone for extra texture
Not all accent planks have to be wood. There are stone options, as well! These are crafted by thin-slicing actual stones so you can get the look of a traditional yet modern kitchen in no time (and at a fraction of the cost of constructing with full stones). And the options don't stop there, you can also purchase leather, gloss marble and more!
Island wraps, wall accents, kitchen backsplashes and more!
Whether you're looking for an island accent or a traditional backsplash for your counter, we've got something that will feel right at home in your kitchen. Choose between classic, modern and eccentric looks to find the material that most compliments your space. Will you go with the natural copper? The Rome white marble? Or one of the many other looks available? Schedule a consultation today!