Kitchen Tune-Up Norton, MA Earns Two National Project of the Year Awards
The Norton, MA Kitchen Tune-Up deserves twice the accolades for not just one, but two 2020 Project of the Year awards! Mike, Janice and Jesse Dugan created original, exciting designs for two homeowners with very different—but equally eye-catching—styles.
These awards come from the Dugans' peers, their fellow Kitchen Tune-Up franchisees, who know a great kitchen when they see one.
To earn a Project of the Year nod, the work must already have won a Project of the Month award from the Kitchen Tune-Up Home Office. Kitchen Tune-Up franchisees nationwide then vote on which Projects of the Month should be honored as Projects of the Year. Out of hundreds of submissions in 2020, only eight projects earned this national award.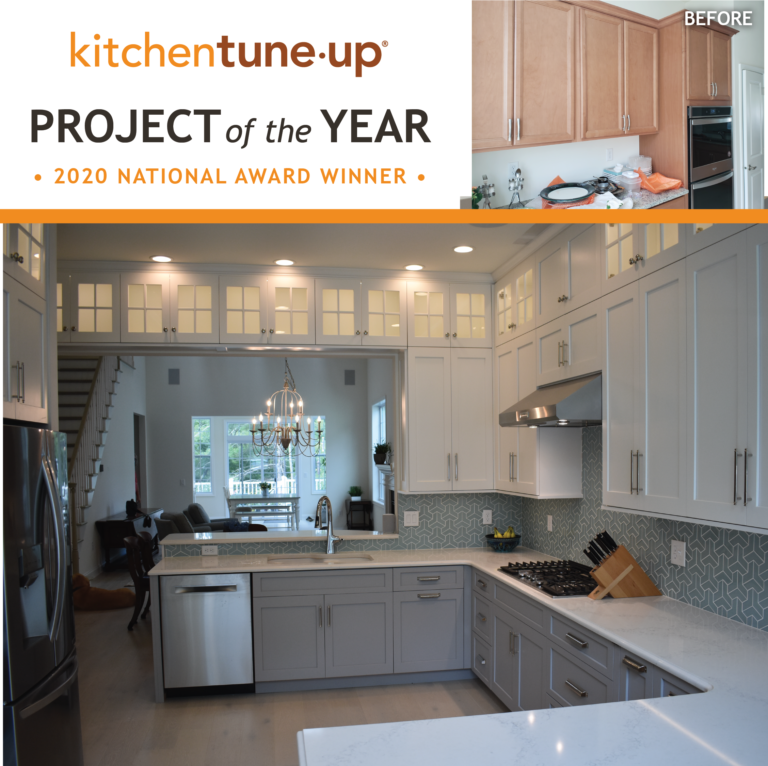 The Dugans' first winner is a striking transformation with an unusual story behind it. The homeowners had used Kitchen Tune-Up twice before and were satisfied customers. When they built a new home, they wanted Kitchen Tune-Up to build their kitchen from scratch—but the builder wouldn't permit it. So, the homeowners had the builder install inexpensive cabinets, then immediately asked the Dugans to come in and replace those cabinets with this custom kitchen. (The new, unused cabinets from the builder went to Habitat for Humanity, so nothing got wasted.)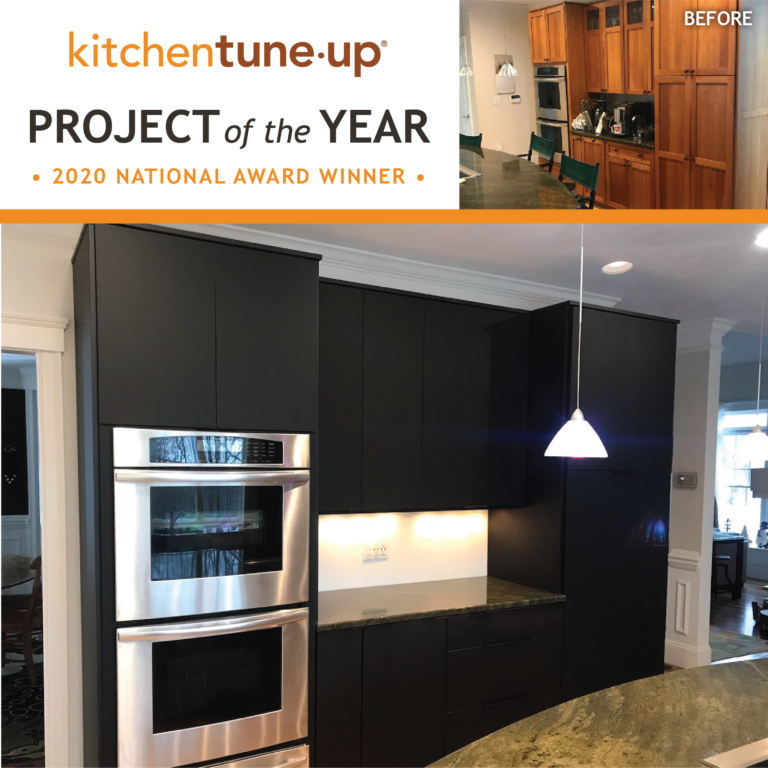 The Shaker simplicity of the white upper and gray lower cabinets is clean and functional. Look up near the ceiling to see a striking touch, the illuminated, glass-fronted display cabinets. The sparkle of glass and the added lighting used for the backsplash make the room look brighter and the ceiling seem higher. Note the patterned, gray and white geometric tiles used on the backsplash, too.
The second Dugan project winner is a dramatic alteration. The original cherry Shaker cabinet doors are gone, replaced by slab doors in a deep charcoal shade aptly called After Dark. Slab doors, with no visible hardware and no visible frames, are a boldly modern choice, taking this kitchen from traditional to contemporary. The kitchen island, in a light shade named Boxcar Blonde, provides contrast to the cabinets' dark hue.
Congratulations to the Dugans and the Kitchen Tune-Up Norton, MA team on these two projects! To talk to the Dugans about how they can make your dream kitchen a reality, visit them at their Kitchen Tune-Up website today.