Kitchen Tune-Up Denver, CO Wins National Customer Service Award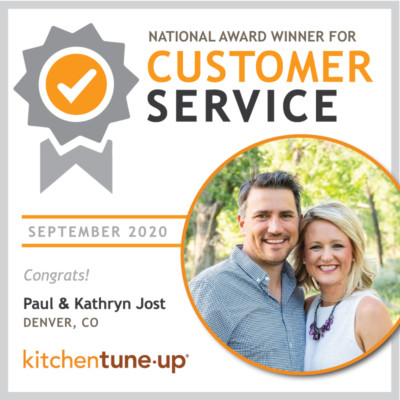 Congratulations to Paul & Kathryn for winning the Customer Service Award! The Josts joined the Kitchen Tune-Up Franchise Family in 2020 and they have been receiving outstanding testimonials from their customers!
What their customers have to say
"Outstanding and professional service!"
- Larry O. – Denver, CO
"Great experience from start to finish. Love the results!"
-Ed N. & Beth S.
– Aurora, CO
"We loved working with Kathryn and Paul! They make a great team! Our new kitchen makes our house brand new!" -Shira & Jonathan T. – Denver, CO
To learn more about Paul and Kathryn and what Kitchen Tune-Up Denver, CO is up to, visit their Facebook page.