Kitchen Tune-Up Announces February Project of the Month Winners
The homeowners of these projects are loving their new kitchens. Check out our Project of the Month winners for February and what they did to make the homeowners head over heels for their kitchens.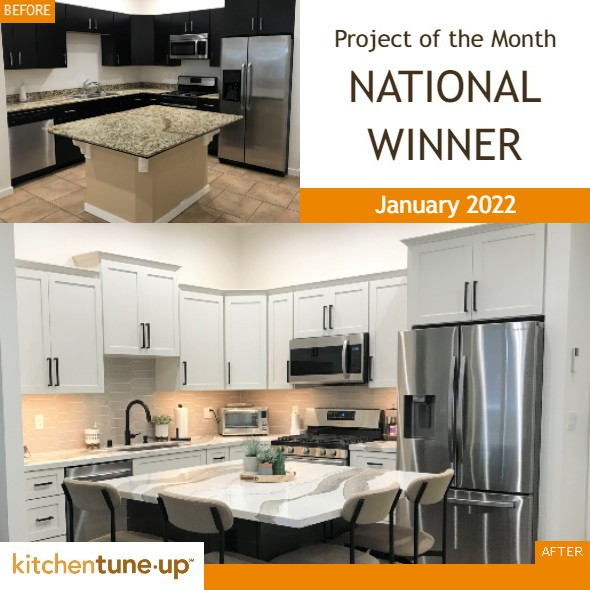 Andy & Laura Leigh Mathis
Flagstaff, AZ
What a dramatic difference in this condo in Butler! We installed all new cabinets in a beautiful white shaker door! We also added an amazing Cambria countertop and a new backsplash. From dark and dull to WOW! This customer is thrilled with her new kitchen!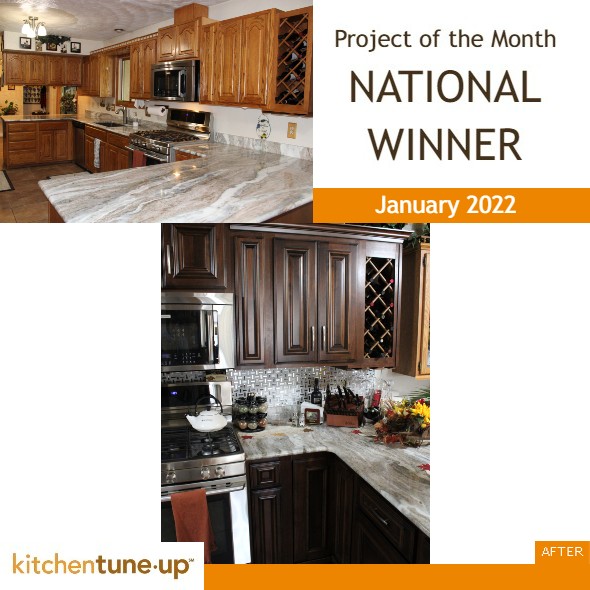 Kat Walden
Pueblo, CO
This was a fun project that wasn't white shaker. Did a more finished end as well as crown molding and replaced a shelf with glass over the sink. Customer was thrilled with finished project and high-end look.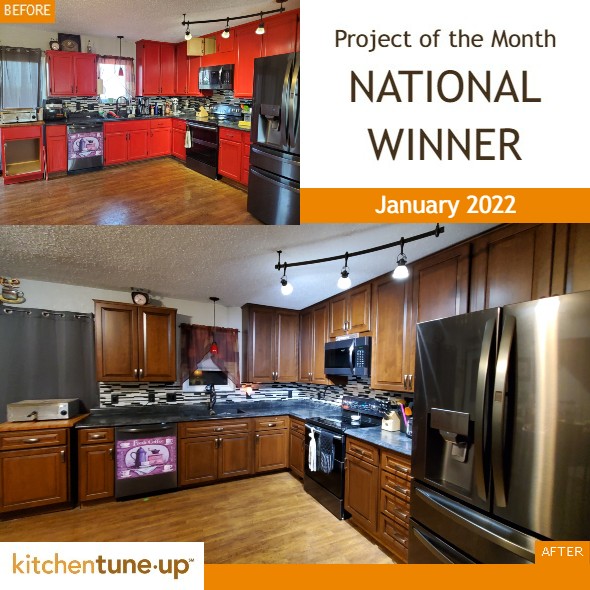 Lynn Aman
Aberdeen, SD
After deciding to make their lake cabin their year-round home, this couple decided to reface their cabinets to reflect their sophisticated style. The beautiful cherry raised panel doors in java stain was exactly the look they wanted.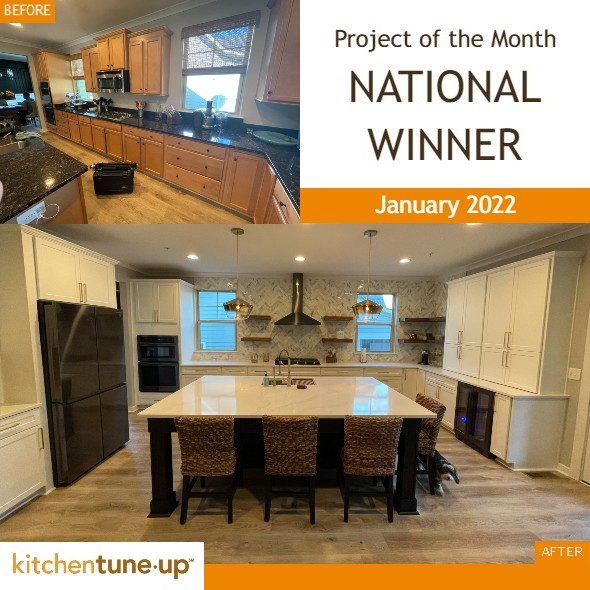 Zach & Jacob Lethbridge
Fredericksburg, VA
By removing some cabinets, installing new appliance garages and floating shelves, and expanding the island, this kitchen is now a more open and usable space. And it looks great too!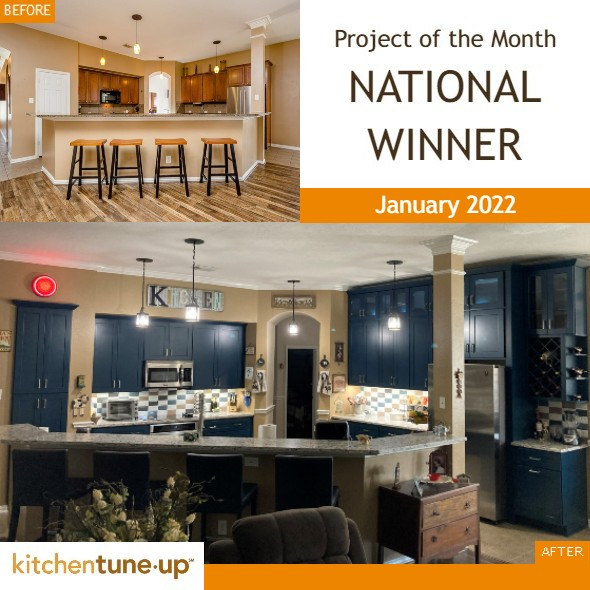 Joe & Amanda Boyd
Sugar Land, TX
From bland to grand with this custom designed kitchen boasting stacked cabinets to the ceiling allowing this client to show off her most prized possessions. The unique backsplash fit this client's style perfectly and flows even better with their favorite sports team theme.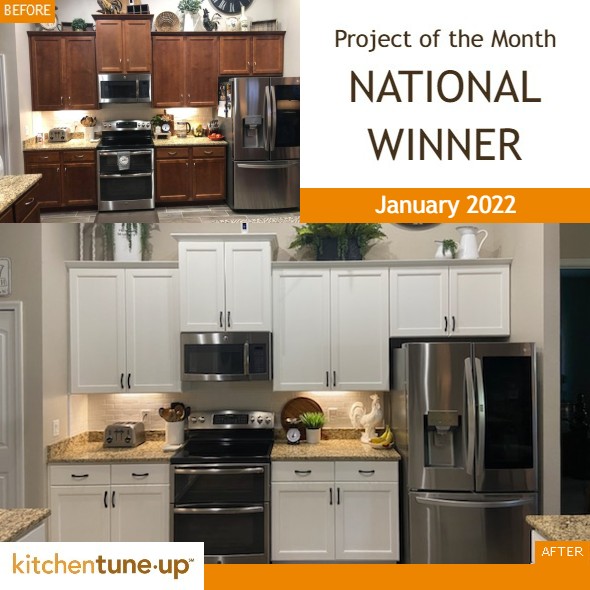 Brandi & Derk Schultz
Tampa, FL
Sometimes all it takes to bring inspiration back into your kitchen is a lighter, brighter color and updated doors. With the existing countertop, backsplash, and wall color, the new look is a perfect fit.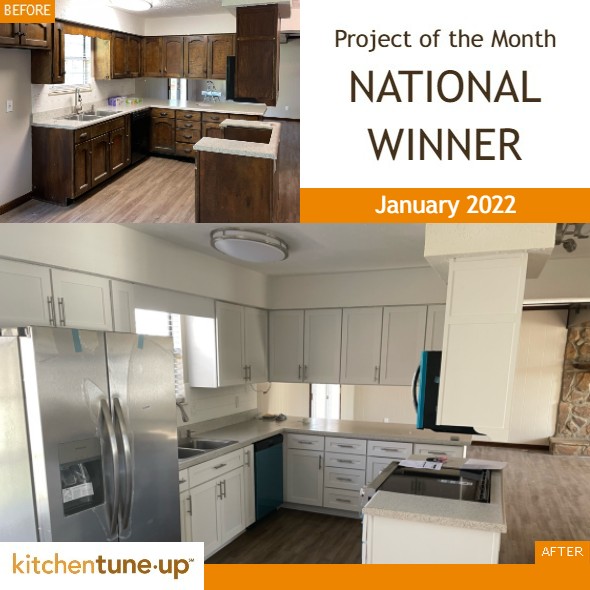 Wesley Steese
Knoxville, TN
Wow, something as simple as redooring and painting the boxes to match can have such a dramatic effect! What an impressive update!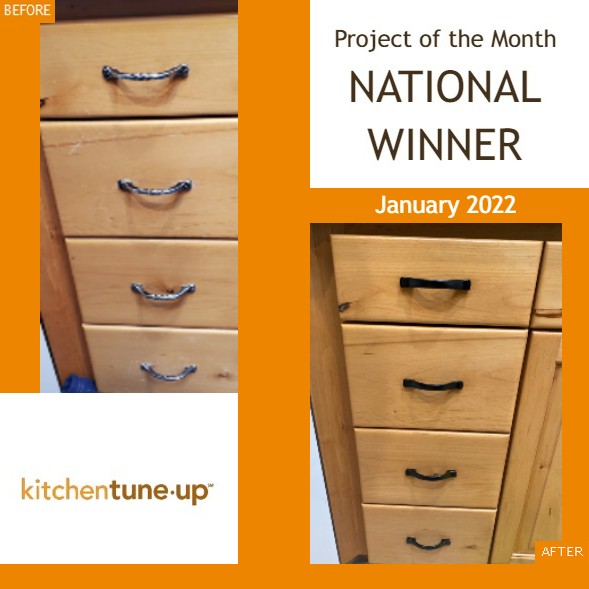 Scott & LeeAnn Shaff
Tucson, AZ
A Tune-Up and some new hardware = Ta Da!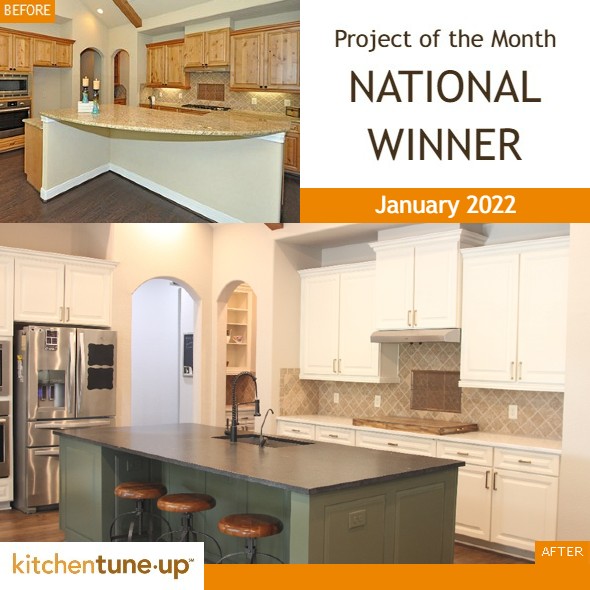 Joe & Amanda Boyd
Sugar Land, TX
The KTU Houston Sugar Land team stepped up to the challenge of painting these rustic knotty cabinets into a modern look. The knots all had to be filled before painting to allow for a perfect finish. The island was modified to allow for better utilization while enjoying family and friends.