Kitchen Inspiration: Modern Kitchen Designs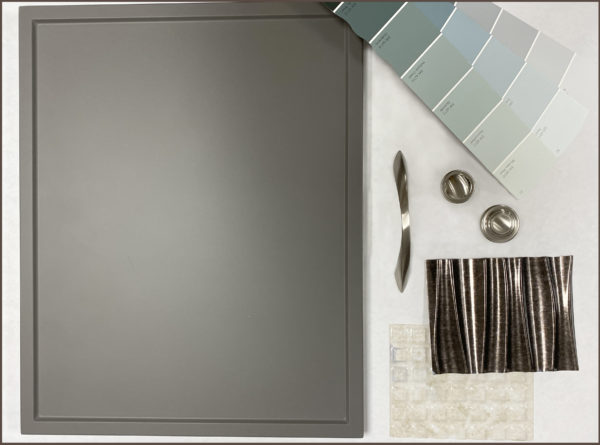 Sometimes big changes can be a bit challenging. You know it's time for a change, and you know you want your old cabinetry out, but do you know what you want to replace it?
At Kitchen Tune-Up, we've got a comprehensive catalog bursting with colors for every occasion and materials for every look you could possibly want to create. But first you have to decide what you want.
A mood board can be a helpful tool in getting your general feelings wrangled before you commit to specific materials. This board encapsulates a lot of blues, greys and greens. It's a pretty modern look, but it can work quite well with a variety of popular kitchen designs, even rustic ones.
"Traditional modernity"
This sleek, modern look has really taken off in recent years, but it isn't all-consuming. Most homeowners don't want their kitchen to look like it belongs on a spaceship, and so we've been seeing a lot of contrasting textures. Think of sharp polished features against more classic marble or even wood. A little mixture of modern polish with some classic kitchen charm can take any kitchen to the next level.
Don't believe us that these contrasting combinations can work? See for yourself with our handy design tool. Go ahead and plug in any combination you can think of! These calm colors and sleek cabinet elements can also mesh nicely with the upsurge in smart technology kitchen options. Wifi-enabled coffee makers and smart refrigerators look right at home next to a modern gray and calm greens.
Muted greens and blues in general have always been solid kitchen color options because of their cozy, luxe look and ability to work well with both modern and rustic cabinetry.
If you're looking for more inspiration, you can check out some of the other mood boards we've created, or you can head to the Kitchen Tune-Up project gallery to see some of the work we've done firsthand! Creating a new kitchen is a journey we love to go on with every homeowner we work with.
If you have your own mood boards that show off the look you've been dreaming of, then we'd love to have you share them with us!